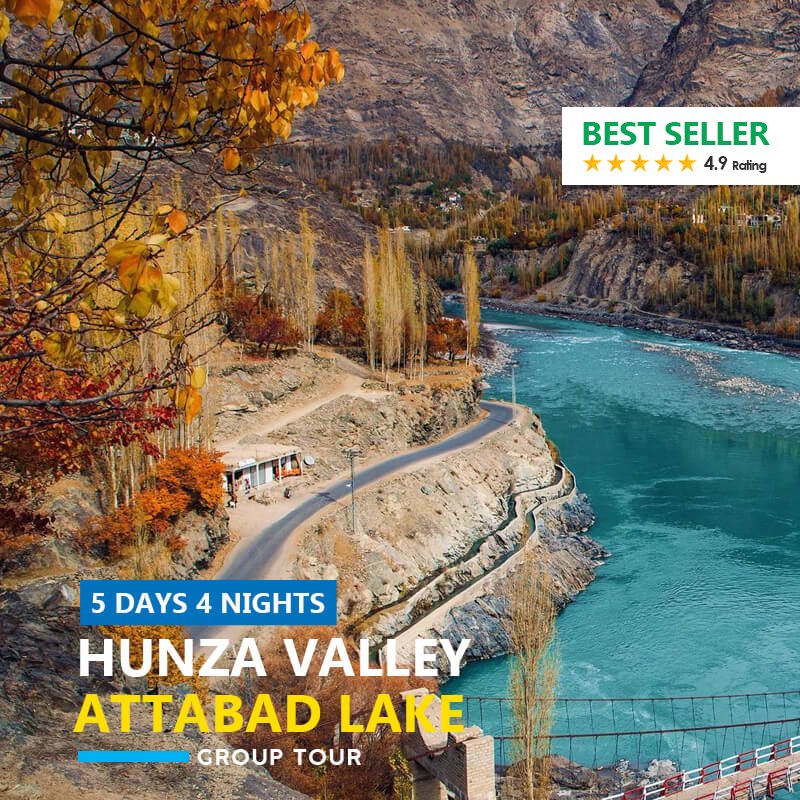 5 Days Trip to Hunza Valley | Group Tour by Click Pakistan
Our 5 Days Trip to  Hunza valley is the most demanding package especially in summer. In which you will explore the dynamic landscapes, lakes, mighty mountains, beautiful waterfalls and delicious food with locals' unique hospitality. The Hunza tour package has remained all-time hot selling tour. Every beauty lover wishes to spend holidays in the heavenly beautiful region of  Gilgit Baltistan either it family trip to Hunza or private tour to Hunza.
Tour Highlights of 5 Days Trip to Hunza Valley
• Enjoy the travel of Karakoram Highway, the highest paved international road
• Visit valleys of northern Pakistan including Hunza, Naran & Kaghan
• Visit of ancient Altit & Biltits forts. (Royal Family Residences)
• Lakes including Attabad, Naltar Lake, Satrangi Lake, Saiful Malook Lake.
• Participate and dance with local people and much more.
• Comfortable Transport (Ac Coaster)
• Breakfast and Dinner Every Day
• 4-Night Hotel Stay on Sharing
• All road tolls and fuel expenses
• Tour Guide Services 
Excludes
• Anything not mentioned inclusive
• Any types of entry tickets or passes
• Lunch or any kind of snacks 
• Boating or Rafting Expenses
• Any type of Hot & Cold Drink
• Personal nature expenses
Tour Itinerary of 5 Days Trip to Hunza 2022
DAY 1 | NARAN - CHILAS
Tour to gilgit baltistan starts with pick up the guest and move straight to Naran breakfast on the way at Balakot. Stopovers at Kiwai waterfall for Photography & Sightseeing, continue towards Chilas. Dinner and overnight stay will be in Chilas.
*If Babusar get close then will travel through Besham route
DAY 2 | HUNZA - ALTIT & BALTIT FORT
After breakfast journey will start heading towards Hunza Valley by traveling through highest paved international road in the World the Karakorum Highway with stopovers at Rakaposhi viewpoint & mountains ranges and Nanga Parbat view point. Reach Hunza Valley at around 2:00 pm and will take some rest to relax by checking in the hotel and then  brief visit  and presentation inside Altit Fort (more than 700 years old)t and Baltit Fort (more than 900 years old).Drive back to hotel and free time till dinner. Overnight stay will be in Hunza
DAY 3 | ATTAABAD LAKE – KHUNJRAB PASS
Wake up call for breakfast & departure for Khunjerab Pass.  We will follow the KKH further North towards the Pakistan-China border  by spending leisure time at Attabad Lake, one of the most magnificent destinations of Hunza Valley and visit the small town of Passu and hike up to a stunning viewpoint alongside the huge, icy Passu Glacier & Hussaini Suspension Bridge before getting back to Karimabad. We enjoy the sunset o at Duikar View Point, where at 3000m we get spectacular vistas of the valley and peaks.  Overnight stay in Hunza
DAY 4 | HUNZA - CHILAS
After breakfast and departure for Naltar lakes (optional) reach Normal and shift into 4×4 Jeeps (Jeep expense not included in the package)  Spend quality time at Nalter valley & lakes, departure for Chilas and reach & check in the hotel. Overnight stay in Chilas or Naran
DAY 5 | LAKE SAIFUL MALOOK - ISLAMABAD
After breakfast get ready to travel back to Islamabad with stopovers on the way at Babusar Pass, Basel, Lulusar Lake & Naran. Arrival in Islamabad around 9:00 pm and Lahore 1:30 am. End of Services
5 Day Hunza Valley Group Tour Price 22,000 PKR Per Head 
•  In case couple needs separate room, Rs: 5,000/- additional will be charged
•  Kid under 3 year old is free of charge (Lap/folding seat )
•  3-8 years kids will be charged with half seat (folding seat)
•  Kids above 8 years will be charged as per full seat
•  Only one child under 3 year will be free per family
•  Guests for Karachi to Hunza tour package, can join us either from Islamabad or Lahore
(traveling and hotel arrangements hotel can be managed on-demand)
•  Your reservation is always subject to confirmation by depositing 30% as advance into company account.
The rest of the amount is required to be paid upon your arrival to the company representative in cash.
NOTE: Hunza grou tour package is schedule to departure every Friday at 10:30 from Lahore and at 3:30 am Islamabad 
Weekly Group Tours Departure of Hunza
| DATE | PRICE | PICK & DROP |
| --- | --- | --- |
| Fri, 05 Aug | 22,000 PKR | Lahore / Islamabad |
| Fri, 12 Aug | 22,000 PKR | Lahore / Islamabad |
| Fri, 19 Aug | 22,000 PKR | Lahore / Islamabad |
| Fri, 26 Aug | 22,000 PKR | Lahore / Islamabad |
| Fri, 02 Sep | 22,000 PKR | Lahore / Islamabad |
FAQ's
How much does it cost to go to Hunza?
Normally a public group tour of Hunza for 5 days starts from 16,500 PKR per person. It can go up and down in peak and off season as well. While private & customized tour packages prices depend upon days, numbers of participants and hotel category.  
How do I plan a trip to the Hunza?
The bus service is available for Gilgit (NATCO) from Islamabad. After reaching Gilgit you can hire the vehicle or go further by local transport. But the best option to join any tour company for their regular tours of Hunza, Skardu and Naran or contact us at +923 111 123 133
How long does it take to reach Hunza from Islamabad?
The driving distance to reach Hunza from Islamabad is approximately 595 km and takes around more than 12 hours. 
Is Hunza better or Skardu?
Both the destinations keep their own attractions but ss we compare the climate, roads, infrastructure, and hospitality Skardu gain more points than Hunza, because Hunza has less attraction of places than Skardu. While Skardu has more gigantic views.