Affordable Best Skardu Tour Packages by Air and by Road 2023
Are you looking for the best Skardu Tour Packages? If Yes, Then Click Pakistan Tourism Services is a the best choice for you.
Skardu is part of Gilgit-Baltistan, which is located north of Pakistan. It is surrounded by the districts of Gilgit, Khaplu, and Astore. Skardu town serves as a pivotal entrance to some of the world's highest mountains, including K2, K3, Gasherbrum, and Naga Parbat.
List of the Best Skardu Tour Packages 2023
Book Your Skardu Tour Now
Skardu is a famous tourist destination with magnificent scenery and an intriguing variety of changing landscapes. Every newlywed couple keeps wishing to spend their honeymoon vacation in the mesmerizing beauty of the Skardu.
Our Skardu tour packages offer the best tour itineraries covering Skardu and its surroundings. It has spectacular meadows known as the Deosai Plains, a mountainside fort – Skardu Fort, commonly known as the Kharpocho Fort; a dreamy lakeside resort: Shangrila Resort; a high-altitude desert with both sand and snow.
Skardu is accessible by air and by road. Its airport is located at great heights (above 2,500 feet) in the mountains. Flights from Islamabad to Skardu and Gilgit to Skardu operate every day with a one-hour flight.
Between Astore and Skardu, the Deosai Plains are a vast 3,000-square-kilometer plateau that rises to elevations of up to 13,500 feet. In Urdu, Deosai means "the Land of Giants." The Deosai National Park is located on the Deosai Plains and includes a variety of fascinating flora and fauna. Snow leopards, ibexes, Tibetan blue bears, Himalayan brown bears, wild horses, and migratory birds, including the golden eagle, griffon vulture, laggard falcon, and Eurasian Kestrel thrive in these plains.
Skardu Location
Islamabad to Skardu—630 km
Lahore to Skardu— 980 km
Gilgit to Skardu— 198 km
Naran to Skardu— 375 km
Mingora to Skardu— 548 km
Best Skardu Tour Packages by Air 2023
| PACKAGE NAME | DAYS | BOOK NOW |
| --- | --- | --- |
| Honeymoon Tour to Skardu By Air | 4 | |
| Skardu by air luxury honeymoon tour | 6 | |
| Skardu by air | 7 | |
| Skardu & Hunza by air tour package | 8 | |
After the new visa policy for foreign tourists and government efforts to develop the tourism industry, Skardu Airport became one of the busiest domestic airports. Previously only Pakistan International Airlines was operating its flights from Islamabad to Skardu and Gilgit. But now PIA has started its flights operation from other big cities like Karachi, Lahore, Faisalabad, and Sialkot.
Flights to Skardu and Gilgit are being run daily from Islamabad and l days a week from other cities. Click Pakistan Tourism Services has various Skardu honeymoon tour packages and itineraries covering all top attractions of Skardu and its adjacent areas. We arrange all services air tickets, hotel booking, transportation, and attractions sightseeing for our valued clients.
Here are some of our famous Skardu tour packages by air:
Best 5 Days Skardu Honeymoon Trip Package by Air
Most popular 6 Days Skardu Honeymoon Tour Package by Air
7 Days Skardu Honeymoon Packages by Air
Skardu Tour Packages from Islamabad by Air
Skardu Tour Packages from Karachi
Skardu Tour Packages from Lahore by air
Making Skardu Tour from Islamabad is most easy now. Even you can take the Skardu air safari flight and return to Islamabad the same day after spending the whole day in Skardu. Above mentioned Skardu tour packages are all with departures from Islamabad. You can choose one of your choices or give us a call or WhatsApp to customize it as per your demand.
Get ready to embark on a thrilling tourism adventure to Skardu! Gather your friends and family, pack your backpacks, and embark on an unforgettable journey. Our expert team at Pakistan Tour and Travel is here to arrange a tailor-made Skardu tour plan that fits your preferences, all at budget-friendly prices. So, please don't wait any longer; call your loved ones, and let's make memories together in the captivating landscapes of Skardu.
Travellers Speak About Our Services
Nevin Fayez Wanis
2023-06-08
The Company is reliable and has high level.of commitment . Drivers and tour guides were very helpful and caring . Booked hotels had high level of cleaniness and staff were very welcoming . Tours were organized in a great way,deserving each minute of time . I highly recomend everyone to explore pakistan with this tour agency . I will sure come back .
Recently Traveled with @pakistan click to Swat. They are providing best services. Everything was perfect hotels, food, transportation everything. They are providing all services HoneyMoon tours For couples, Private tours and group tours as well. Our vacation was totally worth the time and money we spent on it. If you're planning to travel northern areas in Summer holidays then must give them a try 🙌🏻
Click Pakistan was recommended by a friend as a reliable and efficient tourism service. It was our first tour to north after getting married and i was quite concerned at the beginning. But the way they manage us throughout our trip was amazing. Pick and drop from airport to airport , best hotels , privacy and freedom of movement for whole trip are the best getaways. Surely will recommend them and will travel with them soon again….IA
Had the best trip via Click Pakistan! We travelled to Swat, Kalam, Balakot, Siri Paye and Shogran. The hotels were comfortable, the driver was an expert and even our jeeps were ready timely!
Naseha Mushtaq
2023-04-29
We planned a trip for swat, kalam and shogran. We found our trip to be quite comfortable and our guide really helpful. We recommend Click Pakistan for travel package and will be considering them for our future trips I.A.
parrot sell and buy
2023-03-24
A well disciplined and well planed toure planer I have gained best eperience by traviling with this tourism serviice
Hunza valley was really awesome. Our 15 days trip with click Pakistan was amazing. We 5 friends do arrange private trip with this company and enjoy a lot. There were some issue in the hotel in Naran that was address by Mr. Abrar shah over our complain. Overall it was great experience
It was a great experience to have tour with Click Pakistan. Their host was very helping and guided us in every place.
We booked a family tour with Click Pak for Swat & Hunza. It was very good tour and the driver was very professional. One point I must mentioned here regarding hotels. Hotel in Chilas was not good as it should be, after long travel from Islamabad when we checked in Shangrila Chilas we were disappointed as first, but then as soon as we move forward things getting turn into breathtaking beauty and amazing view all around us. Hotels in Hunza was also okay and having good locations but again were not happing in Swat Hotels. Overall we enjoy our tour and the company full assist us and help us out whenever we approached them.
Experience was great with Click Pakistan and we enjoyed a lot. I recommended its services.
Tourists Attractions of Baltistan Skardu Valley
Following are the best tourist places for Skardu Valley. 
Shangrilla lake
Shangrilla Lake, a heart-shaped lake in lower Kachura Valley Skardu, is a mesmerizing beauty in the mighty Karakoram range. Its crystal clear waters and picturesque adjacent areas invite tourists around the globe to enjoy its serenity; it offers an idyllic escape, creating a serene haven in the heart of Pakistan's enchanting Gilgit-Baltistan region.
Deosai National Park
Known as the land of Giants, Deosai is situated in the spectacular region of Skardu and is considered one of the highest plateaus in the world. Its awe-inspiring beauty and unique ecosystem are a gift for visitors. With diverse wildlife features, Deosai is home to various rare species, including the Himalayan brown bear, Tibetan wolf, graceful ibex, and Himalayan red fox.
SatPara Lake Skardu
Satpara Lake is a famous destination for locals and foreigners seeking the serene beauty of nature. It offers a peaceful environment from the hustle and bustle of life. Satpara Lake boasts crystal-clear waters that reflect the stunning panorama of snow-capped peaks and Mount Masherbrum. Satpara Lake serves as a tourist attraction and a great source of water supply to the region.
Shigaar Valley (A blend of culture and beauty)
Shigar Valley is located at the confluence of the Indus and Shigar rivers and is referred to as a picturesque paradise and Valley of Gardens. Shigar Valley is known for its abundance of apricot, apple, and cherry orchards. With its rich history, breathtaking landscape, and warm hospitality of the local people, the valley attracts millions of visitors across the globe. Adventure seekers and natural beauty lovers rush to the valley to explore its diverse landscape.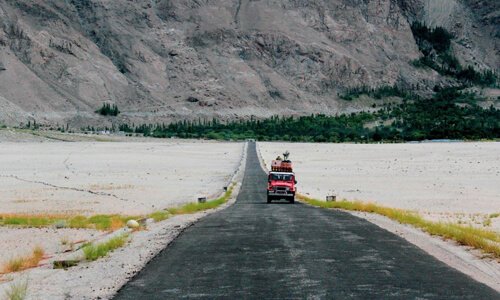 Manthoka Waterfall Skardu
Manthoka Waterfall stands as one of the top tourist spots in Skardu. It is located just 78 km from Skardu City and takes around two hours to reach the destination. Manthoka Waterfall captures the region's essence, enchanting the hearts of visitors who can witness its beauty. The waterfall and its surroundings offer beauty lovers and adventure seekers various outdoor activities. Different trekking and hiking trails allow visitors to explore its nearby wilderness and capture panoramic views of the valley.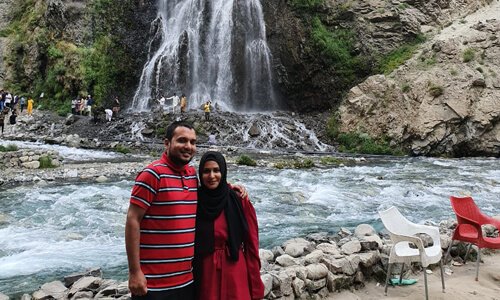 Katpana Desert and Lake
Katpana desert, also known as the Cold Desert, is situated near the Skardu airport and covers around 26,000 square kilometres. Katpana desert offers cold temperatures and barren beauty, unlike being hot and arid. It is the best place for people who want complete isolation from the hustle and bustle routine and the experience of exploring nature for some time. Along with wilderness experience, activities like jeep safaris, dune bashing adventures, bone fire, and camel rides are also available. There are glamping and huts available at reasonable prices for travellers who want to spend a night in the desert. Cold Desert and Katpana Lake are rich in cultural heritage and local Balti people's hospitality.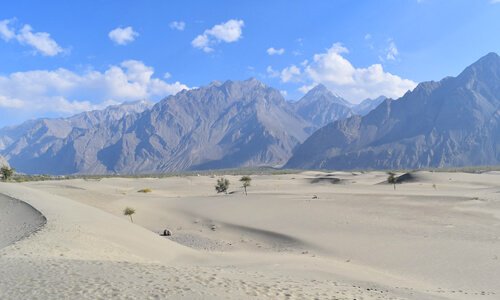 Upper Kachura Lake
Upper Kachura Lake is another mesmerizing jewel located in the Skardu Gilgit Baltistan. Crystal clear water, verdant landscape, and surrounding mountains, Upper Kachura, testify to the region's breathtaking natural beauty. One of the best activities to immerse in its beauty is taking a boat ride that will allow you to absorb its serene environment and stunning vistas. Upper Kachura Lake is also a gateway to further exploration of the region's wonders. Nearby attractions include the Lower Kachura Lake and the mystical Shigar Valley.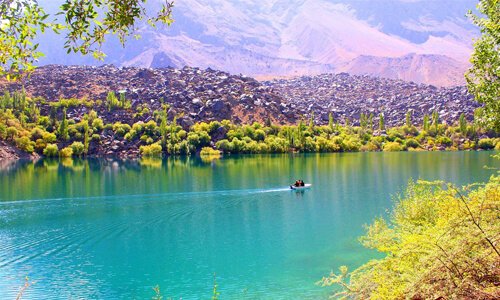 Basho Valley Skardu
Basho Valley is a magnificent natural beauty land nestled around 45 km from Skardu city. That takes an hour and a half to reach the destination. This scenic valley is a true paradise, boasting lush evergreen forests adorned with pine, juniper, and other majestic tree species, with expansive pastures and the soothing melody of bubbling streams. For travellers seeking unique and off-the-beaten-path destinations, Basho Valley beckons with its alluring allure and promises an unforgettable experience amidst nature's splendour.
Khaplu Valley Skardu 
Khaplu Valley is a captivating destination that offers a glimpse into the unique traditions of the Balti people. It is located110 km from the beautiful city of Skardu, Gilgit Baltistan region. Khaplu Valley is a true gem showcasing the majestic beauty of the Karakoram Range and the region's rich cultural heritage. Khaplu Valley is renowned for its historical significance, and the Khaplu Fort, a 19th-century architectural marvel, is a testimony to its illustrious past.
 Historical Places of Skardu (Historical Places to Visit during Skardu Honeymoon Tour Packages 2023)
Following are some historical places of sklardu which you can visit during your honeymoon tour.
Chaqchan Mosque (Built-in 1370)
Chaqchan Mosque is an ancient mosque located in the way of Shigar Valley from Skardu. The mosque is a historical and cultural landmark of the region. Chaqchan mosque is believed to be one of the oldest mosques in the area, dating back to the 14th century. The mosque features a distinctive architectural style, with its wooden columns and intricate carvings showcasing a blend of Tibetan, Kashmiri, and Islamic influences.
Khaplu Fort (Built-in 1840 CE)
Surrounded by stunning landscapes, Khaplu Palace is an ideal destination for travellers. It is an excellent blend of history, luxury, and natural beauty. The palace was built in 1840 and was the residence of the Raja of Khaplu. But now it has become a luxury hotel after being renovated and offers a unique experience to the visitor to stay in a royal setting and immerse themselves in the region's rich culture.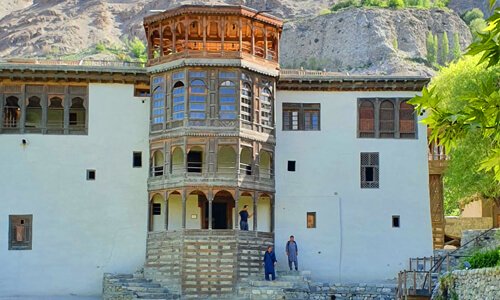 Kharphocho Fort (Built-in 16th CE)
Kharphocho Fort, also known as Skardu Fort, was built in the 16th century, is a famous tourist attraction and portrays the region's history and architectural heritage. The fort was made with stone and mud brick in Tibetan style. Tourists can visit and explore the fort's interior and learn about the culture and history of Skardua and the Baltistan region.  
Shigar Fort Skardu (Built-in 17th CE)
Shigar Fort is located in Shigar, only 44 km from Skardu city in Gilgit-Baltistan. The Raja of Shigar built it in the 17th century. The fort served as the residence of the local rulers. Still, today, Shigar Fort has been restored and transformed into a luxury heritage hotel (Serena Hotel), offering an opportunity to experience the grandeur of its past. Its construction represents a blend of Balti and Tibetan architectural styles. Shigar Fort has a stunning location making it a famous tourist destination.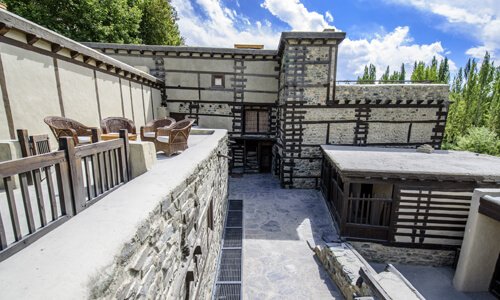 Manthal Buddha Rock (Discovered in 1906)
Manthal Buddha Rock is an ancient rock carving located near Skardu in Gilgit-Baltistan. It serves as a fascinating reminder of the region's rich Buddhist heritage. This unique and historically significant rock art dates back to the 8th century during the Tibetan period. The carving depicts a prominent Buddha figure carved into a massive boulder, measuring around 8 meters in height. 
Maqpoon Palace (Built-in 19th CE)
Maqpoon Palace, also known as Maqpon House, is a historic palace in Skardu, Gilgit Baltistan. The castle is an impressive example of Tibetan-style architecture with its intricately carved wooden windows and doors. It was built during the 19th century and served as the residence of the Raja of Skardu. Maqpoon Palace offers stunning views of the surrounding landscapes, gardens, and breathtaking views of the Skardu. There is no permission for a night stay in Maqpoon Palace; however, the visitors can explore its exterior and learn about its historical significance.
Why are Skardu Tour Packages From Karachi so Famous?
Located in the region of towering peaks, Skardu's awe-inspiring beauty attracts millions of tourists across the globe yearly. Skardu has emerged as one of the best destinations for nature enthusiasts, thrill-seekers, and culture lovers in recent years. Alike other visitors, residents of Karachi have long cherished the allure of Skardu, making Skardu tour packages from Karachi a phenomenon of fame and popularity. Skardu tour packages from Karachi are not a mere coincidence; it is a testament to the alluring charm that Skardu offers.
Here are the reasons that keep Skardu Gilgit Tour Packages from Karachi famous among tourists:
Mesmerizing landscape:
Skardu is a captivating destination that leaves you surprised by its beautiful landscape.
Mighty peaks:
Located amidst the towering peaks (including the legendary K2) of the Himalayas and Karakoram ranges, Skardu attracts visitors from across the globe.
Road Structure improvement:
With time, its road structure improved, and the main Skardu road was constructed for all types of vehicles.
Splendors of waterfalls and streams:
Skardu region having full of natural beauty with breathtaking waterfalls and streams that you visit to enjoy the whole year.
Marvelous Deosai National Park (2nd highest plateau in the world)
Deosai National Park is one of the highest plateaus in the world, with elevations between 3,500 to 4,114 meters above sea level. This is the reason it is called as "Roof of the World," Deosai grabs visitors with its sprawling plains and majestic snow-capped peaks
Lush green meadows and astonishing Valleys:
Skardu is among the few regions where lush green meadows and stunning landscapes amaze you.
Hospitality of Locals:
Gilgit Baltistan region is famous for its distinctive hospitality. The people of Skardu are very kind and helpful towards tourists.
Rich Culture of Baltistan Region:
Skardu boasts a rich cultural heritage and traditions that have thrived in the region for centuries.
Religious Significance:
Skardu is also home to several religious sites, including ancient Buddhist stupas and monasteries.
Affordable Tour Package:
Skardu is accessible both by road & by air, and the tour packages are available at very reasonable prices.
Many exquisite trekking and hiking trails in Skardu Tour are:
K2 Base Camp or Gondogoro La Trek
Snow Lake or Biafo Hispar La Trek
Broad Peak Base Camp Trek
Masherbrum Base Camp Trek
Banak Pass Trek
Plan your trekking tour of Skardu with us. Call now and get the quote today.
Frequently Asked Questions About Skardu Tour Packages
Following are the commonly asked questions about skardu tour packages by tourists,
1. How far is Skardu Valley from Islamabad?
Answer: The distance between Skardu and Islamabad is approximately 640 kilometers by road and will take around 13 hours and 30 minutes with an expert driver. Keep in mind travel time may vary due to weather conditions. Before traveling by road must check the weather forecast and road blockage updates.
2. What is Skardu famous for?
Answer: Skardu has become one of the popular tourist destinations in the Gilgit Baltistan region. It is famous for its breathtaking beauty and mountaineering and climbing. Skardu hosts one of the second-highest mountains in the world (K2 8611 m). The hospitality of this region is also one of the famous reasons to attract tourists from across the globe.
3. Is it safe to travel to Skardu by road?
Answer: After the improvement in the road structure and construction of the new road leading to Skardu, there is no issue with traveling to Skardu by road; it is safe, but before traveling, check weather conditions and road blockage of the destination.
4. What are the best months for Skardu?
Answer: Summer season is ideally the best time to visit this mesmerizing valley. It is when other parts of the county are under scorching heat, but Skardu weather has comfortable and pleasant temperatures.
 How much seven days a tour package to Hunza & Skardu cost?
Answer: It depends upon the number of persons and the service you are looking for, but usually, seven days group trip to Skardu starts from 28,000 PKR per head and 75,000 PKR per head for a private package. The tour will include transport, accommodation, food, and a Jeep safari.
Can we go to Skardu by car?
Answer: This is a prevalent question from travelers, and the answer is yes. You can travel in a sedan car but with an expert driver that used to drive on this route. Better to hire from a rental service.