Pakistan Tour - Hunza & Skardu
With its rich history, diverse landscapes, and warm hospitality, Pakistan has emerged as a remarkable tourist destination in recent years. Pakistan offers many attractions, including breathtaking mountain ranges, ancient archaeological sites, vibrant cities, and a rich cultural heritage.
Click Pakistan tourism services are dedicated to showcasing the hidden gems of Pakistan to the world and providing a memorable and immersive experience for our guests.
Our experienced team will accompany you throughout the trip, ensuring a seamless and enjoyable trip experience. Your visit to Pakistan will also allow you to experience our warm hospitality and immerse yourself in our vibrant culture. You will have the opportunity to savour delicious Pakistani cuisine, witness traditional arts and crafts, and interact with the friendly locals known for their generosity and hospitality.
To express our commitment to making your visit memorable, we will cover the expenses for accommodation, transportation, and other necessary arrangements during your stay in Pakistan.
We look forward to welcoming you to our country and showcasing the best of what Pakistan offers.
Departure Date: 13 to 26 October 2023

Discount: A group of 5 persons will get 7% discount on each seat
Travelers Speak About Our Services
Nevin Fayez Wanis
2023-06-08
The Company is reliable and has high level.of commitment . Drivers and tour guides were very helpful and caring . Booked hotels had high level of cleaniness and staff were very welcoming . Tours were organized in a great way,deserving each minute of time . I highly recomend everyone to explore pakistan with this tour agency . I will sure come back .
Recently Traveled with @pakistan click to Swat. They are providing best services. Everything was perfect hotels, food, transportation everything. They are providing all services HoneyMoon tours For couples, Private tours and group tours as well. Our vacation was totally worth the time and money we spent on it. If you're planning to travel northern areas in Summer holidays then must give them a try 🙌🏻
Click Pakistan was recommended by a friend as a reliable and efficient tourism service. It was our first tour to north after getting married and i was quite concerned at the beginning. But the way they manage us throughout our trip was amazing. Pick and drop from airport to airport , best hotels , privacy and freedom of movement for whole trip are the best getaways. Surely will recommend them and will travel with them soon again....IA
Had the best trip via Click Pakistan! We travelled to Swat, Kalam, Balakot, Siri Paye and Shogran. The hotels were comfortable, the driver was an expert and even our jeeps were ready timely!
Naseha Mushtaq
2023-04-29
We planned a trip for swat, kalam and shogran. We found our trip to be quite comfortable and our guide really helpful. We recommend Click Pakistan for travel package and will be considering them for our future trips I.A.
parrot sell and buy
2023-03-24
A well disciplined and well planed toure planer I have gained best eperience by traviling with this tourism serviice
Hunza valley was really awesome. Our 15 days trip with click Pakistan was amazing. We 5 friends do arrange private trip with this company and enjoy a lot. There were some issue in the hotel in Naran that was address by Mr. Abrar shah over our complain. Overall it was great experience
It was a great experience to have tour with Click Pakistan. Their host was very helping and guided us in every place.
We booked a family tour with Click Pak for Swat & Hunza. It was very good tour and the driver was very professional. One point I must mentioned here regarding hotels. Hotel in Chilas was not good as it should be, after long travel from Islamabad when we checked in Shangrila Chilas we were disappointed as first, but then as soon as we move forward things getting turn into breathtaking beauty and amazing view all around us. Hotels in Hunza was also okay and having good locations but again were not happing in Swat Hotels. Overall we enjoy our tour and the company full assist us and help us out whenever we approached them.
Experience was great with Click Pakistan and we enjoyed a lot. I recommended its services.
 Day 1 – Arrival in Islamabad
 Day 2 – Driving the Karakoram Highway to Chilas
 Day 3 – Driving the Karakoram Highway to Skardu
 Day 4 – Full day in Shigar Valley
 Day 5 – Khaplu Valley 
 Day 6 – Hiking to organic village
 Day 7 – Karimabad & Altit fort
 Day 8 – A day in Gulmit & Passu village 
 Day 9 – Attabad Lake & Baltit Fort
 Day 10 – Trekking to Fairy Meadows
 Day 11 – Trekking for Nanga Parbat base camp
 Day 12 – Driving to Naran
Day 13 – Driving to Islamabad
Day 14 – Departure
Day 1 – Arrival in Islamabad
Guests' arrival day in Islamabad, the capital of Pakistan. Meet & greet and transfer to hotel. In the evening we will invite the guests for a welcome dinner at Monal restaurant, one of the famous restaurants, located on top of Margilla Hills and offers an extensive view of the capital.
Day 2 – Driving to Chilas through the Karakoram Highway
This day we will start our journey towards Gilgit Baltistan. The drive between Islamabad and Gilgit Baltistan is a 600 KM having stunning beauty of landscape. To reach direct Skardu (Skardu serves as the capital of Skardu District and the Baltistan Division.
It is situated at an elevation of nearly 2,500 metres in the Skardu Valley, at the confluence of the Indus and Shigar Rivers and a top destination for tourists across the globe) is not feasible in one day, so the first night we will stay in Chilas to break the travel.

Chilas is a small town along the Karakoram, where we will get our first glimpse of the local life in this region of Pakistan. The whole journey will take around 12 hours, but of course, we will take stopovers on the way for sightseeing & photography in multiple locations.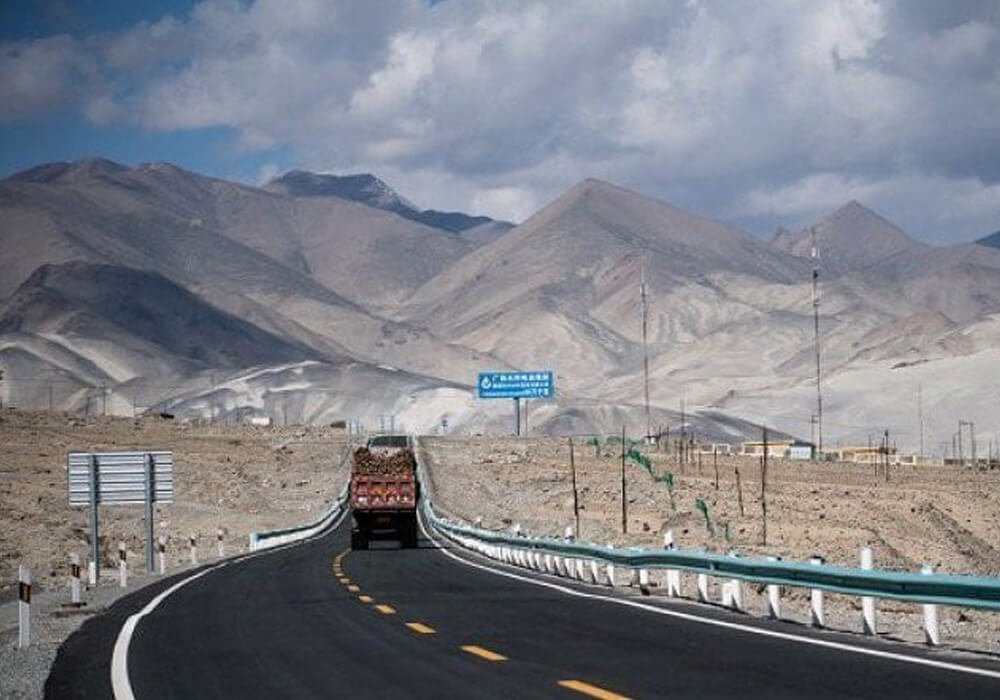 Day 3 – Driving to Skardu
After breakfast, we will move to visit Shangrila Lake & Upper Kachura Lake (The beautiful lakes attract thousands of tourists yearly because of its crystal clear waters and spectacular views around it) Enjoy boating in Lower & Upper Kachura Lakes. Sightseeing and photography.
After spending quality time at lakes and interactions with locals will drive to Skardu for an overnight stay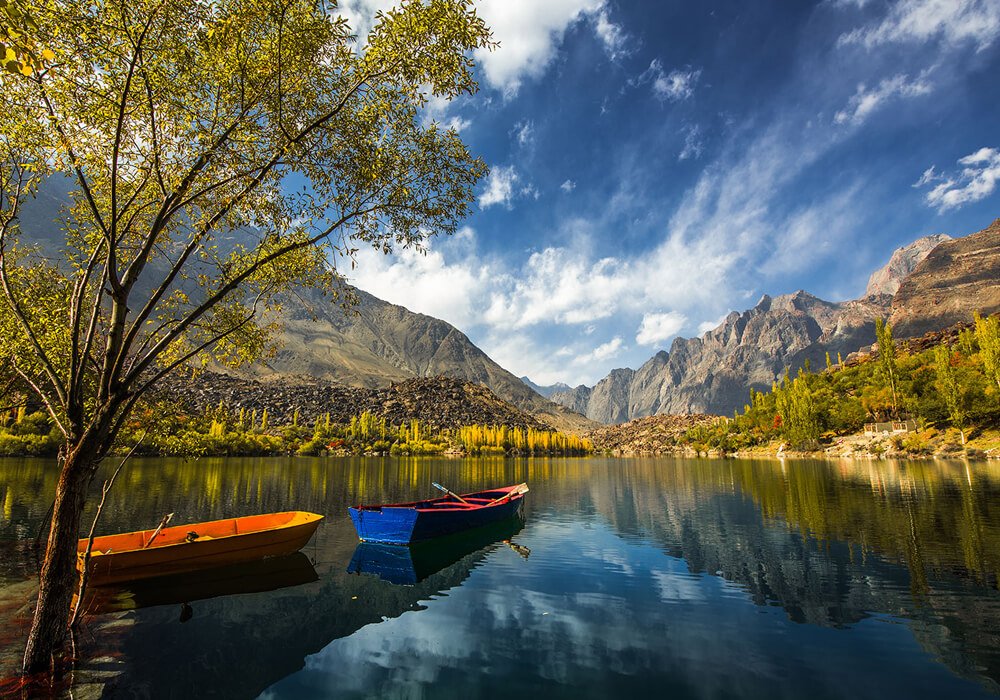 Day 4 – Full day in Shigar Valley
On this day we will travel to visit Shigar Valley. After breakfast, we will depart for Shigar Valley. Stopover for sightseeing at Cold Desert (Bike riding & Paragliding activities in the desert). Enjoy distance view of scenic Blind Lake and Sarfaranga Desert. Visit old town of Shigar and the famous Shigar fort (built in the 17th century by the Raja of Amacha Dynasty of Shigar). Leisure time in the peaceful lawn of Shigar fort. Visit Amburiq Mosque (one of the oldest Mosque in Baltistan). Drive back to Skardu for dinner and an overnight stay.
Day 5 – Driving to visit Khalu Valley
Today will be other great attractions to visit. After breakfast, we will drive to Manthoka waterfall & Khaplu (Khaplu was the second-largest kingdom in old Baltistan under the Yabgo dynasty) Stopover at the confluence point of river Shyok and Indus River. Sightseeing nearby waterfall. Drive to Khaplu. Visit the old town of Khaplu and the famous Khaplu fort (built in the mid-19th century). Visit 600 years old famous Chaqchan Mosque. Dinner and overnight stay will be in Khaplu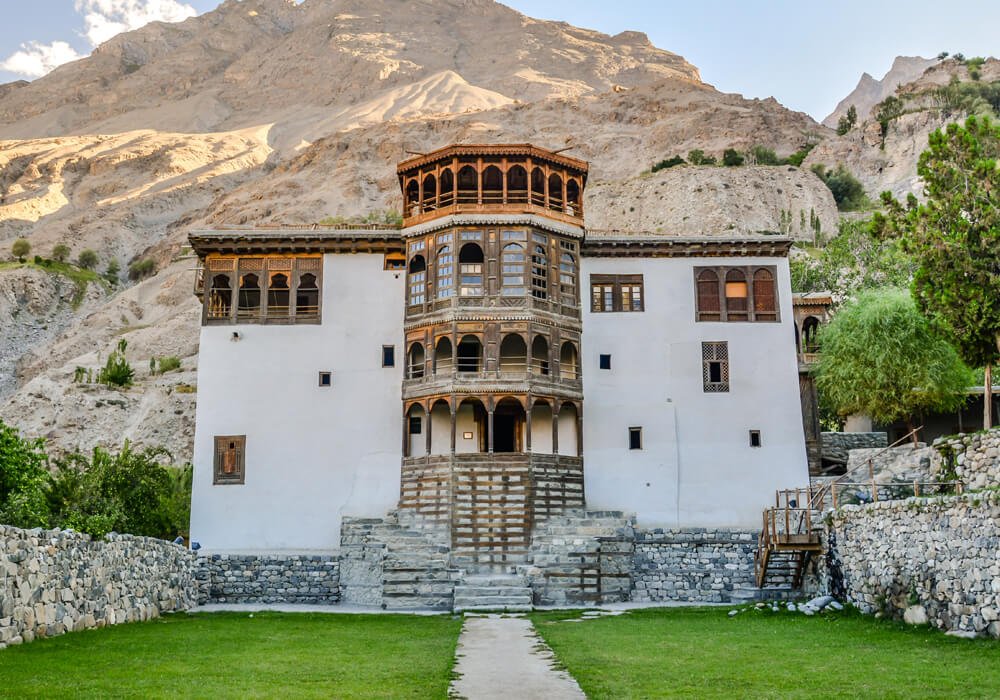 Day 6 – Hikking to an organic village
On this day we will move to visit Organic village (2 hour's hike). Drive to Sadpara Lake and enjoy sightseeing. Visit Skardu's local market for shopping. Drive back to the hotel and enjoy your free time. Dinner & Overnight stay in Skardu.
Day 7 – Karimabad & Altit Fort
On this day we will move to Hunza Valley (5h – 10m) Stopover at Rakaposhi viewpoint for sightseeing.
Arrive in Hunza (Hunza is a mountainous valley surrounded by a spectacular landscape and the most hospitable people) and visit Altit fort, Altit village and Royal Garden (originally home to the hereditary rulers of the Hunza state).
Visit Karimabad's local market for shopping and interaction with local people. Dinner and stay will be in Hunza.
Day 8 – A day in Gulmit & Passu Village
On this day we will spend the day exploring Gulmit & Passu village and its surroundings, especially focusing on the local culture, including visiting a women-run carpet workshop and having lunch in a local house. In the afternoon, we will trek to Ondra Polygah for the best views of the valley. Dinner and overnight in Gulmit.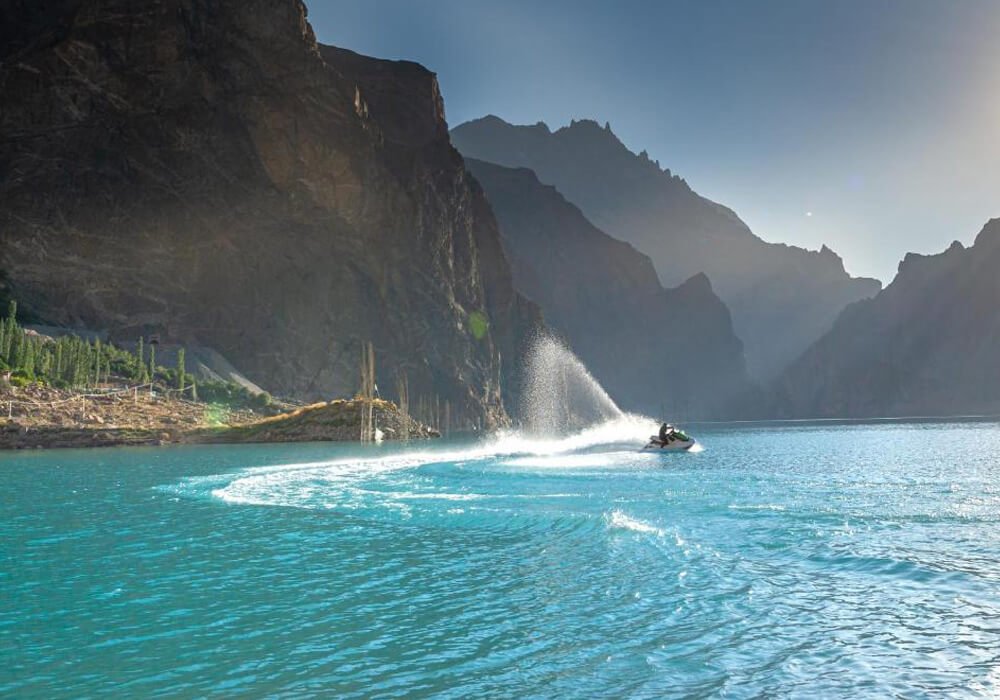 Day 9 – Attabad Lake & Baltit Fort
After having breakfast we will visit the magnificent Attabad Lake (Attabad Lake is a great attraction to visit with families and friends. Its fascinating blue-coloured water gives a new spectrum of beauty) Get back to Karimabad and visit Baltit Fort (UNESCO World Heritage Tentative list since 2004). Drive back to visit Eagle Nest and witness majestic sunset on the mountain and a bird-eye view of Hunza Valley. Get back to Hunza, free time to visit the local market, dinner and night stay will be in Hunza.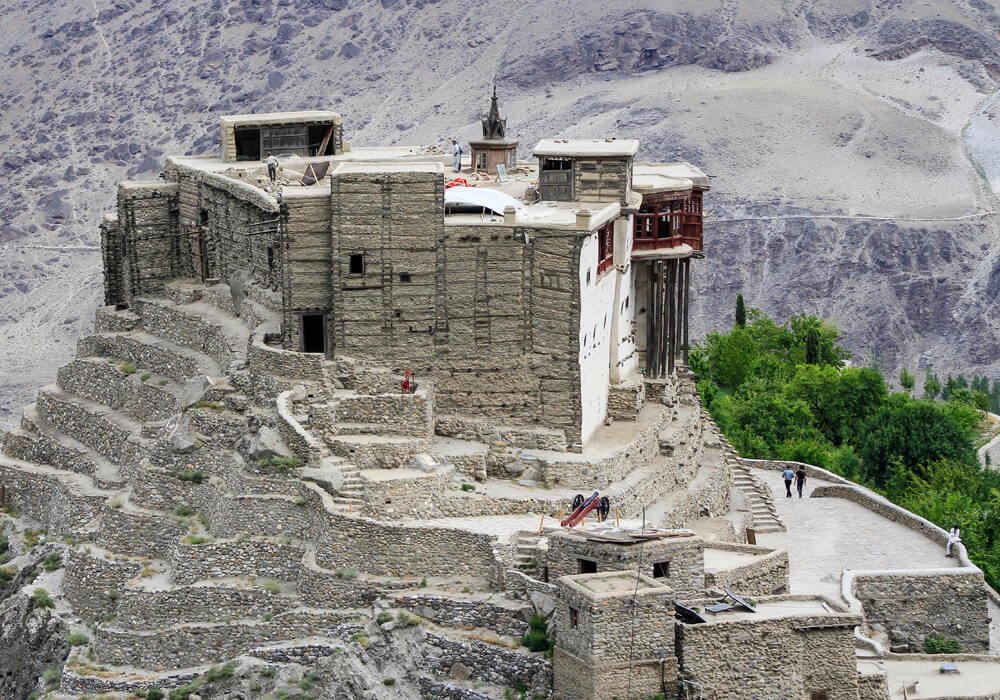 Day 10 – Trekking to Fairy Meadows
On this day we will travel to visit Fairy Meadows, one of the most breathtaking detonations.
Move toward Raikot Bridge and transfer to a 4X4 local jeep and reach Tatu Village. From Tatu village will start a scenic hike toward Fairy Meadows (4-5 hours moderate level hike). Arrival at Fairy Meadows where dinner would be ready and will serve in the lap of mountains. Night stay will be in camping or huts.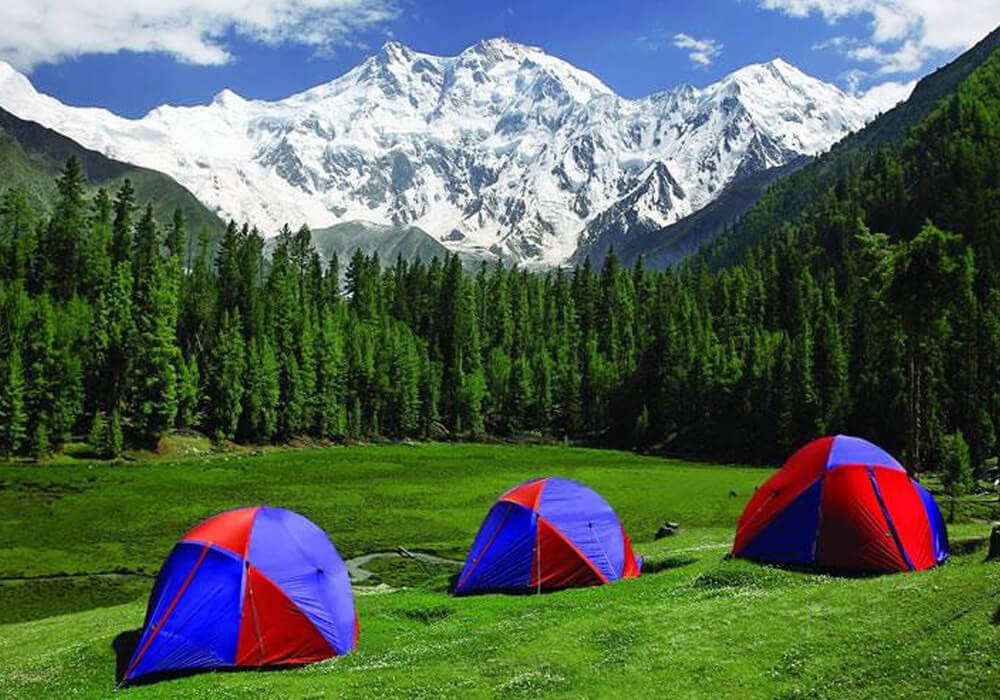 Day 11 – Hike to Nanga Parbat Base Camp
Breakfast will be served sitting under the beautiful view of the mountains.
This day will be a free & relaxing day to enjoy the beauty of Fairy Meadows or Hike to Beyal camp & Nanga Parbat Base Camp (8h hour moderate hike) and enjoy the sightseeing. Trace steps back to Fairy Meadows.
Enjoy Bonfire. Night stay will in camps or huts.
Day 12 – Driving back to Naran
After breakfast will travel back same as Tatu village and then drive to Raikot Bridge on 4X4 jeep and travel towards Naran Valley (Naran is a popular tourist destination, located at an altitude of 2,409 meters above sea level) and will take stopovers on the way at Babusar Pass (Babusar Pass, holding the title of the highest peak in the Naran Valley is elevated at a height of 13,691 feet). And Lulusar Lake. Arrive in Naran and check in at the hotel for a night's stay.
Day 13 – Back to Islamabad
This day will be our last day in the mountain region. After breakfast, we will head towards Islamabad with stopovers on the way for sightseeing and photography. Arrive in Islamabad and check in at the hotel for a night's stay.
Day 14 – Departure
After breakfast, we will take care of your transfer to Islamabad Airport.
Package Includes
Air-conditioned transport

11- nights hotel accommodation

2- nights camping/huts in fairy meadows

Sightseeing as mentioned in the itinerary

Entrance fees, cultural activities and guided tours to all places

Jeep safari where require

Quality meals, breakfast, lunch & dinner

Invitation Letter and visa assistance

English-spoken tour guide/driver

Clearance for all checkpoints

Airport transfers
Not Included
International flights to Islamabad 

Visa fees (from 35 to 60 USD, depending on nationality)

Travel Insurance 

Alcoholic drinks or any extra drink  

Single supplement. Having your own private room for 13 nights costs 350 USD
FAQ
Which hotels do we stay?
These are the hotels we always stay in – subject to availability.
All are relatively comfortable hotels and lodges with private rooms and attached toilets, usually the best available option in the region we visit.
How does the room distribution work?
Price of the tour includes accommodation in a twin room.
If you are a solo traveler, you will be sharing the room with another like-minded traveler from the group. We always try to group people of same gender and age together but note that this won't always be the case. Moreover, in the hypothetical case there weren't perfect pairs, one of the rooms would be a triple room.
If you wanted to have your own single room, you will have to pay an additional €350.
How to get a visa?
With our Letter of Invitation, you'll be able to apply for a Pakistan tourist visa online.
It's recommended to start applying 2 months in advance.
Which nationalities can join this tour?
Pretty much all nationalities.
Is this tour for everyone?
As mentioned, in the mountain areas, we always stay in the best available accommodation. However, note those areas of Pakistan are so remote that even the best possible accommodation can be an issue for some, since electricity and running water might not always be reliable.
Moreover, we always try to eat in the cleanest places but note that hygiene standards in Pakistan are poor and many travelers get sick due to the food they eat outside of the hotels we stay.
Nevertheless, if you are keen to have the most epic adventure and are flexible when it comes to tourist facilities, you are welcome to join this tour!
What's the best way to reach Islamabad?
Islamabad has an international airport with plenty of connections with Dubai, Istanbul, Doha, Abu Dhabi and even London.
Can I fly to Lahore instead?
If you want to visit the cultural capital of Lahore, I recommend flying there, yes, and then you can take a bus to Islamabad (around 5 hours).
Is it safe?
Nowadays, Pakistan is quite safe, especially in the northern areas.
How many people will attend this tour?
We limit our tours to a maximum of 12-14 people.
Are there ATMs in Pakistan?
You can find ATMs in Islamabad better to bring cash for the northern areas.
Exchanging money: which currencies do they accept?
Both € and $ can be easily exchanged for Pakistani rupees.
Is there a lot of trekking involved in this tour?
We don't do anything extreme, only day treks, which can be relatively easy for someone in good shape.
How does payment work?
In order to secure your spot on the tour, we require a deposit.
All details will be shared upon booking your spot.