Best Things to Do in Hunza Valley | Top Attractions & Must Visit Places in 2022
Pakistan is a blessed country in dynamic landscapes, gushing rivers, lakes, towering mountains, natural waterfalls, glaciers, cold deserts, diversity of cultures, and delicious food with locals' unique hospitality. But Hunza valley stood tall among all the beautiful places in Pakistan. The mountainous valley is situated in the extreme northern part of Gilgit Baltistan near the Pak-China border called Khunjrab pass.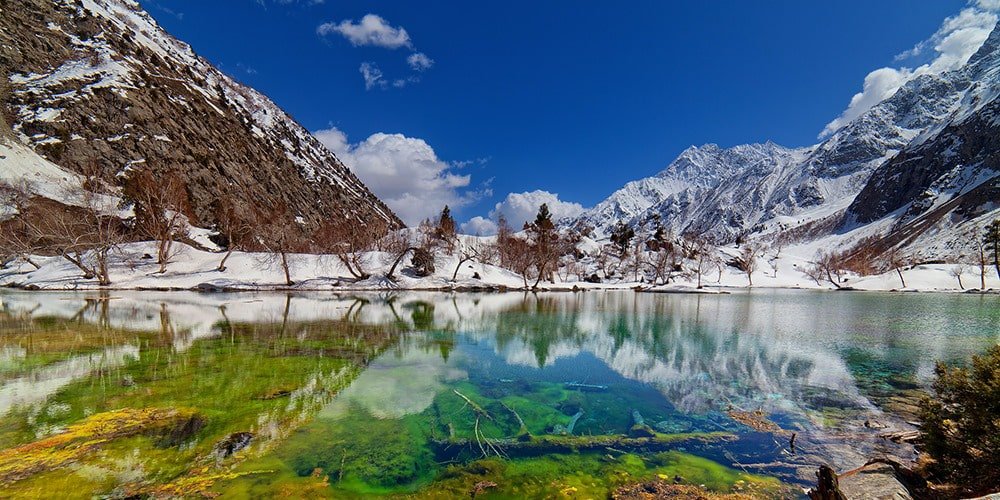 Hunza valley tour is not less than a dream for tourists worldwide and is often referred to as the valley as paradise on earth. This beautiful valley, surrounded by the grand Himalayas and the Karakoram mountain range, makes it different from all other places. A few years back, some foreign media outlets raised some question about whether Hunza valley is safe for tourists?
But Pakistan name is the top holiday destination for travellers for 2020 by well-known luxury and lifestyle magazine Conde Nast Traveler, and Royal visit of Britain's Catherine, Duchess of Cambridge, and William Duke of Cambridge killed all types of rumours about either Pakistan is a secure county for tourism. Pakistan's security situation has changed now, and it is an entirely safe and sound country for tourists.
Karimabad, Hunza Valley Things To Do Map
What is the best time to visit Hunza valley?
In the region of Gilgit Baltistan (Hunza & Skardu), the spring season is an astounding natural beauty of the year. Colours of cherry blossom vegetation in contrast with the terrain and sky. This weather started in the first week of April and is considered one of the best times to visit Hunza valley. There are no more tourists during this time, hotels are available at very cheap rates, and transport is also available at very economical prices. Thus you can plan your trip to enjoy the tranquil and serene with speaking mountains beauty of Hunza valley during this time. Although the summer season (May to September) is also good to refresh yourself in the cool and pleasant weather, while other parts of the country plunged in scorching weather during this period. October and November are also acceptable. The temperature lies above 0. Still, after the mid of December to the end of February, it is very severe and decreases to 8 to 10 C.
Hotels in Hunza Valley (Karimabad)
Hunza Valley is located at a distance of 101 km from Gilgit, the capital city of Gilgit-Baltistan, which gives you absolute calm, a serene, and refreshing mood of life. The valley offers all types of hotels, from luxury to standard. Tourism activity is growing every day, and people (locals & foreigners) love to make the Hunza valley tour. You can find out budget hotels with basic amenities for a maximum of 30 USD/night (Double room) in peak season and 20 USD in the offseason. Here are the names of some best hotels in Hunza valley.
Serena Inn Hunza

Luxus Hunza (Attabad Lake)

Hard Rock Hunza Resort & Villas

Hunza Darbar Hotel

Hunza Embassy Hotel

Eagle Nest Hotel Hunza

Gulmit Continental Hotel

Hunza View Hotel

Hunza Hidden Palce 

Old Hunza Inn

Baltit Heritage Inn

Borith Lake Hotel & Resort
Daily Budget 
It depends on your travelling style about the daily expense during your stay and excursion in the valley. If you are sticky with your allocated budget, use public transportation, stay in a basic hotel, and take not more meals. You can manage your budget around 30 to 50 USD per day per person (estimated on my calculation), including accommodation and three-time food that looks very cheap compared to other countries in the world.
Is there internet in Hunza valley?
Yes. Internet service is available in most parts of Hunza Valley Gilgit-Baltistan. But somewhere you have to face the problem with its speed, and often it even does not work. But mainly A class hotels provide Wi-Fi connectivity to their guests in rooms, and at some hotels, it is available only at reception. The internet service is relatively slow, but the main towns of the region are okay.
Which mobile network works best in Hunza
Almost all mobile network companies ( Jazz Telenor, Ufone, Zong, Warid & Nescom) provide services worldwide, including Hunza valley. Telenor and Nescom are said to be much better than other networks.
Travel Insurance
 If you are planning to explore Pakistan and wants travel insurance for your trip, we would recommend WorldNomads.com, which has the best feedback of travellers worldwide. 
What To Pack For Hunza (Karimabad)
Managing your packing is an art, and as much as it will be lighter in weight, it will give you comfort in your travelling. 
Have a look at a few tips on what to pack for your trip to Karimabad, Pakistan:
Walking/Hiking Shoes
Breathable Shirts
Outer Shell Jacket
Microfiber Towel
Fleece Jacket
Camera
Power Bank
Water Bottle
Universal Adapter
Packing Cubes
Daypack
Large Backpack
A distance of Hunza from Islamabad, Karachi, and Lahore
There are two ways to approach Hunza Valley by choosing Naran, Babusar pass, or Besham Dasu road via Karakorum Highway. Naran, Babusar pass is the best and fast way with having stunning landscape on both sides of the road, but this road remains close from September to the end of May due to heavy snow.
A distance of Hunza valley from Islamabad via Naran, Babusar Pass is 611 km and around 12 hours' drive, and by air from Islamabad to Gilgit, it is only 45 minutes flight. Travel by aeroplane is more convenient and comfortable, but you will miss many spectacular landscape views that only be seen when travelling by road. One more issue of aeroplane travel is that 20 to 30 per cent of flights are cancelled because of weather conditions. Hunza's distance from Islamabad via Karakorum Highway is 570 km, and it will take around 13 hours' drive. The distance of Hunza valley from Karachi is 1980 and from Lahore 2120 km via national highways.

See All Hunza Valley Tours: Best Hunza Valley Tour Packages in 2022
Hunza to Khunjrab pass distance
The Pak-China border's distances known as Khunjrab pass from Hunza valley (Karimabad) is around 173 km. It leads via Karakorum highway, one of the world's most paved international roads connecting Western China and Pakistan.
Hunza Valley weather
In the region of Gilgit Baltistan (Hunza & Skardu), the season of spring is an astounding natural beauty of the year. Colours of cherry blossom vegetation in contrast with the terrain and sky. This weather started in the first week of April and is considered one of the best times to visit Hunza valley. Because there are no more tourists during this time, hotels are available at very cheap rates; thus, you can enjoy tranquil and serene with speaking mountains beauty. Although the summer season ( May to September) is the best weather to make the Hunza Valley tour, October and November are also fine. The temperature lies above 0. Still, after the mid of December to the end of February, it is very severe and decreases to 8 to 10 C.
 Hunza valley pics
 To see the fantastic pictures of the Hunza valley, you can visit our gallery section. And if any of you have beautiful images of your Hunza Valley tour, please share them with us at info@clickpakistan.org. We will publish your picture on our website and all social media platforms with your name, and thanks.
Hunza Valley Map
It is effortless to get Hunza valley locations, distance, and any information you can search. Google here is giving the Hunza valley map for your consideration.
Is it safe to visit the Hunza valley?
Hunza Valley (Gilgit-Baltistan) region is secure and considered one of the country's most peaceful areas even all Pakistan is safe. There are no security issues, especially after a successful operation by Pakistan security forces against some militants near the Pak-Afghan border. Now all areas had been cleared, and Pakistan is just as safe as Europe. There is a zero crime ratio in the valley. The people of the valley are very hospitable and cooperative and happy to receive guests in their areas. Hunza Valley is a hundred per cent secure and peaceful as same in central Europe.
How far is Hunza from Naran?
 It is a beautiful way that leads to Hunza from Naran. On both sides of the road, you can see Nature talking with you. Towering verdant mountains having snow on the top, it is a fantastic experience to enjoy the landscape via Babusar Pass. Hunza's distance from Naran is about 313 km and takes approximately 6 hours to reach Hunza valley.
Does Hunza has snow?
Yes. Hunza valley weather in winter gets freezing, severe, and live snowfall can be seen there. Even in summer, snow can find on the peaks of the mountain.
Is it safe to travel the Karakorum Highway?
The Karakoram Highway is one of the highest paved international roads globally and is considered the safest part of Pakistan. Locals and foreign tourists love to travel on the Karakoram highway. It is not only safe but having a breathtaking scene of the landscape.
15 Things To Do in Hunza Valley 
All Pakistan Northern areas are heavenly beautiful, but especially when you enter into this region of Gilgit Baltistan (Hunza Valley), mesmerizing beauty embrace and take you another world. Hunza Valley tour is one of the famous and most demanding trips among locals and foreign tourists. Hunza Valley tour has become a top attraction, especially for foreign tourists. People travel to the Gilgit-Baltistan region from all over the world, but Japan, Malaysia, Indonesia, Singapore, Thailand, and Europe are among the most visited countries.
Here we will describe the most incredible things to do to make the most of your tour in the Hunza valley.
1. Rakaposhi Mountain View
Hunza and Skardu are known for their incredible massive and sky mountains. Rakaposhi (Snow covered in local language) is a stunning mountain in the Karakoram range and located in Nager Valley, about 100 km north of the city, and is also recognized as Dumani ("Mother of Mist").  You can see the world's highest mountain peaks Ladyfinger Peak (7,400m), Ultra Sar (7,500m), and the spectacular Rakaposhi right from Karimabad. If you want to enjoy the real beauty of Rakaposhi, try waking up early to witness the majestic white Rakaposhi. Rakaposhi ranked is 27th highest in the world and 12th highest in Pakistan.
2. Altit Fort and Royal Garden
 Altit Fort is also a great reason to make the valley popular among tourists. Altit Fort was the home of Ruler Mir of Hunza and an 1100-year-old ancient monument which is surrounded by apricot, cherry and peach trees garden. It can be approached in 30 minutes walk or 15 minutes drive from Karimabad town. 
 3. Climb to Baltit Fort
 Baltit Fort is 700 years old architectural monument and was the residence of the Crown prince of Hunza. You can take a complete view of Karimabad & Hunza Valley from Baltit Fort. A steep track leads towards the fort from Karimabad, a small bazaar of locals belongings where you can get clothes, gemstones, instrument, and traditional Hunzai food. (complete details about the food of Hunza read ahead) It will take 20 minutes hard steep hike to reach the fort. The view from the fort is stunning, and you can take a clear picture of Rakaposhi and Diran peak from here. Spare some time, visit the fort with a local guide, and enjoy local snacks with a cup of tea.
 4. Eagle's Nest for Sunset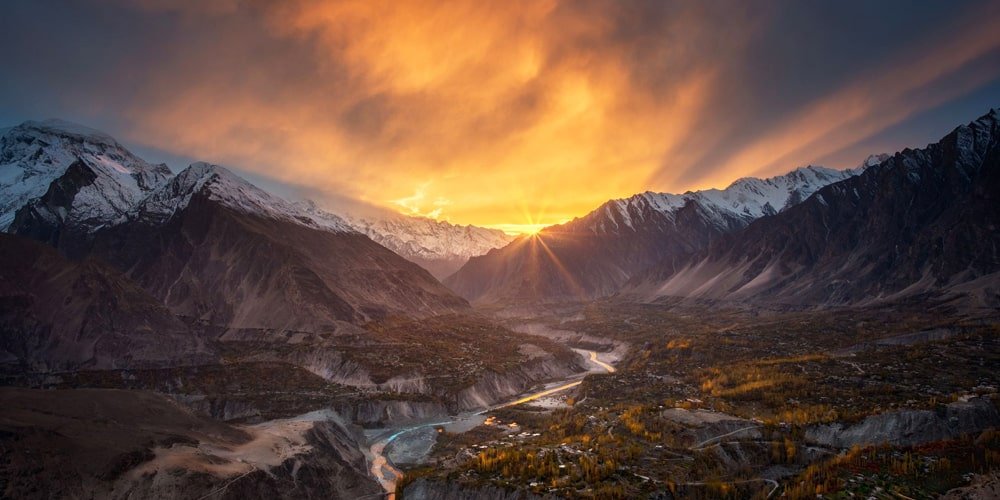 Though it takes some effort to climb up to this fantastic place, I dame sure to say that you will remember this breathtaking view of sunset for the rest of your life once you reach there.
5. Visit Ganish Village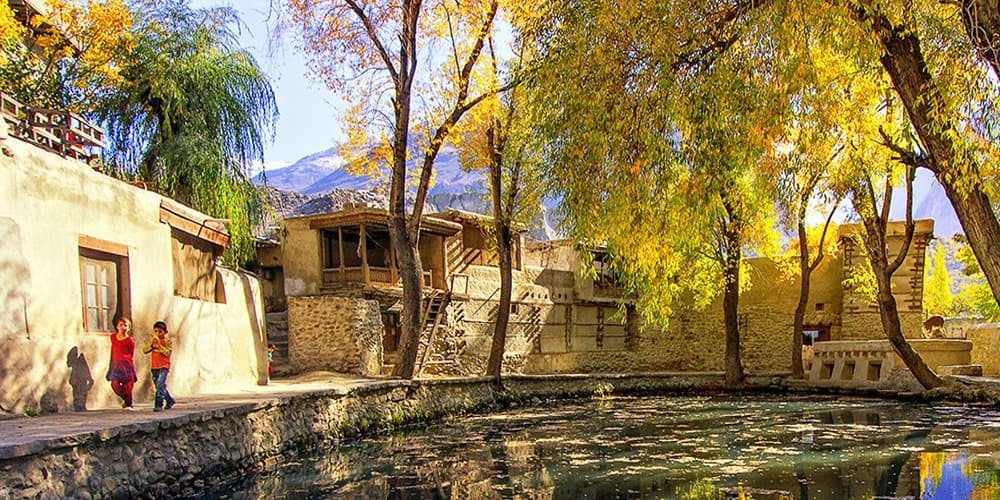 Ganish village is the oldest and first settlement on the ancient Silk Road in the Hunza Valley dated back a thousand years. It is said that people of different areas came to settle and grew here. There are various ancient sites, mosques, watchtowers, religious center and reservoir. If you are a history lover, it is worth visiting  place for you.
 6. Karakorum Highway
Travelling on the Karakoram highway takes you in the wonder of the majestic beauty of the mountain and the multi-colour landscape of your journey. It is the highest paved international road in the world that connects Pakistan with China.
7. Boating at Attabad Lake 
You make a tour to the Hunza but do not visit the Attabad lake. It will consider that you do not see anything in the Hunza valley. Attabad lake is one of the most worth visiting spot that offers an incredible experience with eye-catching mountain scenery. The lake surrounded by towering mountains; its emerald and blue water gives the view of a sheer sense of wonders. Boat riding and jet skiing make your day and memorable ever. It was formed in 2010 after a massive landslide. You can approach the lake from Shishkat and Gojal valley. It is around 14 km long and has a spectacular view of mountainous beauty.
8. Experience the Luxus Hunza at Attabad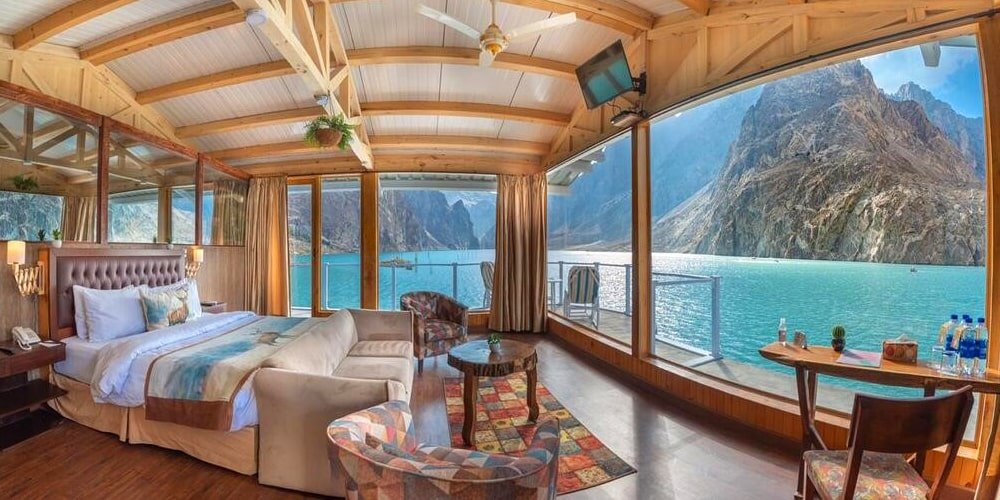 If you are on a honeymoon trip and looking for something special stay, Luxus Hunza is the perfect choice for you. It is a 5-star hotel right on the neck of the lake. Witness the gigantic mountainous beauty on the edge of the shining blue water is a fantastic experience of a lifetime.
9. Adventurous walk on Hussaini Bridge 
On the 30 minutes drive from Attabad lake, Hussaini bridge (400 wooden planks tied with steel rope) is one more thrilling spot for adventure lovers. The bridge called one of the dangerous bridges in the world.
10. Borith Lake – Enjoy the tranquillity of Nature
Borith Lake is among the best spot of camping sites. It can be approached via a 2-kilometre unpaved jeep route from Hussaini village. The lake is gorgeous to enjoy the calmness of Nature. It is also a home of migrated ducks coming from the south from March to June.
11. Wandering in Karimabad Local Market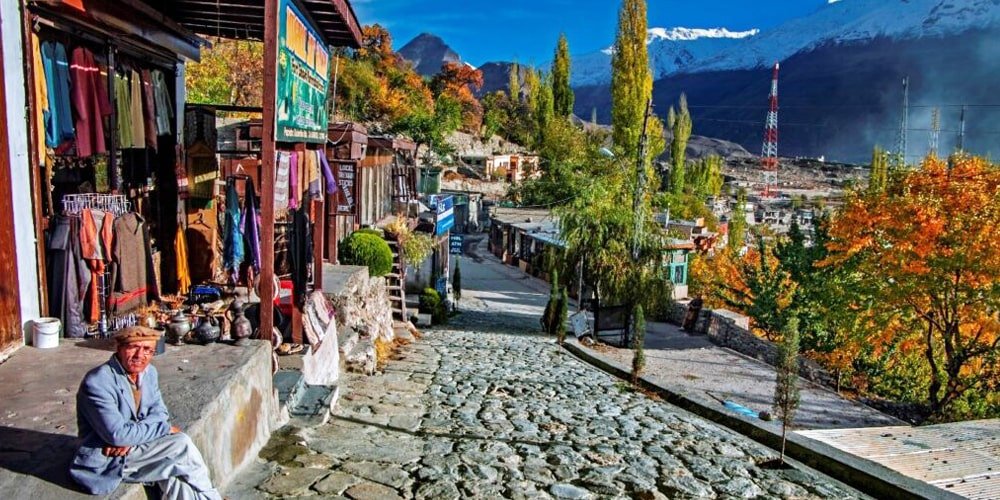 Karimabad local market consists of the shops and something different that fall in love with its magical beauty and enchanting views of the stunning landscape. Wandering into cobbled streets and enjoying unique culture and food is a lifetime experience. You can find out fantastic things in the shops like gemstones, antiques, handicrafts, local jewellery and handmade dresses much more.  
12. Café de Hunza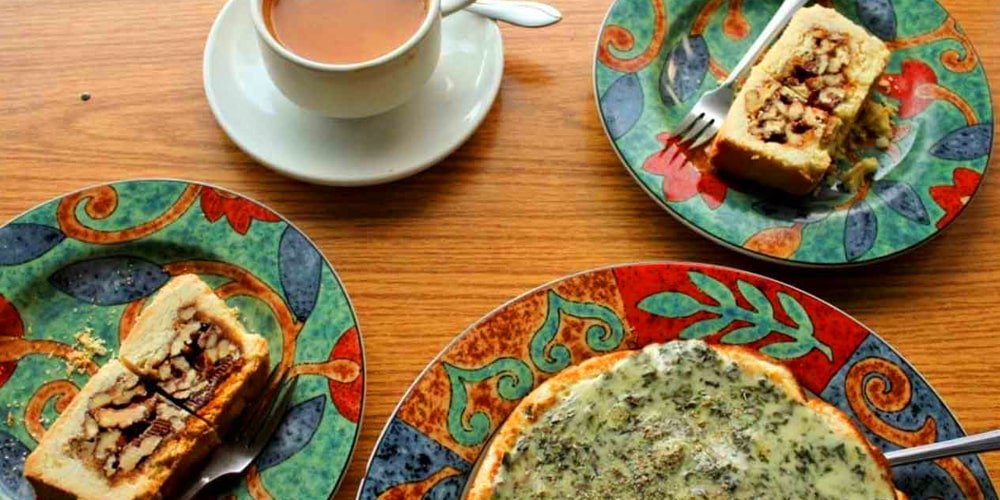 Café de Hunza is famous for its western-style coffee, snacks and delicious walnut cake. The café also serves traditional herbal tea with ingredients native to the nearby Pamir Plateau. The more beautiful thing is a great view of the valley from the balcony on the third floor of the cafe.
13. Khunjrab Pass (Pakistan-China border)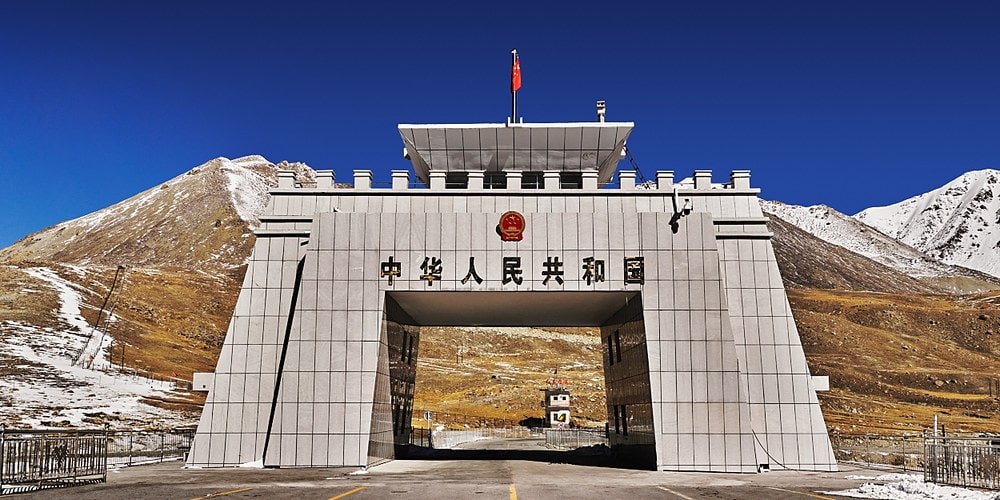 Located at a three-hour drive from the main town of Karimabad, Khunrab Pass, commonly referred to as the Pak-China border and is the highest tourist point on the Karakoram Highway. Passionate travellers put it in their schedule whenever they visit the Hunza valley or Gilgit.
14. Minapin Village and Rakaposhi Base camp Trek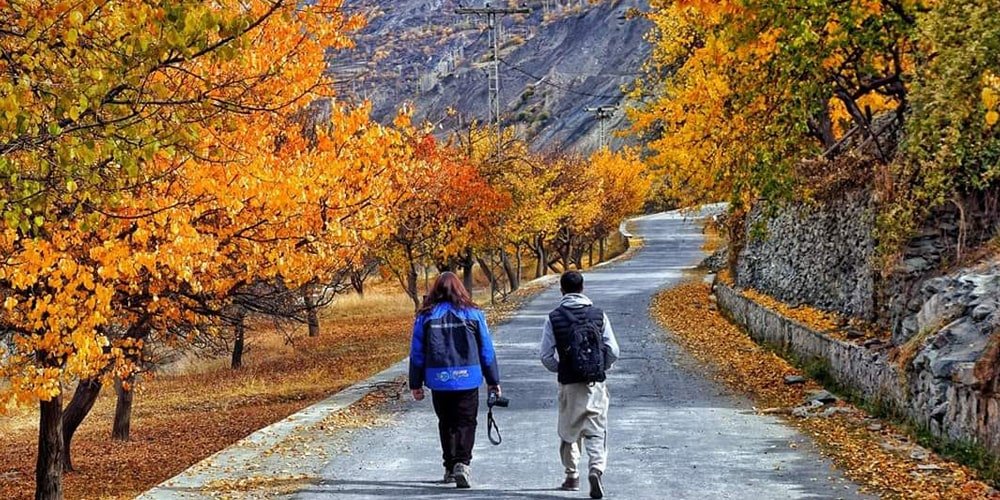 Minapan is a truly Shangri-La of the Gilgit Baltistan and located only 5 km away from the Karakorum Highway. The village is also known for its apricots, cherries, traditions and organic foods. Minapan village leads the way to Rakaposhi base camp that is the very shortest and easiest trek to above 7000 M Karakoram peaks base camps.
15. Hopar Valley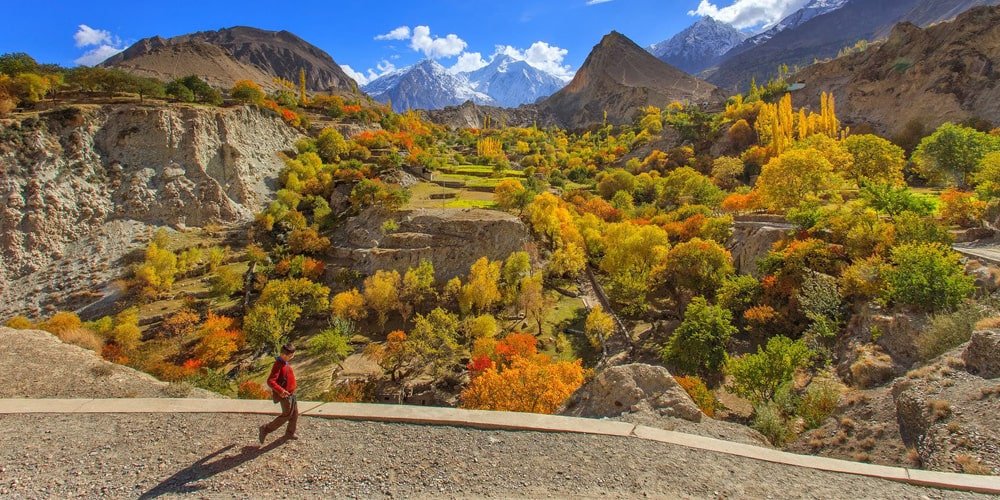 Hope Valley is one more extremely spectacular landscape of natural beauty located 10 km away from Nager Khas. A beautiful small road with apricot trees and beautiful streams will lead to a hoper glacier covered with mud and dust. You can roam to the village to observe the stunning views, and either you can do a night stay here or get back to Karimabad. Basic facilities hotels are available here on around 12 to 20 USD/master bed with hot shower.
Hunza Valley Foods
People have a curiosity to know about Hunza valley people 100 plus age secret. One of the most concrete reasons behind local people's good health is organic Hunza food, water, pure weather, and hard-working habits.
Here are some famous traditional foods of the valley: