Hunza Valley is also famous for its indigenous cuisine, apart from its breathtaking landscape and rich culture. There is not much information available about where and what to eat in  Hunza valley. As a result, we've compiled a list of some famous and best places to eat in Hunza valley so you can have the most genuine Hunzai cuisine experience possible.
Kha Basi Café
Kha Basi Café is known for its distinctive atmosphere, which is the magnificent Altit Fort overshadows. The veranda has a simple yet elegant design that overlooks a lovely vista, making it ideal for rest between trips. The best thing is that the restaurant is managed by local women and serves genuine, traditional Hunza cuisine seven days a week. The following are some of the most popular dishes available: Dawdo, Chap Shuro, Burus Shapik, Diram Phitti, Berikutz, and Tumuru Chai.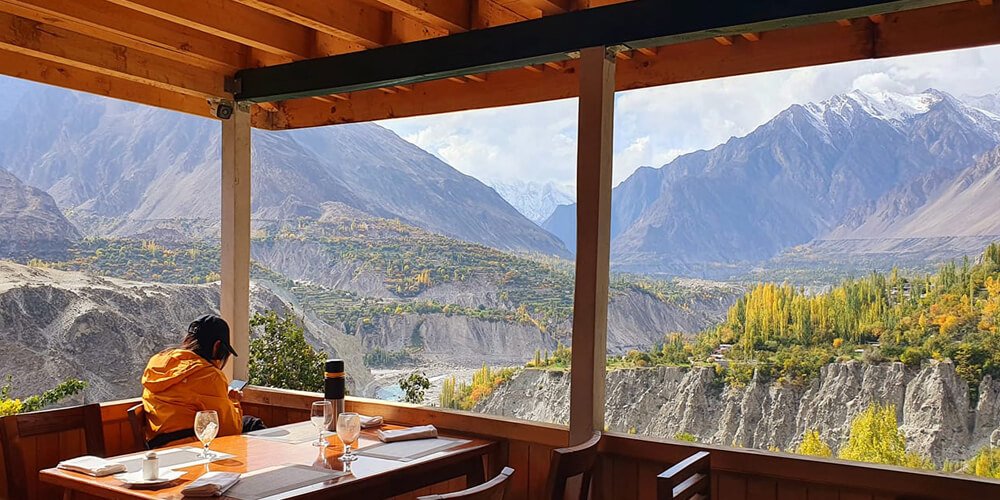 Café de Hunza
Your tour will not be complete if you visit Hunza and miss out on the yummy and delicious 'Hunza walnut cake,' the most popular food item of Café De Hunza. The caramel-walnut filling will have you dreaming about it for days. They also serve a range of breakfast dishes and European snacks. Cafe de Hunza is located only a short walk from the Serena Inn hotel. Visitors enjoy their special walnut cake and bring with them to give gifts to their dear ones. And most of them also shipped the cake abroad.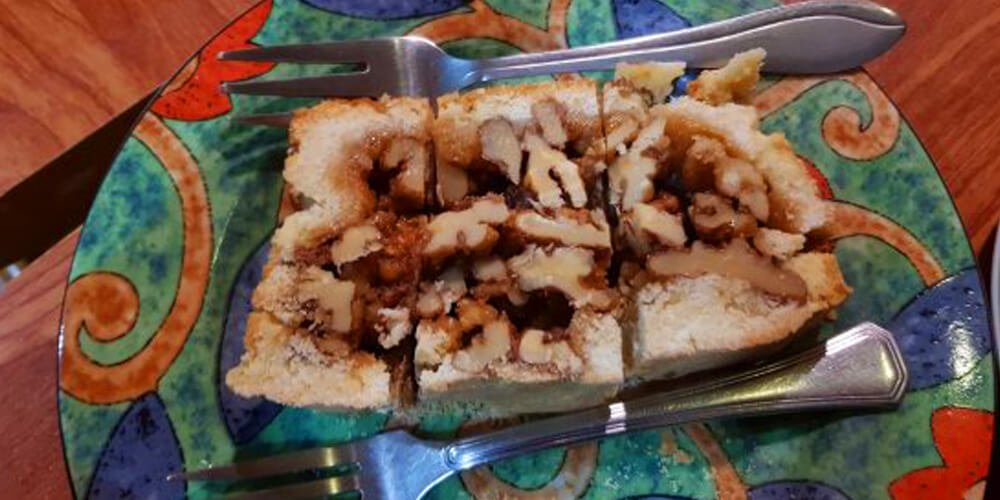 Hunza Food Pavillion
Hunza Food Pavillion, tucked away in a tiny alleyway of Karimabad's bazaar, is run by an unstoppable force known as Lal Shehzadi, whose elderly mother of five siblings runs it. The kitchen is modest, with a small collection of cross-stitch decorations. The women prepare all the food exclusively from organic ingredients, served fresh and hot. The best Dawdo in the region may be found at this location.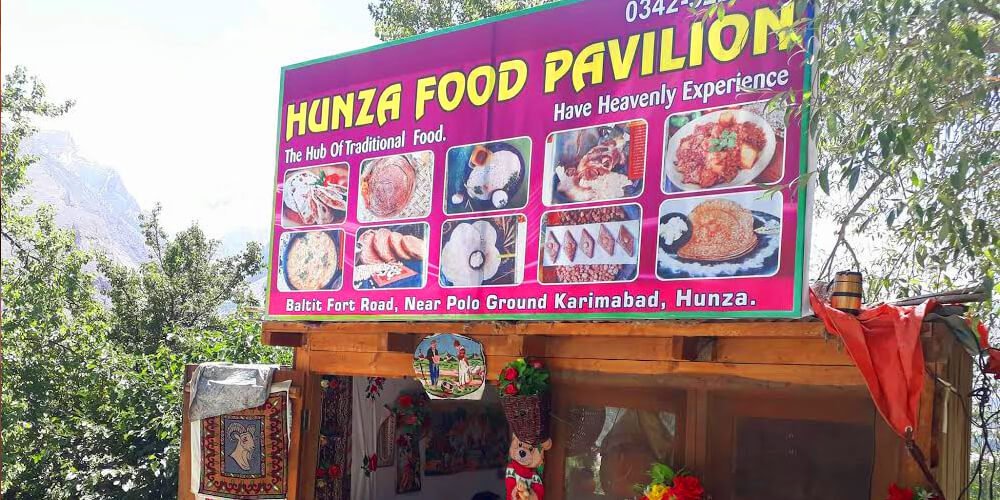 Glacier Breeze Restaurant
It may appear to be in the middle of nowhere since you'll have to climb a lot of steps to get there, but this cafe offers the best apricot cake and coffee in the valley with spectacular views of Passu Glacier.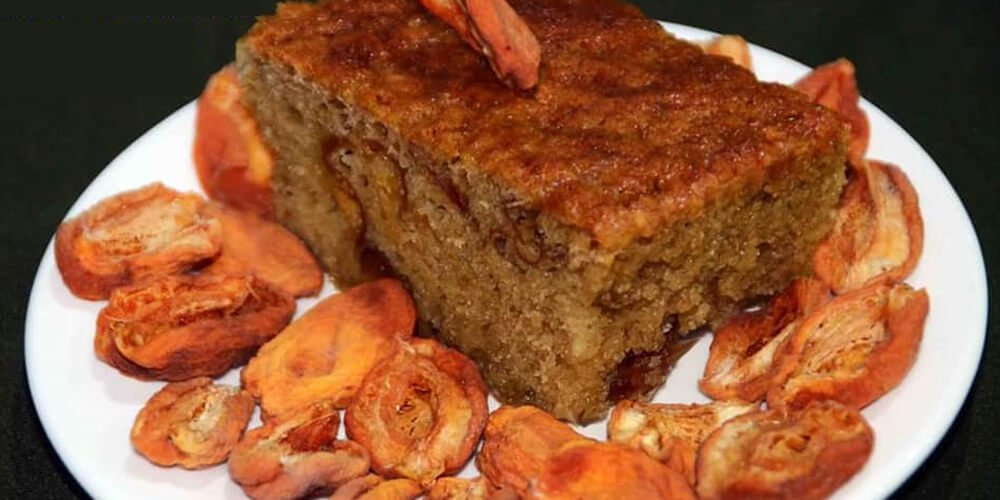 Break bread with a local family
The warm welcome and honesty of the people of Hunza are well-known. So, if one of the locals invites you to be a hearty, traditional Hunzai meal at one of the locals' homes, don't hesitate to accept the invitation. Aside from the delicious meals and subsequent snacks, the cultural diversity of such a gathering is sure to stay with you for the rest of your life.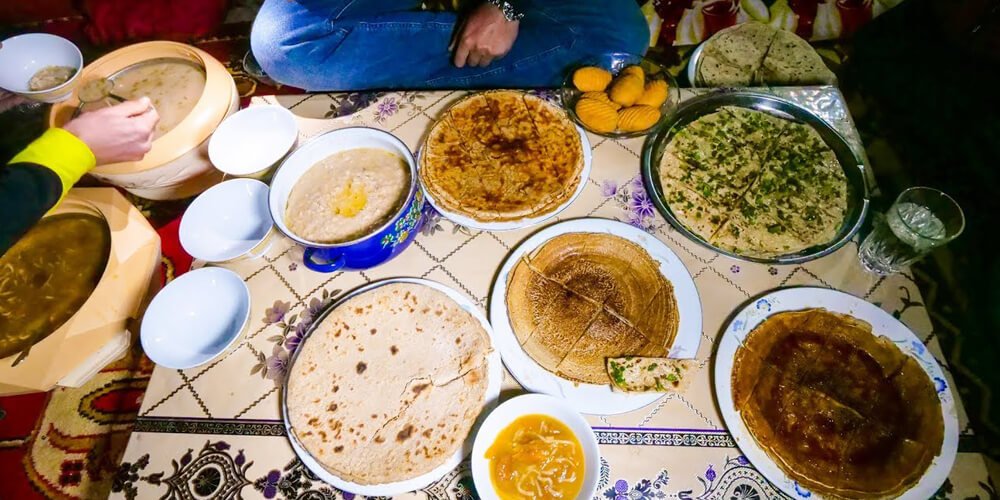 Most famous foods in Hunza
The cuisine in Hunza Vally is full of superb taste. The food here has a fantastic flavor. In these dishes, you'll experience the natural feel of nature and purity. You will only be able to appreciate the feeling of these delectable meals if you've ever tasted Hunza's food.
Above we gave details bout best places to eat in Hunza valley. Now here is a list of some delicious food dishes available in the area that the local people adore, some of which are unique signatures of this lovely valley. Here are some most famous foods of Hunza valley.
Go-Lee

Harissa

Chapshuro

Shopan

Gittey

Hoi Lo Garma

Diram Fitti

Buttering Daudo

Tumoro Tea

Fenugreek Soup