Are you looking for the top attractions of Pakistan? If yes then you are in the right place. in this article, we are going to discuss the best destination places to visit in 2022.
Pakistan tourist places Leave 19 Countries behind the Best Holiday Picnic Spots.
It is exciting news for Pakistani people that their country has bagged an important position as the best picnic spot for the continuing year of 2022 by one of the famous international magazines Conde Nast Traveler.
The magazine, Conde Nast Traveler, offers a list at the end of every year. It observes different countries of the world while keeping in view many other factors, including tourism policies, comfortable conditions for travel, and, most of all, the countries' outstanding beauty and culture. It is a fact Pakistan destinations are attracting the attention of the world on all these considerations with the result that the judges have accorded it the position of best holiday picnic spot for the year 2022.
Read more: Best Travel destinations 2022
If you consider yourself a very passionate tourist, you did not see Pakistan's essential places yet. Then you must make up your mind on a priority to pay a visit to many eye-catching areas of Pakistan because if you did not observe the excellent and delightful looking lands of Pakistan, your tour to the world would remain abortive.
We have compiled a list while assembling the most visited Pakistani areas to give you the most accurate information. You may not miss important places in Pakistan at a time when you have gone there to spend some memorable time of your life in the beautiful lands of Pakistan.
Best Picnic Spots of Pakistan
Eye-catching, beautiful natural lands, higher peaks of many mountains, diversity of cultural values, cordial and friendly behavior of Pakistani people, and fascinating architectural wonders speak volumes about its rich history. Many of these have connections with the Mughal era; it is a matter of fact that every Pakistan has enough potential to hold your attention when you are in Pakistan.
We are giving you the list of the 19 countries and Pakistan, which has come from Conde Nast Traveler, a well-known US-based magazine.
Pakistan

United Kingdom

Kyrgyzstan

Armenia

Brazil

Australia

Ireland

Philippines

France

Sicily

Senegal

Portland US

Lebanon

Qingdao, China

Denmark

The British Virgin Islands

Rabat, Morocco

Panama

Croatia

Japan
It is truly a winning position for Pakistan that it has left behind the eye-catching and pleasing waterfront city of Plymouth of United Kingdom, the heaven of the trekkers in Armenia, and the unquestionable beauty of Kyrgyzstan. Straightly, there were many proper considerations given to the judges before they conferred this victory on Pakistan's lands. It is said that the tourism industry of Pakistan has also played its due role in this regard, and you should not underestimate its efforts in making Pakistan capable of achieving this most desired place.
In the last year, Pakistan's present government adopted a series of measures to make the entire process of traveling to Pakistan the easiest. This governmental step inspired many foreigners to travel to Pakistan. The peaceful security situation in Pakistan also played a fundamental role in attracting foreigners, making it possible for other countries to go to Pakistan with no concerns about their safety in their minds.
The Conde Nast Traveler US magazine wrote:
The Conde Nast Traveler US magazine wrote that Pakistan's tourism industry had experienced significant troubles due to terrorism for the last twenty years. Thanks to mild visa restrictions and royal visits, there are reasonable indications that tourism in this country will flourish amazingly.
We would tell you that many vital places in Pakistan captivate tourists worldwide. So if you have come to Pakistan for the first time, there are chances that you will begin to love many pleasing areas of Pakistan because Pakistan is truly a beautiful country. You would understand why Pakistan has earned this important place in the list of 19 countries.
Let me tell you about the necessary information to visit Pakistan.
How to pay a visit to Pakistan?
The primary reason tourists come to Pakistan is specific visa policies that do not place complicated restrictions on backpackers to dishearten them. Now you can get a visa on the arrival facility and the e-visa portal's launching. These two significant measures taken by Pakistan's government pleased tourists of the world to get permits without facing any trouble. For this reason, bold tourists and brave backpackers, and trekkers are making plans for visiting Pakistan.
Now people of 175 countries can apply for an e-visa, and backpackers belonging to fifty states can rely on arrival policy. In contrast, other countries that have not been included in the country's relaxed visa policy can get their tourist permits from Pakistan's embassy.
The process of getting a tourist visa on arrival
You might be knowing that a tourist visa on arrival is valid for three months, which can be extended in line with your desire. When you apply for a tourist visa on arrival, you will get an Electronic Travel Authorization (ETA) that will make things easier for you when you will be visiting different Pakistan areas. It would help if you did not forget to signify your intention to visit Pakistan by submitting an online visa application through Pakistan Online Visa System. You must submit this application at least 48/72 hours ahead of your travel. Submit all the essential documents such as a passport, a recent photograph, a sponsor's letter, and your hotel bookings. And at a time when a valid ETA comes in your hand, you can travel to Pakistan.
The process for getting a tourist e-visa to Pakistan
You need to submit all documents mentioned above to get a tourist e-visa for visiting Pakistan. Make your account on Pakistan online visa system. Log in and fill in the application form. After it, you must pay the required fee and then submit it the way you have already filled it. Almost in one week, you will get your e-visa.
The reason why Pakistan is so unique?
Pakistan presents diverse landscapes for lovers of beautiful natural lands and adventurous hikes for adrenaline junkies, and many historical buildings belonging to the Mughal era.
Foreigner backpackers paying a maiden visit to Pakistan appreciate this country's beauty. They are also admirers of the cordial treatment of local nationals in Pakistan.
Every place you go, you experience locals' friendliness and hospitality that surprise you extremely. It is undoubtedly one of the vital factors tourists get ready to go to Pakistan. You should be aware this is why backpackers consider it correct to visit Pakistan, and American magazine Conde Nast Traveler has ranked Pakistan number one in the list of best holiday picnic spots for the year 2022.
Why more and more backpackers are visiting Pakistan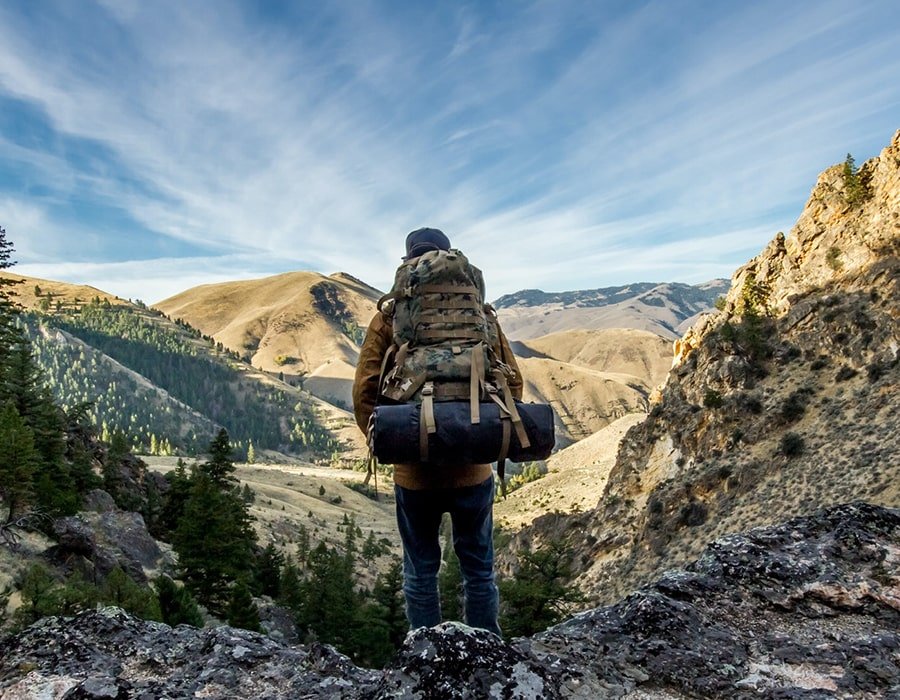 Aside from the Government of Pakistan's mild and relaxed visa policies, several other measures are at work to bring Pakistan to backpackers' notice. The British royal couple's visit played a fundamental role in the last year to prompt travelers to pay a visit to Pakistan while removing their concerns and hesitation all of a sudden if they had it in their mind.
The Kartarpur Corridor opening is another significant step to make it possible for the Sikh community to go to their Gurdwara sahib situated in Pakistan. It is the most appreciated measure of Pakistan that speaks volumes about its firm intention to be a peace-promoting country while having a high regard for all religions and cultures.
Most beautiful places of Pakistan to visit once in your life
We want to give you a list of Pakistan's most essential picnic spots to make it convenient for you to visit Pakistan more confidently. First of all, we want to tell you about Pakistan's capital city, Islamabad's name.
Islamabad
Islamabad is Pakistan's capital and the city that presents the Margalla hills' different views. When you are in this city, you are amazed by looking at the purple flowers of Jacaranda trees that are fully flourished in the spring season. It is a pleasant reality that they furnished the roads of this beautiful Pakistani city. Pine varieties and yellow flowers of Amaltas also play their role in adding to this city's beauty. Do you know that Islamabad is the second most beautiful capital of the world after London in the United Kingdom?
We would tell you about the essential picnic spots that Islamabad presents to tourists worldwide.
Monument of Pakistan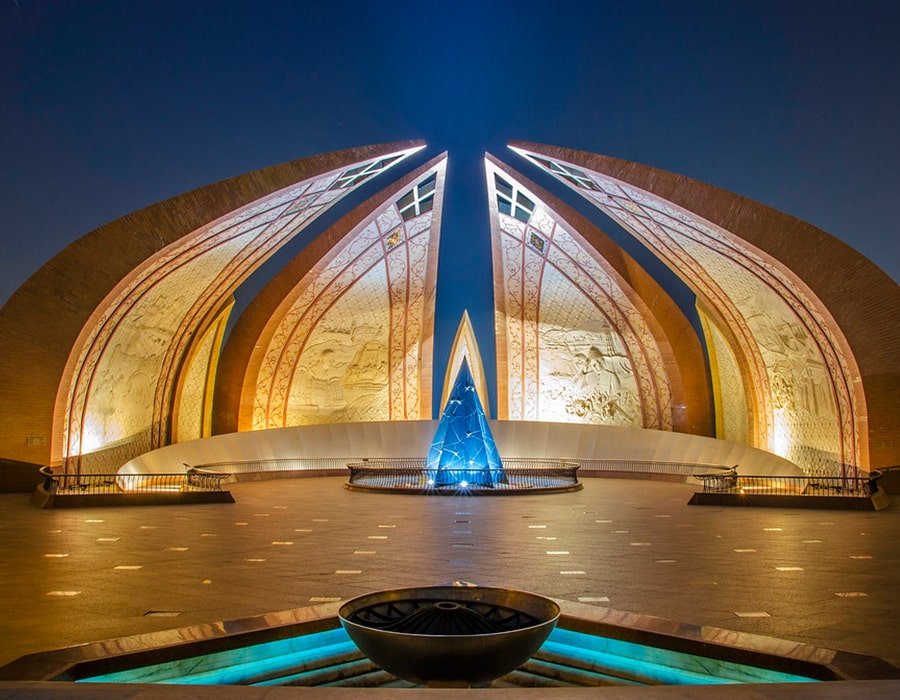 Pakistan Monument is a national monument that you would find near Shakarparian. You will notice that the shape of its structure is petal-like, and it has the four leaves rising from the ground converge at the top portraying the four provinces. Three mini leaves inside it represent Pakistan's smaller territories, Gilgit-Baltistan, Azad Kashmir, and Federally Administered Tribal Areas(FATA). A wax museum is also to be found near it, demonstrating the events that were part and parcel of the Pakistan Movement in 1940.
Lok Virsa Museum
If you are desirous of witnessing Pakistan's rich cultural heritage, we would tell you that you must mentally prepare yourself to pay a visit to the Lok Virsa Museum. You would notice on going inside the museum that various halls are displaying the culture of four provinces of Pakistan. Lok Virsa Museum is closed on Monday, while it is open from Tuesday to Sunday from 10 AM to 8 PM.
Shah Faisal Mosque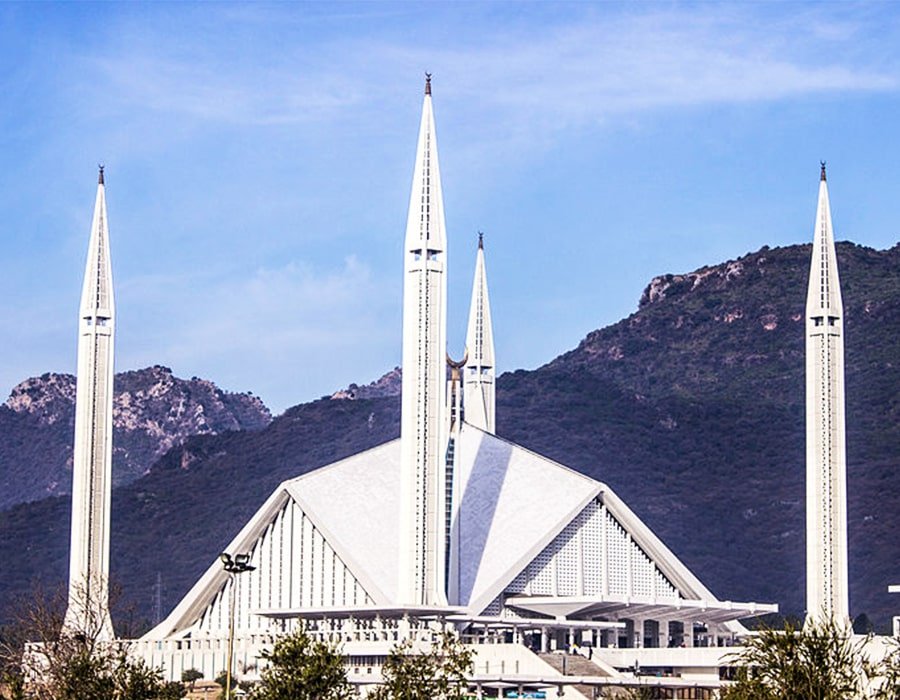 Faisal Mosque was named after the king of Saudi Arabia, Shah Faisal, the man who gave generous financial support for the Faisal Mosque construction. It is not a mosque having a dome shape, but you will find it in a Turkish design containing four minarets on the sides and a V-shaped tent-like structure in the middle, making the mosque superbly beautiful and eye-catching.
Margalla Hills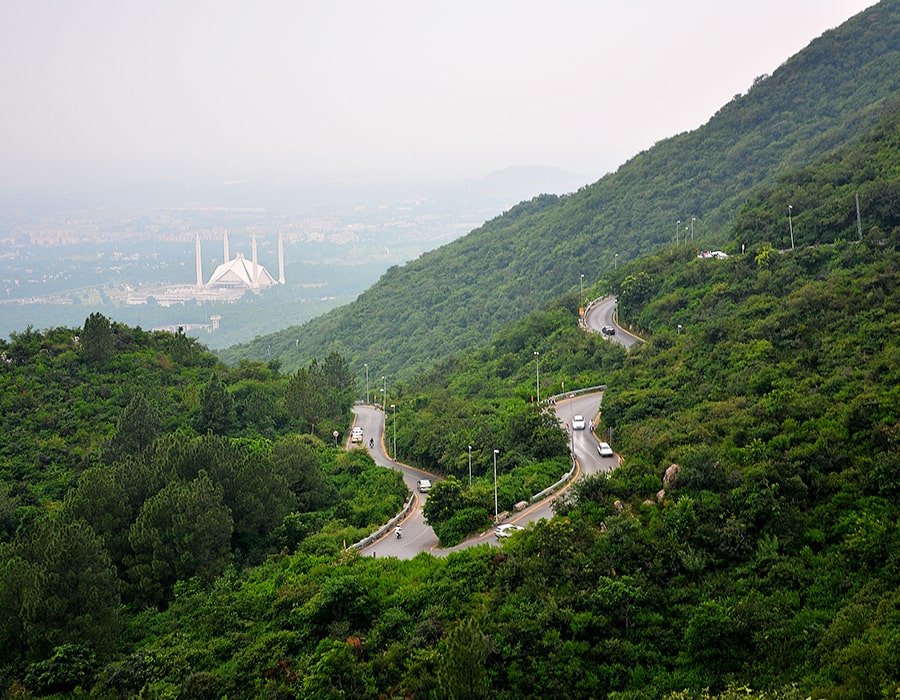 Margalla Hills proffer spellbinding hiking trails, and when you approach the top, you witness scenic views of Islamabad. Many birds keep gathering around these hills to amuse the visitors and locals in these hills. So it would help if you never ignored Margalla Hills when you are in Islamabad because it will be a mistake not to visit Margalla Hills in the course of your visit to Pakistan.
Daman-e-Koh
Daman-e-Koh is located at the foothills of Margalla Hills, presenting a bird's eye view of Islamabad. In the area of Daman-e-Koh, you would be able to have a glimpse of Faisal Mosque from the highness of Damn-e-Koh.
Monal Restaurant
If you aspire to enjoy your favorite foods at the time of your being in Islamabad, you must go inside the Monal Restaurant. You would get to see beautiful views of Islamabad's city from the altitude of the restaurant.
You Should Never Miss These Foods When You Are in Islamabad
You should never miss these tasty foods when you visit Islamabad, the capital of Pakistan.
Pulao from Savor foods

Samosa Chaat

Pizza from Tehzeeb Bakers

Kebab from Monal Restaurant

Anjeer Mithai from Shikarpuri Sweets
Suppose you are spending some more time in Islamabad. In that case, you must prepare yourself to go to famous areas of Islamabad like DHA Islamabad, Bani Gala, Gulberg Islamabad, and Blue Area Islamabad.
Souvenirs of Islamabad
These are the most important souvenirs of Islamabad that you must take ahead of going out of Islamabad.
Desi ghee mithai from Shikarpuri Sweets

Embroidered shawls from any souvenir shop

Jewelry from intricate designs to antique styles that you must purchase

Paintings that are very much popular with foreign backpackers who are always fond of such pictures that portray the culture of Pakistan
Province Sindh
Sindh is an ancient subcontinent area, drawing backpackers in groups due to its numerous historical sites. Karachi, Hyderabad, Dadu, Sukkar, Larkana, Thatta, Tharparkar, and Matiari are famous cities in Sindh.
Many Sindh regions are well known worldwide for several saints, who have given sincere and heartfelt music, high spirited culture inspiring every Tom, Dick, and Harry. Sindh contains a world heritage site, namely Mohenjo-Daro, which is undoubtedly a significant point of interest to many visitors to this province.
Moreover, Sindh is a province that draws many brave backpackers having a profound interest in history.
Some of the famous areas of Sindh that you must visit at the earliest are given below.
Banbhore
Banbhore is an ancient city of Thatta belonging to the first century's era. It is just in Banbhore city that you would find the Banbhore Archaeological Museum that presents monuments, pottery, and many glass objects that have their roots in the olden days of history. This museum is scheduled to open for six days of the week, being closed every Wednesday. You can go there from 9 AM to 6 PM.
You will have to pay three hundred rupees as your entrance fee to visit this museum.
Shrine of Shah Abdul Latif Bhittai
The Shrine of Shah Abdul Latif Bhittai is a holy place because Shah Abdul Latif, who is regarded as the greatest poet of all times, is located here. Backpackers from other countries must not miss the occasion to go to this spiritual place of the greatest Sufi poet Shah Abdul Latif Bhittai. Tourists should not miss the chance to attend ceremonies being held to commemorate the teachings and personality of Shah Abdul Latif Bhittai.
Mohenjo Daro
The Shrine of Shah Abdul Latif Bhittai is a holy place because Shah Abdul Latif, who is regaMohenjo Daro is a historical site that is to be found in the district of Larkana of Sindh. Mohenjo Daro reminds you of the Indus Valley Civilization dating back to 2500 BC. You will find that the entire city is buried under the sand. In 1980, Mohenjo Daro was made United Nations Educational Scientific and Cultural Organization (UNESCO) world heritage. Mohenjo Daro is one of the famous places of Sindh that you must visit if you are a history lover backpacker. Backpackers from other countries don't forget to visit the greatest Sufi poet Shah Abdul Latif Bhittai. Tourists should not miss the chance to attend ceremonies being held to commemorate the teachings and personality of Shah Abdul Latif Bhittai.
Shah Jahan Mosque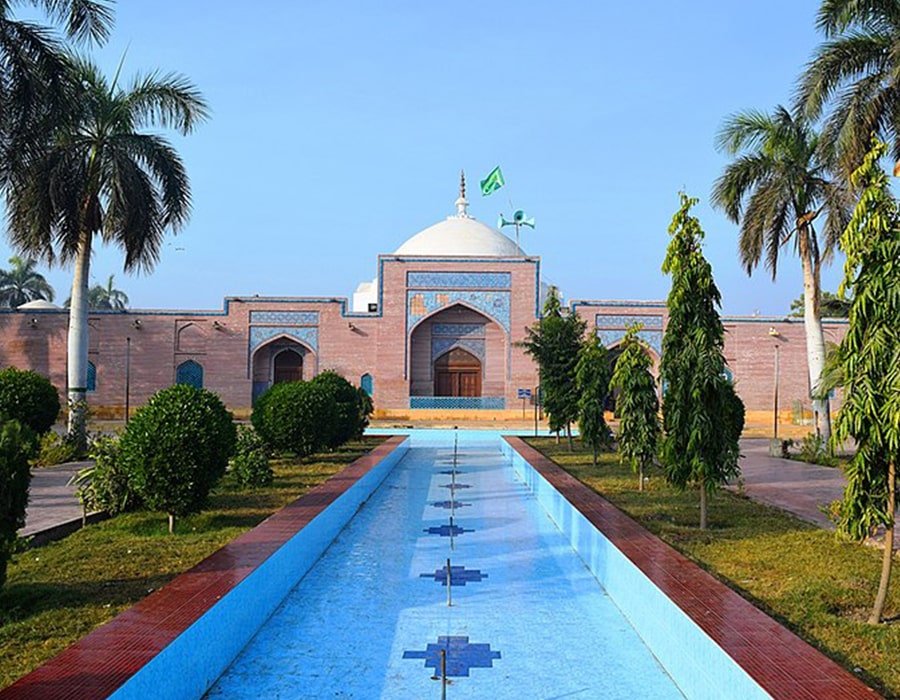 It is just in Tatta that you would come across a significant mosque with historical value, the name of Shah Jahan Mosque. The famous Mughal King Shah Jahan constructed it. It is believed that King Shah Jahan built this mosque to appreciate the area's people's friendship. It is the most visited spot by tourists all over the world.
Makli Tombs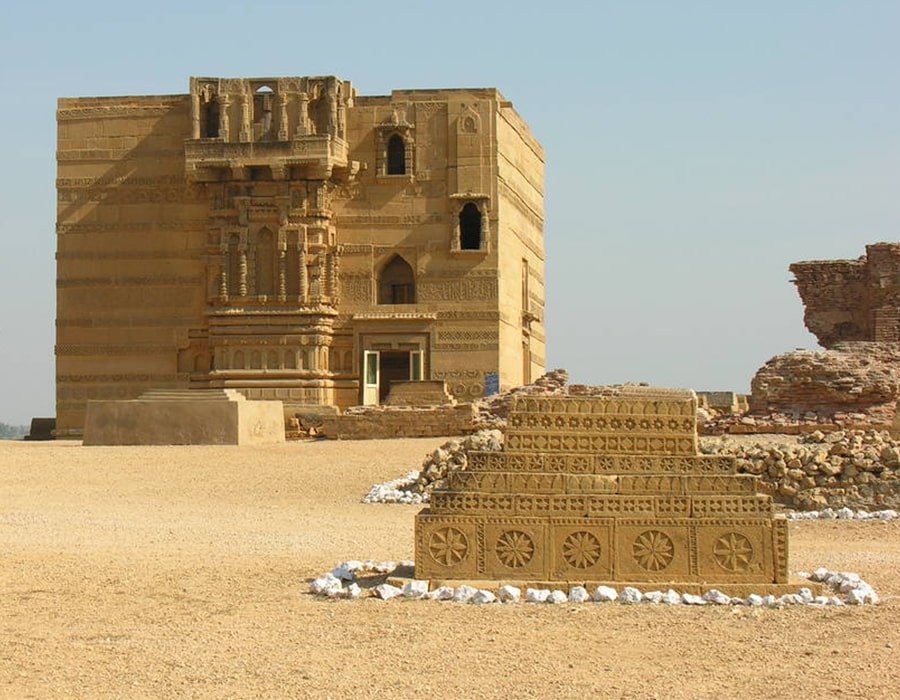 Makli tombs are an old graveyard having connections with the summa dynasty, situated 10 kilometers away from Thatta. It contains funerary monuments that manifest the rich cultural diversity of the province of Sindh.
If you desire to pay a visit to Makli Tombs, you must contact the Sindh Tourism and Development Corporation's agent Mr. Sarafraz Jatoi. His contact number is +92333-2750124.
The city of lights, Karachi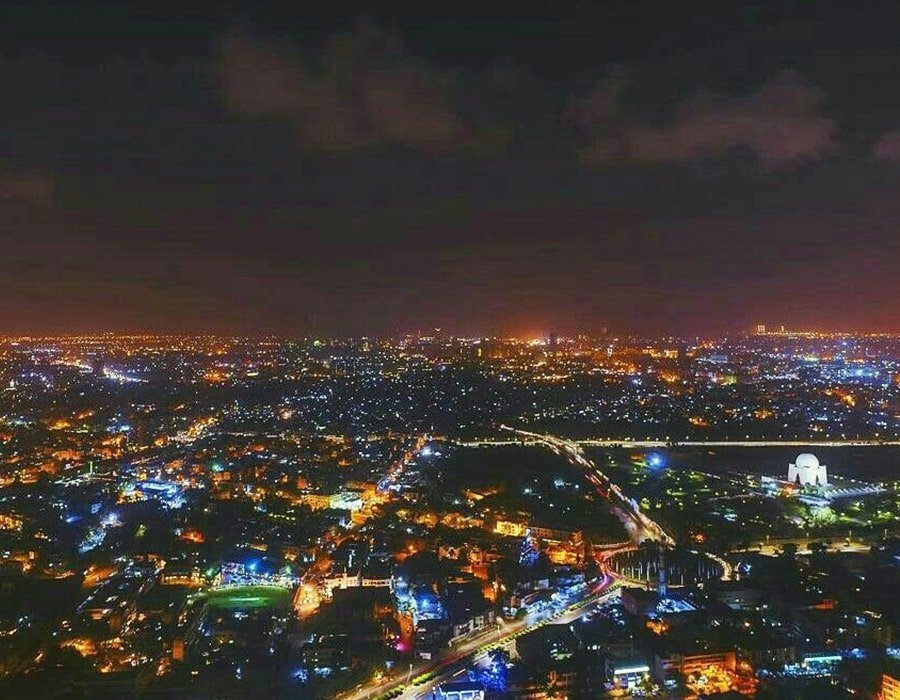 Karachi is the biggest city of Pakistan and is regarded as one of the largest megacities, where most of the travelers passionately wish to go. Karachi is termed as the "City of Lights" because you would find the entire city very lively at all hours.
Karachi is gifted with sprawling sun-kissed beaches, iconic landmarks, historical buildings with rich cultural backgrounds, and thrilling city life. Karachi is a city that never sleeps in the literal sense of the word. You would notice people gathering around some tea stalls at every moment of the nighttime, sipping their cups of tea that they drink so fondly and have a vigorous discussion over matters of mutual interest.
Clifton Beach
It would help if you never forgot to take a dip in the calm waters of the Arabian Sea at Clifton Beach. That would be a very thrilling experience, especially when you visit this city during summer. If you go there, you should make up your mind to have your breakfast at Boat Basin to take you ten minutes from Clifton beach.
We would suggest that you taste halwa puri breakfast there, which is considered the best breakfast in Karachi city.
Quaid-e-Azam Mausoleum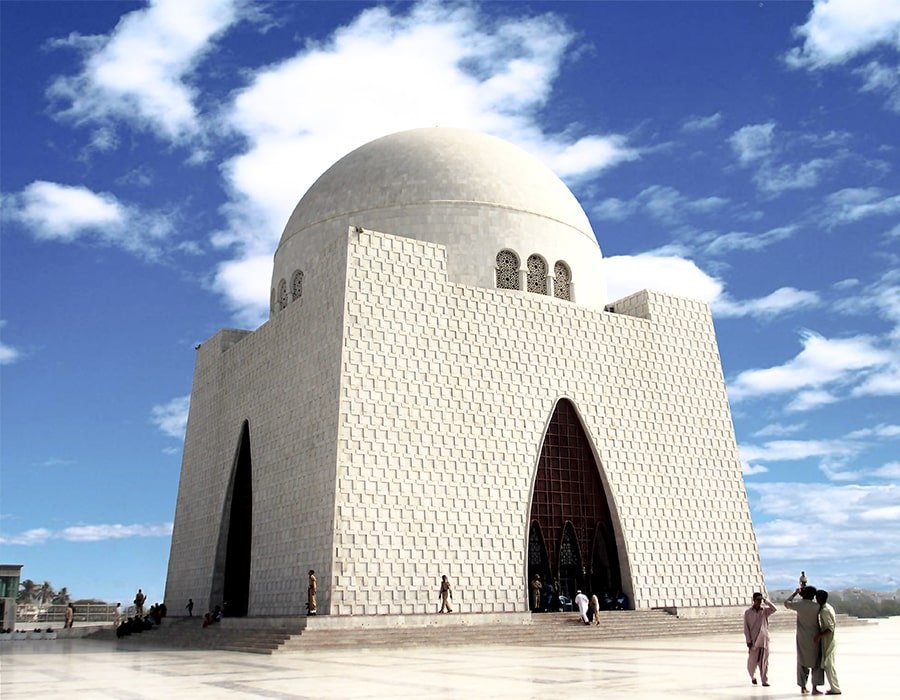 Quaid-e-Azam's Mausoleum is the burial place of the founder of Pakistan, Quaid-e-Azam Muhammad Ali Jinnah. This Mausoleum is made of white marble with Moorish arches drawing a good number of tourists every year.
Tooba Masjid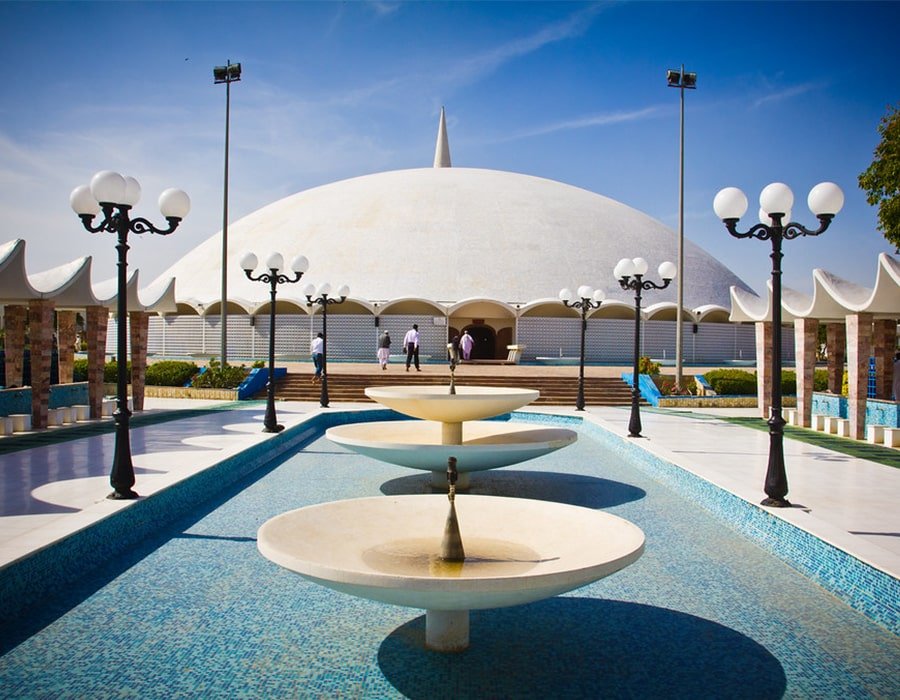 The white marble Tooba masjid, made of a rounded vault, proffers a very eye-catching scene. It is the biggest single dome mosque in the world that has the capacity for five thousand people to pray at the same time. Tooba masjid is situated in DHA, Karachi, and you must go there please your eyes.
Mohatta Palace Museum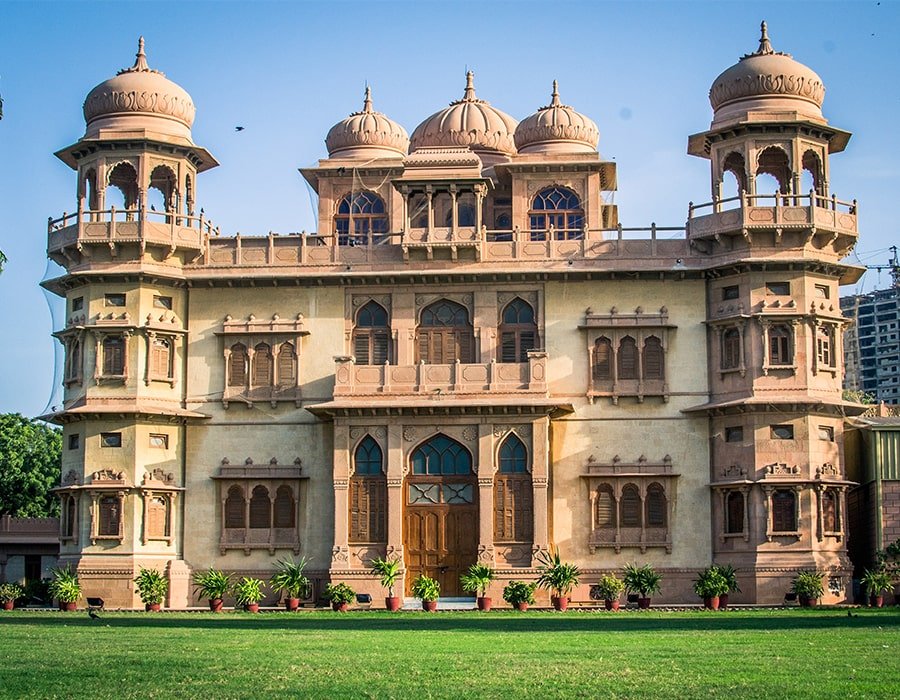 Mohatta place museum is also a sight for sore eyes where you must amuse yourself. It is a matter of fact that from Mohatta Palace Museum and Free Hall to Denso Hall and Jahangir Kotari Parade, the city contains numerous historical sites. If you are in Karachi, you will feel drawn to visit these sites while showing a lot of interest.
We would also like to tell you that there is an abundance of options available to you to dine out in the city of Karachi. Whether you are desirous of enjoying desi dishes at a standard food outlet or wish to eat seafood at an Asian pan restaurant. You aspire to enjoy continental cuisine next to the sea at Do Darya to have the most tantalizing food.
We would suggest to you that if you are in Karachi, you should not forget to taste these foods because if you did not enjoy any of these foods, you might repent at the time of concluding your tour to this city. The fact is that there are many popular biryani points in Karachi, and you can get a parcel of biryani also to take to your home or dwelling place to taste it later. If you are fond of spicy stew-based dishes, you should not forget to go to nihari outlets.
Famous foods of Karachi
These are very significant foods in Karachi that you should never miss eating when you pay a visit to this most important city of Pakistan.
Biryani

Fish

Halwa puri Nashta

Karahi

Nehari
If you live in Lahore, who has come to Karachi for the first time, and started to love this city so much that you are desirous to stay in Karachi, we would tell you that we have something for you. It may cause some practical problems for you because of your beginning living in this city, but we assure you that with proper support and information, staying in Karachi can turn out to be problem-free for you.
You must make up your mind to check out the comprehensive guidelines of Karachi's most famous areas like DHA Defence, Clifton, North Nazimabad, and Gulistan-e-Johar. If you have the ambition to keep away from the din of the city, then you should prepare your mind to go to Gulshan e Maymar.
Souvenirs of Sindh
If you are visiting the province of Sindh for the first time, you must try to get some exceptional souvenirs of Sindh to keep reminding you of your visit to this province.
Hala's Pottery
Hala's pottery is well known for its intricate designs that have been painted in blue and white colors. Hala is a small town of Sindh that is considered home to Kashi artisans, famous for making glazed ceramic pieces since ancient times are entirely handmade.
Ajrak
Ajrak is an exceptionally designed shawl printed in a beautified manner in mainly three colors red, black, and white. Aside from the shawls, many other handicrafts are famous souvenirs that you can get from there to be taken along. These handicrafts include cushions, handbags, and dresses.
Mirror work bags
In the entire region of Sindh, mirror work bags are particular handicrafts that will surely catch your eye. It is a matter of fact that when you notice many mirror work bags are so beautiful, it becomes your ultimate desire to purchase them instantly.
Rilli
Rilli is, in fact, warm and beautiful bed quilts in a good many colors. They have been made of patchwork design and are found. If you spread these beautiful quilts on your floor, they would give an immensely charming look.
Truck art handicraft
When you intend to get various souvenirs from Sindh, truck art handicrafts will be very popular. You will find many small models of colorful trucks and rickshaws, which you surely can take a long while concluding your trip to Sindh.
Ripe mangoes
If you have gotten an opportunity to go to Sindh in summer, we would tell you that the perfect and complete gift that is immensely fit to be taken along will be in the shape of ripe mangoes. You would notice an ample amount of dates there in this province. If you are aching to taste sweet dishes, then a box full of Sohan halwa would indeed serve this purpose, which can also be taken away as a souvenir.
Punjab Province 
You might be aware that Punjab is a land of five rivers. Many civilizations had been at a peak from time to time in this land of Punjab. Punjab has been a part of the ancient Indus Valley Civilization. It is here that we would tell you that Harappa is the remnant of this ancient civilization. Not only this, but you can also find Texila in Punjab that is the leading site of the Buddhist Gandhara. The most significant Punjab cities are Lahore, Rawalpindi, Murree, Bahawalpur, Mianwali, Dera Ghazi Khan, Chiniot, Mandi Bahaudin, Multan, and Sialkot.
Punjab contains various attractions for backpackers, and we are there to mention some of them one by one.
Harappa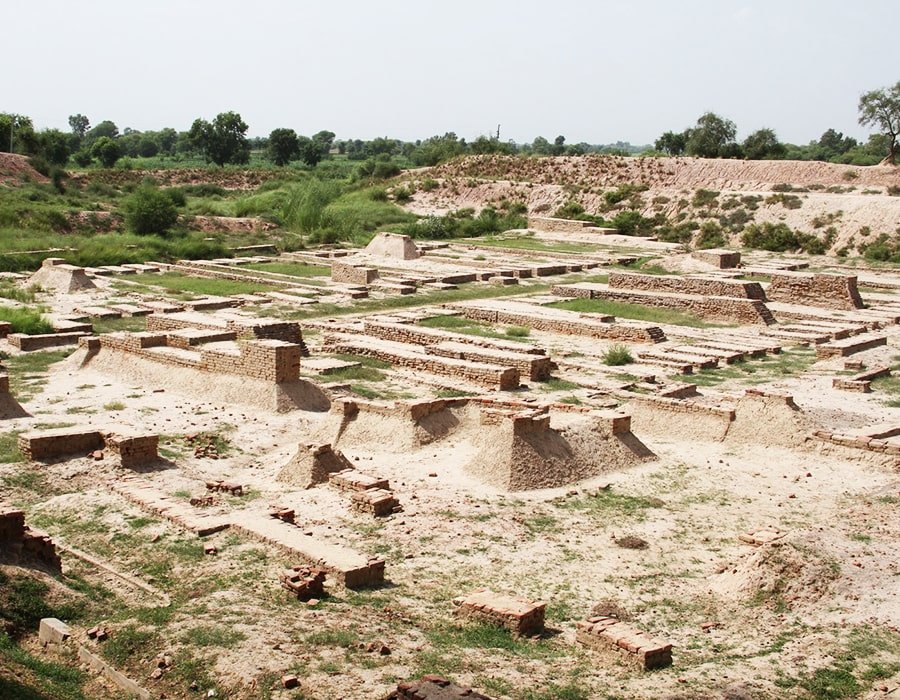 Harappa is a reminder of the old Indus Valley Civilization ruins, which you can see very minutely.
Katasraj Mandir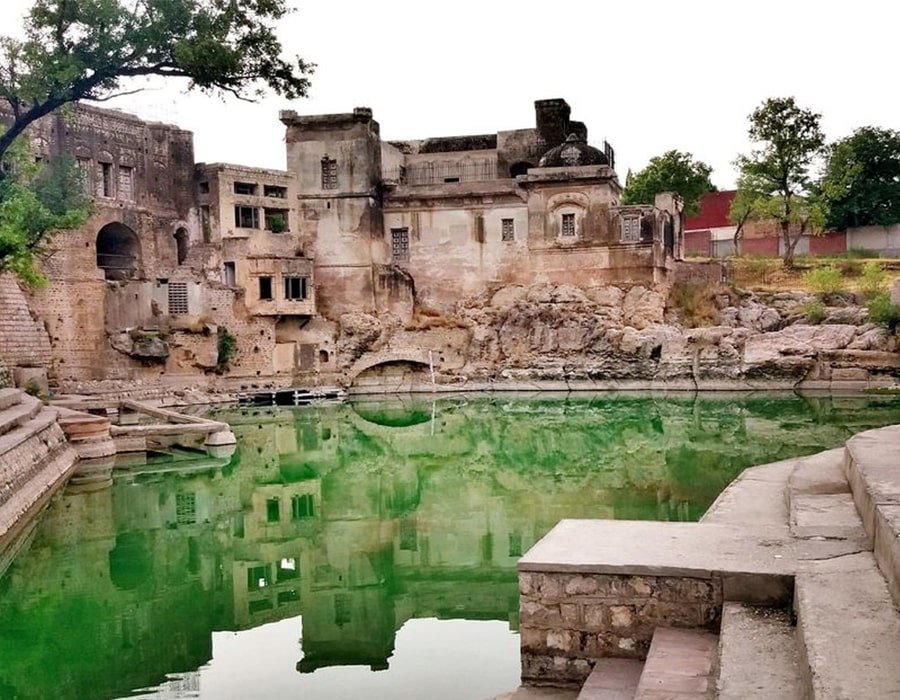 Hindus believe that Lord Krishna laid the foundation stone of Kastasraj Mandir in one district of Punjab, the name of which is Chakwal.
Birthplace of first Sikh Guru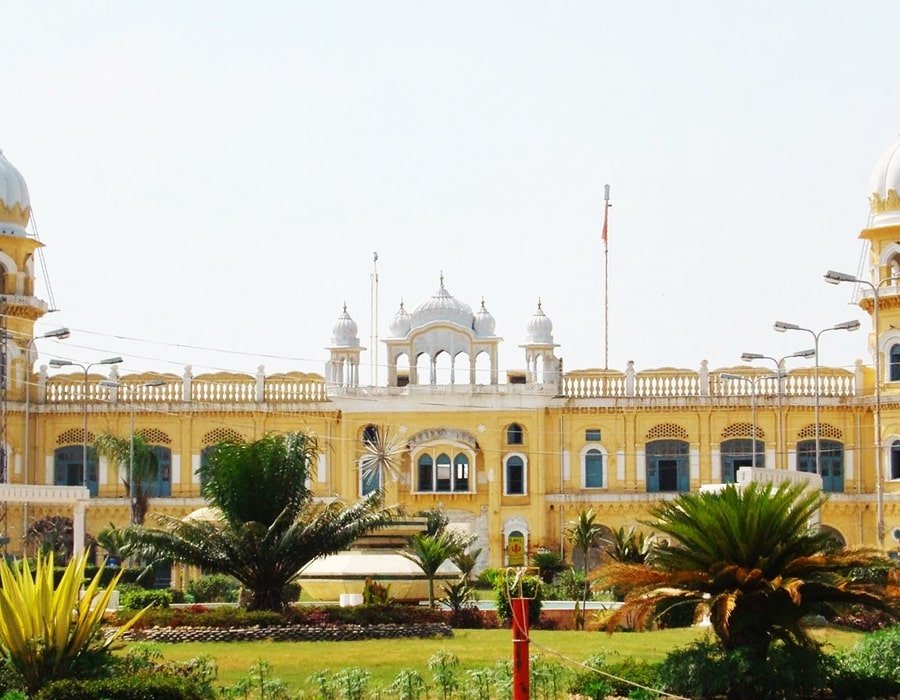 Guru Nanak is also a history of the province indicating a cultural variety of the region.
Khewra salt mines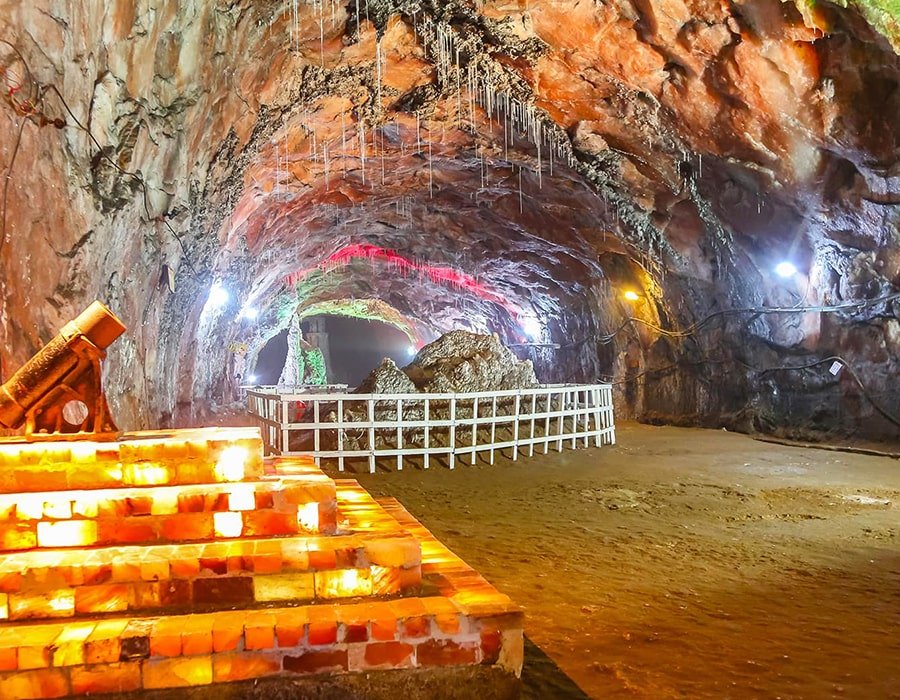 The Khewra salt mines are a significant tourist spot for locals and foreigners alike. Khewra salt mines are the largest reservoir in the whole world. You would require professional guidance to help you visit these salt mines to observe them excellently.
Murree
Murree is referred to as the queen of hill stations. It is a delightful holiday spot which you should never miss visiting. It is the most visiting point where many people comparatively have fun in the chilling and enjoyable weather. There are many hillside scenes, thrilling chairlift rides, and many eye-catching, beautiful sites. Bhurban, Ghora Gali, and Kashmir point are some areas of Murree that you must visit on a priority basis.
Taxila
Taxila has been recognized as the most important heritage site by UNESCO. An entire city reduced to a state of collapse lies buried under the sands of time, which happen to be a point of interest for history lovers and familiar backpackers alike.
The walled city of Lahore
The walled city of Lahore is also termed the old Lahore. There are many historical buildings of the Mughals' times telling about the great and splendid era comprising Muslim sway in India.
If you desire to have information about Muslim rule from personal experience, we would suggest that you visit Lahore, the capital of Punjab. In this walled city of Lahore, you will witness architectural magnificence by visiting areas such as Lahore Fort, Shalimar Gardens, Badshahi Mosque, and Sheesh Mahal that manifest the grandiose of Mughal Kings and the superior skills of all architects of that time. They moved heaven and earth to design these sky-high buildings.
At a time, when you have visited all these towering buildings speaking magnificently about the olden days of Muslim rule. You should make up your mind to observe the liveliness of the city life of this historical city of Lahore. The food streets of Lahore city can give you thrilling experiences when you go to those streets to have a wonderful time of your life. These food streets are functioning, especially during the night times. People fervently eat halwa puri as their breakfast with lassi containing too many creamy ingredients.
Paaya is another conventional food that people eat in Lahore with immense zeal. People eat it as their breakfast while enjoying it to the fullest. You can have various types of butter-fried karahi for your lunch in the city of Lahore. At night, many food streets come to life in Lahore to attract you to them in a very compelling manner.
Minar -e- Pakistan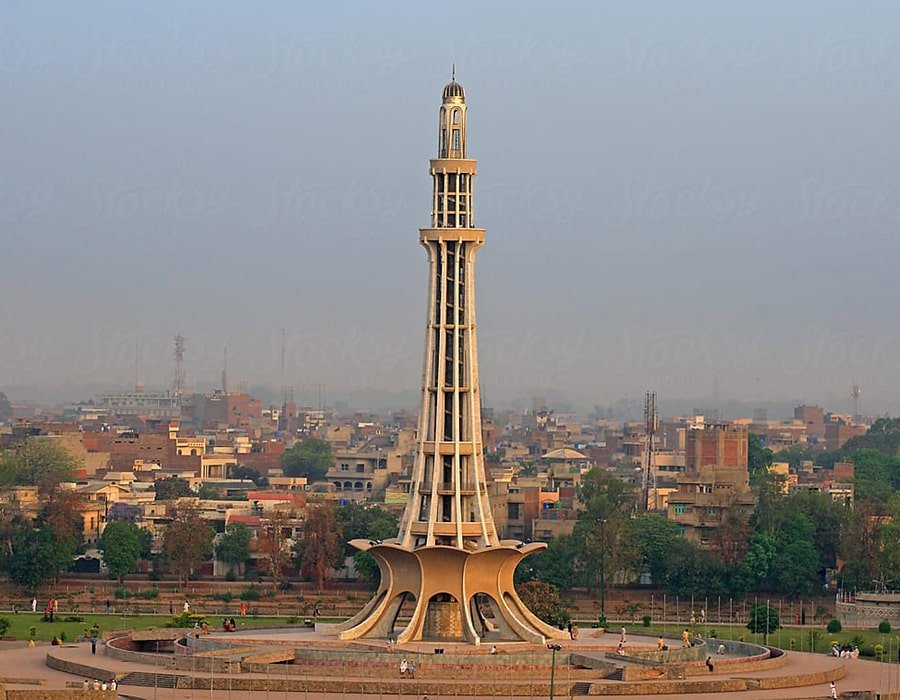 Minar-e- Pakistan is an inordinately magnificent building manifesting the Resolution of Pakistan that was passed passionately on March 23, 1940.
Famous foods of Lahore
We like to give you information about some very renowned Lahore city foods that would surely attract you while making your mouth water.
Paaya

Lahori Chargha

Butter fried Karahi

Nan Khatai

Lassi
If you aspire to begin to reside in Lahore city, we would suggest that you pick from some famous Lahore areas. And they comprise Wapda Town Lahore, DHA Lahore, Walled City Lahore, GT Road, and Mozung Chungi.
Souvenirs of Lahore
There are many beautiful things about Lahore city that you can take to your home as your souvenirs. Some well-known things are given below.
Nan Khatai
Nan khatai is something that you must take along with you at a time when you are returning to your home from an inspiring visit to Lahore city. We are sure that you would not get Nan Khatai in Lahore as tasty as in this city of Lahore.
Paranda
Paranda is a tassel braid that women of Punjab conventionally use mostly in Punjab's rural areas. It is a colorful braid indicative of the culture of Punjab.
Phulkari Dupatta
Phulkari dupatta is a traditional embroidered dupatta that is made using intricate threadwork.
Kausari Khussa
It is leather footwear with a lot of colorful decoration to attract your eyes at the very first sight. This footwear is made in Kausar which is the famous city of Punjab.
Jaggery or Gurr
Jiggery or gurr is very sweet that people are used to taking from Punjab, which people get from the vast sugarcane fields.
Balochistan
Balochistan is one more important province of Pakistan, and, sadly, some people try to underestimate its significance. Balochistan is famous for jagged, rough, and rugged mountains and unspoiled beaches. This province contains many areas that are, in reality, very suitable to be visited by any local or foreigner backpacker, having the ambition to spend some time of their life being away from the headaches of the world for quite some time.
Being the capital of Balochistan, Quetta is an important city of this province, while other towns carrying importance are Gawadar, Sibi, Hub, Loralai Chaman, and Ziarat. It is a reality that you must be aware that federal and provincial authorities have taken several measures to put to use the tourism potential of Balochistan so that tourists can go to the lands of this province to have fun there. If you have paid a visit to Pakistan and you did not think of going to Balochistan, we would tell you that your visit to Pakistan is incomplete and will remain incomplete unless you make a beeline for this province at the earliest.
We are giving some tourist destinations in Balochistan to stress the importance of these destinations.
Moola Chutok
At first sight, you will notice that the land of Moola Chutok is a piece of heaven in the real sense of the word. It is almost eighty kilometers away from the Khuzdar District. And while being in this land, you have the most exciting option to camp at this beautiful paradise-like spot, where a fantastic waterfall would prove a sight for sore eyes. Not only this but when you look at fresh green plants on the opposite side of the rugged mountains, you would all a suddenly begin to praise this beautiful scene while aspiring to spend more and more time in front of the natural beauty of that land.
Urak Valley
Urak Valley is prominent for its springs that always give freshwater coming from the mountains. In the course of your tour to this valley, you would indeed observe around you a good many trees of apples and cherries that are quite visible when you start your journey to Urak Valley. The differentiating aspect of Urak Valley is that freshwater spring comes into your view flowing on both sides of the road, and making a significant effect on you.
Hanna Lake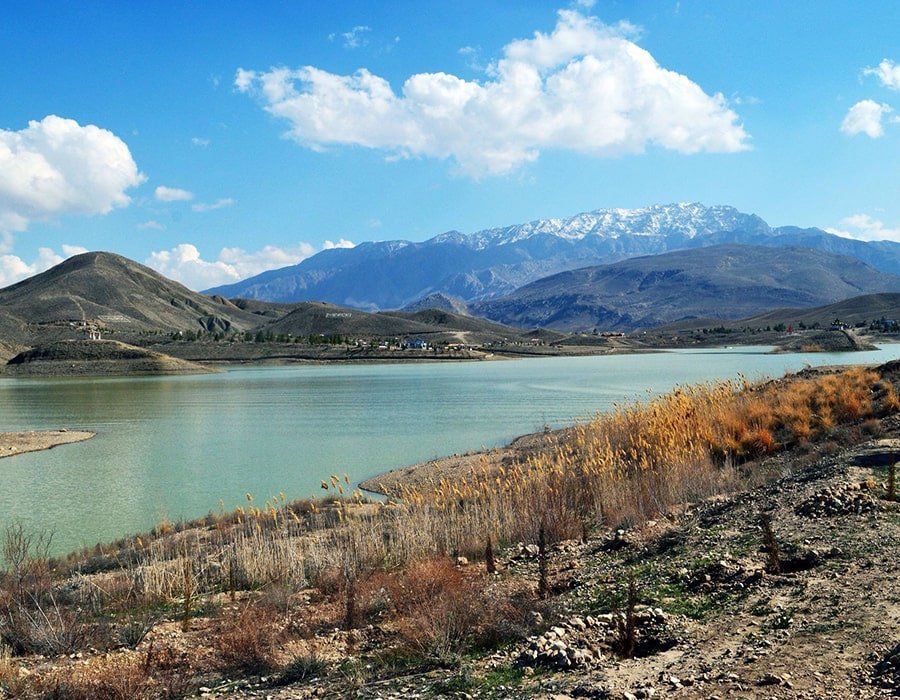 Hanna Lake is a famous spot for travelers going to the province of Balochistan. British rulers got this lake prepared following a construction project of a reservoir. This eye-catching lake is most significant while carrying a lot of historical importance. If you go to this lake, you will find a restaurant near this lake with many chairs placed under the shadows of pine trees that provide all the backpackers with many lakeside scenes.
Hazarganji-chiltan National Park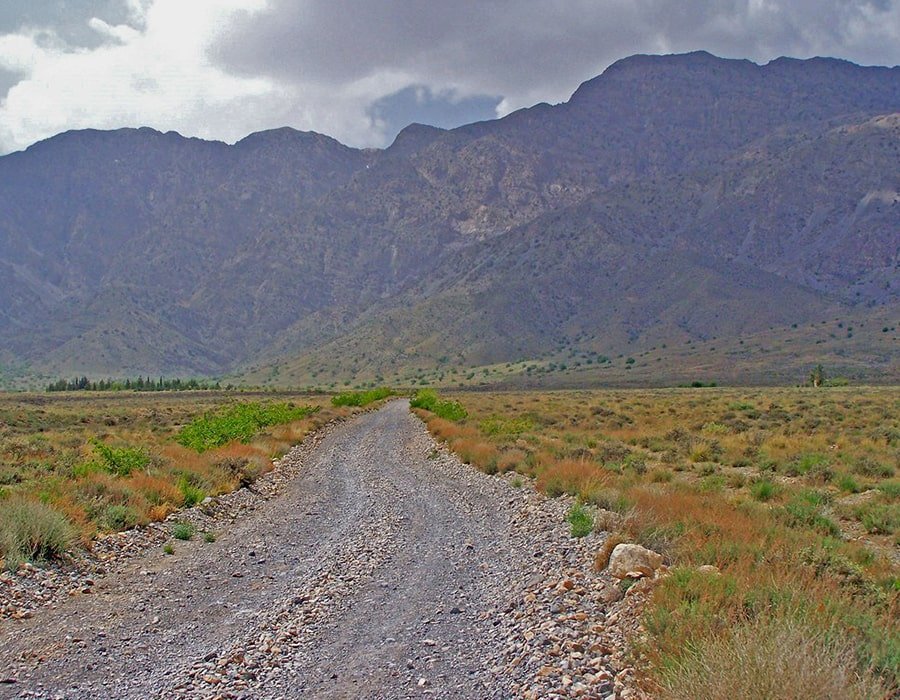 It was in the 1980s that Hazarganji-children National park was established. You would locate this park in Mastung district in the suburbs of Quetta, which is considered home to Sulaiman Markhor and the Chiltan goat, having animals in high numbers.
Hingol National Park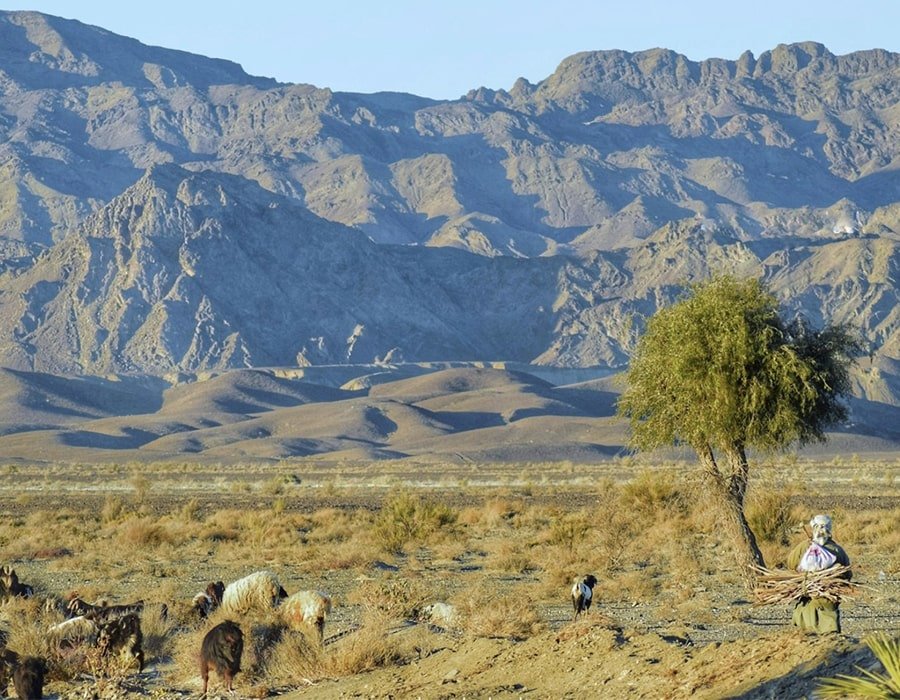 Hingol National park is park that is the largest in Pakistan. Tourists go to this park to observe an alluring combination of nature and wildlife comprising more than 200 species of mammals, amphibians, reptiles, and birds.
Ziarat
Ziarat is well known because there is the house of the founder of Pakistan, Muhammad Ali Jinnah. Most people refer to it while calling it Murree of Balochistan. Ziarat is a favorite spot for travelers who are fond of observing snow falling. It is just in the winter season that you would have an opportunity to see snow falling in Ziarat.
Popular Foods of 
Baluchistan
These are the famous foods of the province of Baluchistan, which you must not forget to eat while you are in this province.
Sajji
Sajji is a food that is prepared while having the whole chicken marinated with delicate pieces. Sajji is always ready on fire slowly until the chicken's skin assumes a crispy golden color.
Chilaanch
The food is a very particular dessert prepared with a combination of milk and jelly. It is like a kheer mixed with pulp. People eat it with bread and lots of raw slices of onions.
Kabuli Pulao
Kabuli pulao is prepared while following a recipe that is a bit different. The cooks put a lot of dried nuts in this pulao, and it turns out to be sweet and salty at the same time.
Balouchi Fish Barbecue
Balouchi Fish Barbecue is a food that belongs to Gwadar city, but you can also find it in other areas of Balochistan.
Abgosht
Abgosht is a lamb stew that is prepared with liver and kidney. Some cooks prepare this dish with mashed beans too.
Souvenirs of 
Baluchistan
Whether you are paying a visit to Baluchistan for the first time or not, we would stress that you must make up your mind to take along some souvenirs on your way back to your home to be presented to your loved ones gladden them.
These are some of the memories that you must purchase on a priority basis.
Dry Fruits
Dry fruits and nuts are the unique souvenirs of Baluchistan, and you must take them along.
Cherries
Cherries and fresh apples are also significant souvenirs of this province of Baluchistan.
Rugs
Rugs and handwoven carpets with geometrical designs should buy to decorate your households.
Embroidered Balochi Dresses
Many women of this province prepare embroidered Balochi dresses in a lovely manner, and we suggest to you that you must purchase these dresses for the people at your home.
Khyber Pakhtunkhwa
Suppose you are desirous to observe pure natural beauty, tranquil and peaceful valleys, the spellbinding Karakoram mountainous range, and the friendliness of the local people of Khyber Pakhtunkhwa. Then we would counsel you to pay a visit to Khyber Pakhtunkhwa because you are about to experience all these things in just one province of Khyber Pakhtunkhwa.
Allah Almighty has gifted Khyber Pakhtunkhwa with many breathtaking lands to captivate all backpackers of the world.
Kaghan Valley
It is an alpine valley located in the Mansehra District of Khyber Pakhtunkhwa. In this valley, the Kunhar River alters its color and course while going through it. It gives a fascinating look when you observe various shades of the Kunhar River at the same time. Khagan's road usually passes through Abbottabad, Mansehra, and Balakot.
Chitral
Chitral is the main focus point that captivates many local and foreign backpackers magnetically. Broghil valley of Chitral presents many heaven-like scenes on this plant. There are many snowy glaciers and mountains in this valley to amuse the tourists to the fullest. Broghil valley is also blessed with many impressive green meadows and blue lakes. Koghazi and Goleen also point of interest
to the people visiting Chitral. The Kalash Valley is also located in Chitral that is well known for many reasons. It is customary with the Kalash valley people that they wear embroidered dresses. Their dance is also very well-known, and tourists going to this valley are very fond of watching this valley's people's dance.
Swat Valley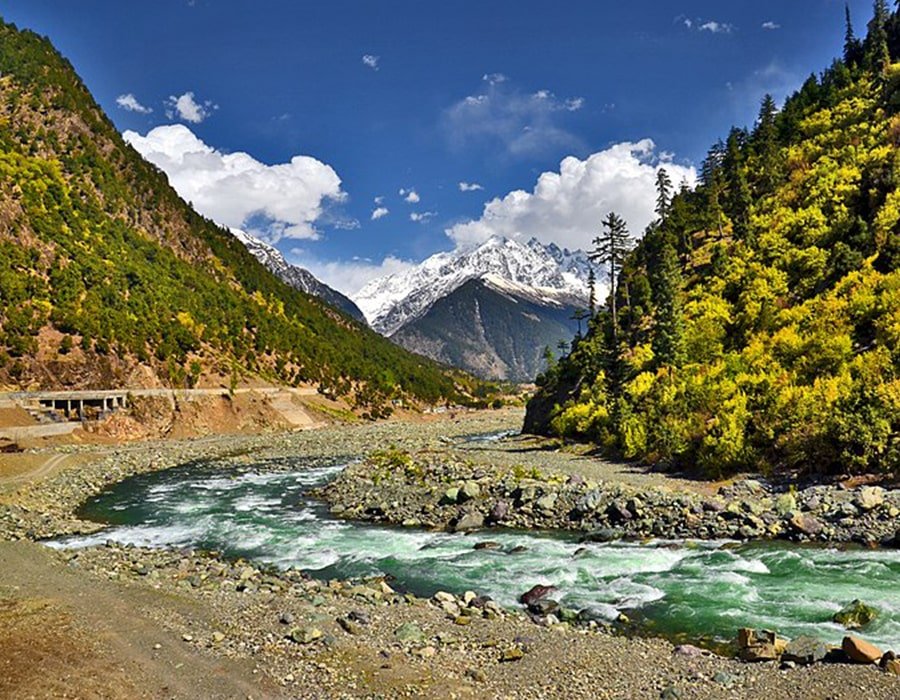 Swat valley is stunning, with Swat River's effusive waters going through this valley. There are great resorts alongside the Swat River that proffer spellbinding views during the morning and evening. Mahodand Lake near Kalam in the Swat district also presents scenic views with its bright blue waters next to meadows and towering pine trees. Tourists refer to it as a fascinating lake, and they are fond of spending their time fishing and boating in this enthralling lake.
Naran Valley
It will not be wrong if we say Naran Valley is one of Pakistan's most beautiful places and is included among the most-visited Pakistan destinations. Naran valley is a well-liked destination in the heart of KP province. Pine trees, beautiful grasslands, hypnotizing lakes, and the most beautiful Kunhar River are some spellbinding aspects of Naran Valley that are sure enough to capture your attention. It is here that you would find trout fish in this valley in abundance, and we suggest to you that you must try it once you are in this pretty and enthralling valley.
Galiyat
You would find Galiyat lying between Abbottabad and Murree. This land area presents hills before your eyes while having grassy fields, cold weather, and tall trees of pine is quite a considerable number. You would find Ghora Gali, Nathia Gali, Changla Gali, and Dunga Gali in Galiat to make your tour very memorable there. The government of Pakistan's current effort is that many fast-food chains and 3-Star hotels have been constructed on its directives just for the backpackers' convenience.
Shandur Pass
Shandur Pass is a tableland with a level surface without any raised areas in Chitral's district connecting to Gilgit-Baltistan. It is the very place that is regarded as the "Roof of the World." Three days, namely the Shandur Polo Festival, is also held here every year in July, attracting backpackers from the entire world.
Saif-ul-Malook Lake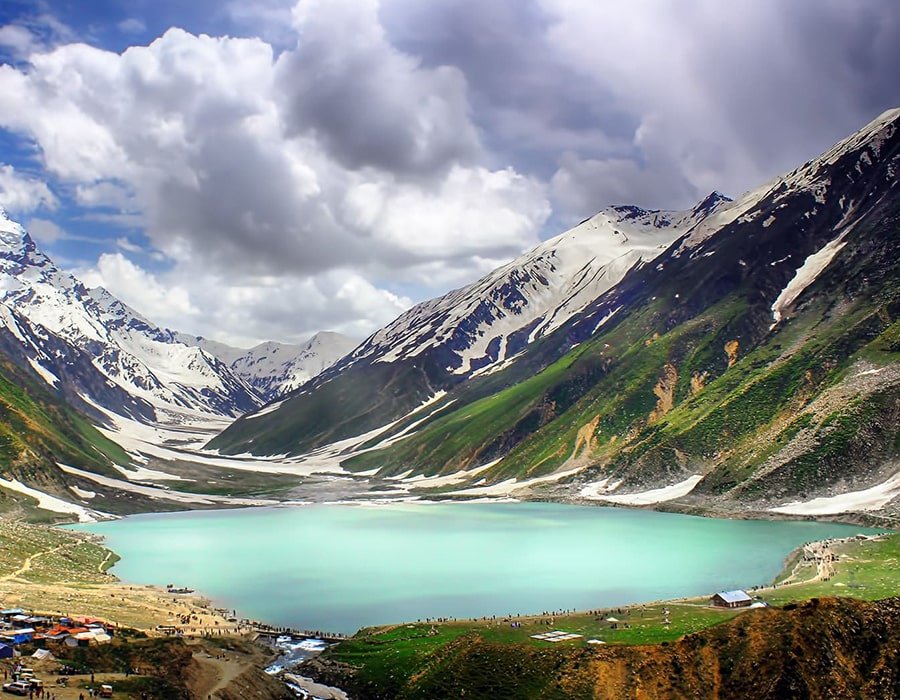 This lake is famous for being the lake of fairies and is included among the best Pakistan tourist places. According to a local anecdote, a princess bearing the name of Saif-ul-Malook fell in love with a fairy princess right at this lake. If you happen to visit this beautiful lake ever, you will find that this lake mirrors the incredible mountains of Malika Parbat through its clear and blue water. If you happen to have a look at this lake during nighttime, you will notice that the silvery glow of the moon makes the lake supernatural while drawing you towards it in a mesmerizing manner.
Malam Jabba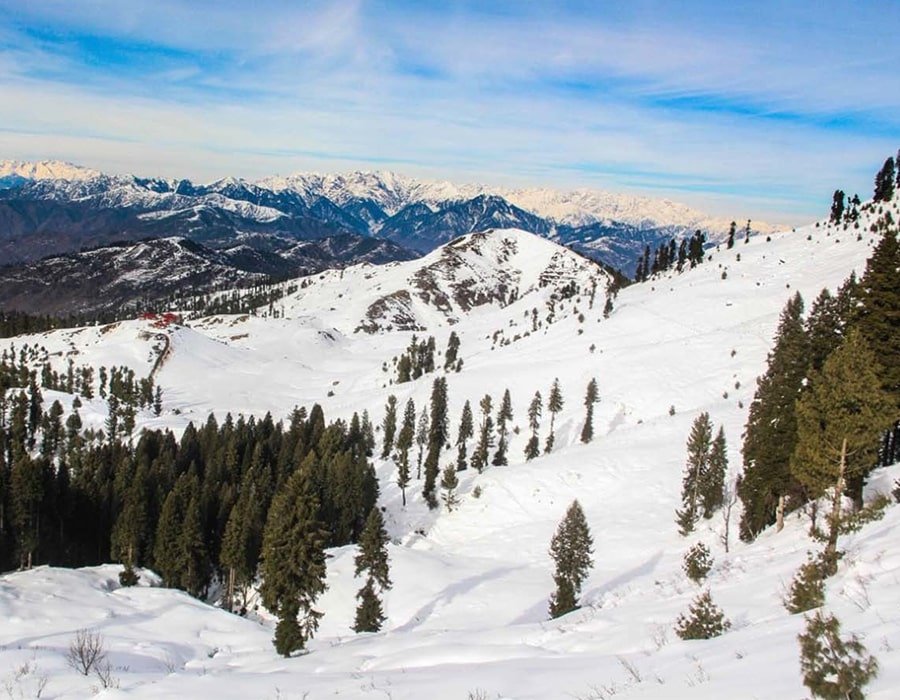 Malam Jabba is one of the most famous ski resorts in Pakistan. It is one of the most senior picnic points attracting tourists from across the globe, who prefer to come here to have fun with many winter sports, including snow-skating.
Famous Foods of Khyber Pakhtunkhwa
It is a brief list of the foods you must eat while you are in Khyber Pakhtunkhwa.
Chapli Kebabs

Namkeen Boti

Shinwari Tikka

Shinwari Karahi

Tandoori Chicken
Souvenirs of Khyber Pakhtunkhwa
We would once again suggest you purchase some remarkable things from this province as souvenirs to present them to the people waiting for you at your home. Some of the noticeable souvenirs of Khyber Pakhtunkhwa are given below.
Peshawari Chappal
Peshawari Chappal is a standard pair of shoes that you can take to your home to proffer it to somebody important at your home as a charming presentation.
Peshawari Embroidered Koti
Peshawari Embroidered Koti is a jacket without sleeves; that is a stunning piece of apparel that Khyber Pakhtunkhwa people wear over their Shalwar Kameez. It is very conventional apparel of the people of this province. Sometimes, it is not embroidered. And it is just up to you to decide whether you wish to wear a plain Koti or an embroidered Koti.
Jewelry
Hand-made bracelets with real stones are a trendy item for jewelry. You can make these bracelets as the souvenir of the province.
Nuts
Amazingly, you can find nuts cheaper in this part of Pakistan. There is an abundance of chilghoza and kaghazi badam in this province, and you must buy them because they would come into your hands at cheaper rates.
Kalash Embroidered Dress
Kalash Embroidered Dresses are gorgeous, and we counsel you that you must purchase them for your use and the use of your near ones.
Gilgit-Baltistan
Gilgit is a beautiful city in Pakistan, to be found in Pakistan's northern lands. The weather in this valley remains cold all year. Gilgit people have to witness massive snowfall when the winter season comes.
Mountaineers and trekkers visit this province with excessive zeal and enthusiasm. You must be aware that Gilgit-Baltistan is home to some of Pakistan's largest mountain ranges, like the Karakoram, Himalayas, and Hindukush mountain ranges.
Now let us tell you some enthralling points of interest in Gilgit-Baltistan.
Hunza Valley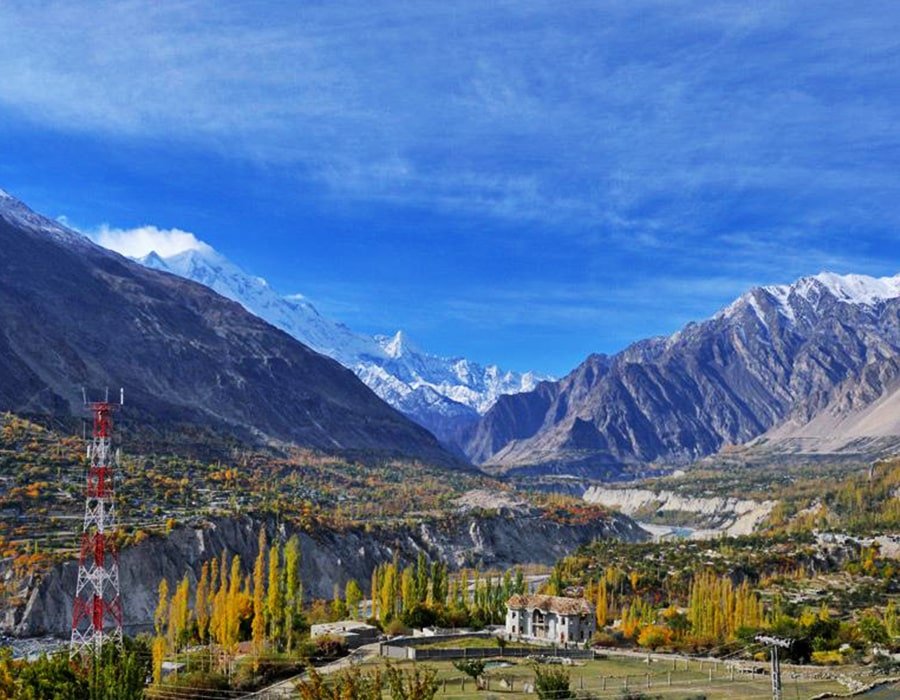 Hunza valley is among the top Pakistan destinations. Most people depict Hunza's valley as heaven on earth, and it is a reality that when you find yourself in the beautiful and enthralling lands of Hunza, you begin to believe that you have come across some paradise. It is not only the prettiness of this valley that draws enthusiastic extollers of beautiful natural lands from the entire world, but many other things in this valley put the tourists in a trance.
In this valley, you get an opportunity to pay a visit to the seven-hundred-old Baltit Fort, a UNESCO World Heritage Site. Trekkers go to this valley in groups to start trekking on K2, which is the second-largest mountain peak in the world. It is a reality that you would have to slow down your car's pace on reaching the Karakoram Highway area to witness the beauty of this land and reaffirm the fact that it is rightly portrayed as the eighth wonder of the world.
Skardu
Skardu shares the border with one province of China, the name of Xinjiang. There is a variety of picnic points in the areas of Skardu. The backpackers go to Skardu in groups in April and continue to go there till October. It is a matter that at least 50,000 backpackers visited Gilgit-Baltistan in the first half of the last year 2019. If you are in Skardu, we would suggest that you pay a visit to Kharpocho Fort which gives you an occasion to have views of the ferocious Indus River, flowing only a few meters away. Satpara Lake is an ideal fishing point for you, which you should not miss ever. One most beautiful hotels in Skardu is Shangrila Resort, and we counsel you that you should spend some time in this hotel on a priority basis to have a memorable time of your life.
Gulmit Valley
It is on the bank of the Hunza River that you would find Gulmit Valley. It is, in fact, a small village in Gojal Valley. Many apricot farms, a good number of cherry blossom trees, and large green fields attract visitors annually to Gulmit Valley.
Phander Valley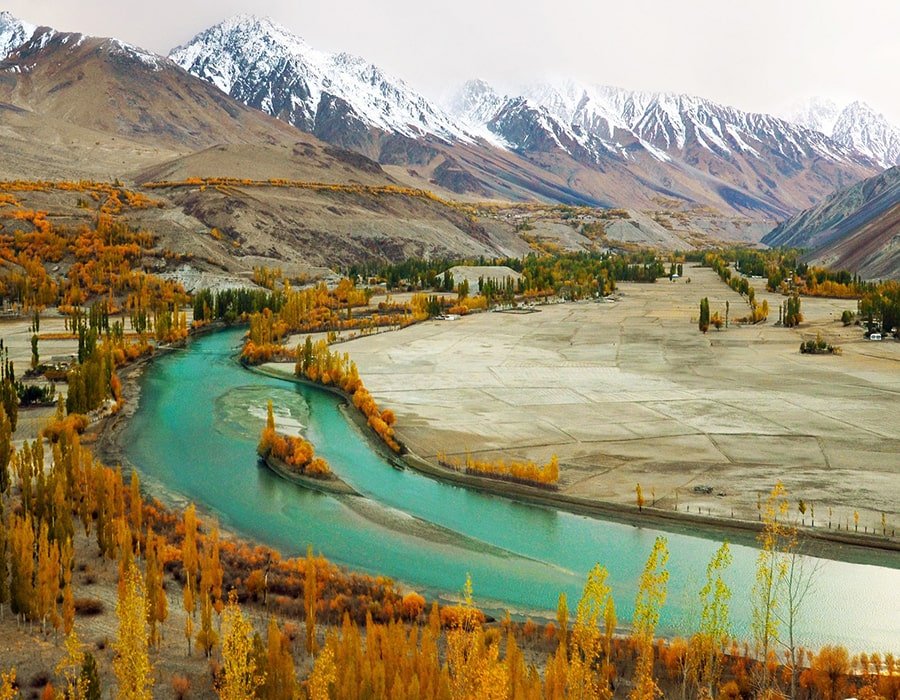 You would find a gorgeous blue lake in Phander Valley that is famous as Phander Lake. Most people depict this valley as "Little Kashmir." Several green meadows and a beautiful blue lake found in this area are enough to attract tourists to this beautiful valley.
Shigar Valley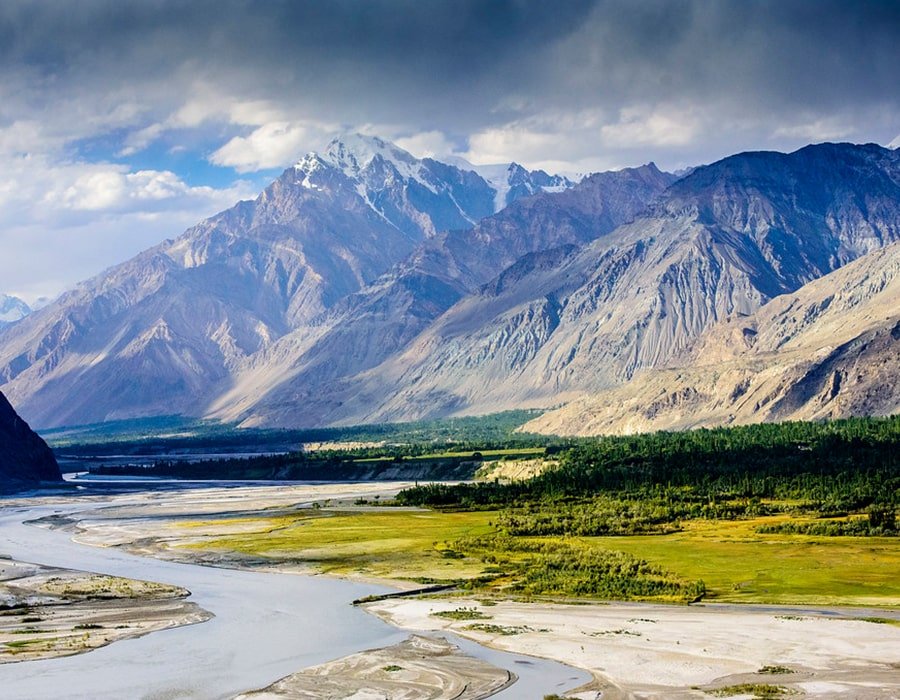 It is a sad fact of Shigar Valley has been underestimated, but it does not mean that tourists do not like to visit any area of this valley. The blue Blind Lake, Shigar Fort, and the diverse orchards of this valley make backpackers feel drawn. This valley is a favorite point of hikers. If you are determined to reach the K2 base camp from Shigar Valley, you would have to keep trekking for seven days incessantly.
Famous Foods of Gilgit Baltistan
These are the famous foods of Gilgit that you must not miss to eat.
Harissa
Harissa is a mixture of lentils, meat, rice, and wheat cooked at a slow pace. Whenever you would have a chance to eat it, a flatbread would be served to you with harissa.
Shopan
Shopan is a minced meat dish that is served with whole wheat bread or rice.
Mamtu
Mamtu is a steamed dish that is cooked with cubes of mutton, beef, garlic, and onion. It is prepared in a streamer for many hours.
Gooli
Gooli is a bread that is made from wheat, and having been layered with butter. Whenever special occasions are held, gooli is served to the people.
Souvenirs of Gilgit
It would help if you prepared your mind to get some famous souvenirs of Gilgit to take them along on your way back to your home.
Stone Necklaces and Earrings
The best item that you can take from Gilgit is stone necklaces and earrings.
Carved Inlaid Wooden boxes
You can purchase carved inlaid wooden boxes at any shop in Gilgit to get them along.
Shawls
You can buy shawls from any shop of Gilgit to present them to your dear ones waiting for your returning at home.
Azad Jammu and Kashmir
Beautiful valleys, abundant green lands, and mighty mountains are significant aspects of Azad Jammu and Kashmir. It is a matter of fact that you will get a chance of getting engaged in many water-related games featuring rafting, boating, paragliding, windsurfing, and kayaking in Azad Jammu and Kashmir.
Now we would tell you some of the popular visiting points of Azad Jammu and Kashmir.
Neelum Valley
The name of Neelum Valley has been borrowed from the Neelum River which contains clear-cut blue water. Neelum Valley's aspects make it distinct, including impressive waterfalls, thick pine forests, and freshwater springs. You would surely get an occasion to get hold of trout fish at Neelum River to enjoy a tasty meal. Shounter Valley, Kel, Sharda, and Chita Katha are a few captivating points that you must not miss while in Neelum Valley.
Muzaffarabad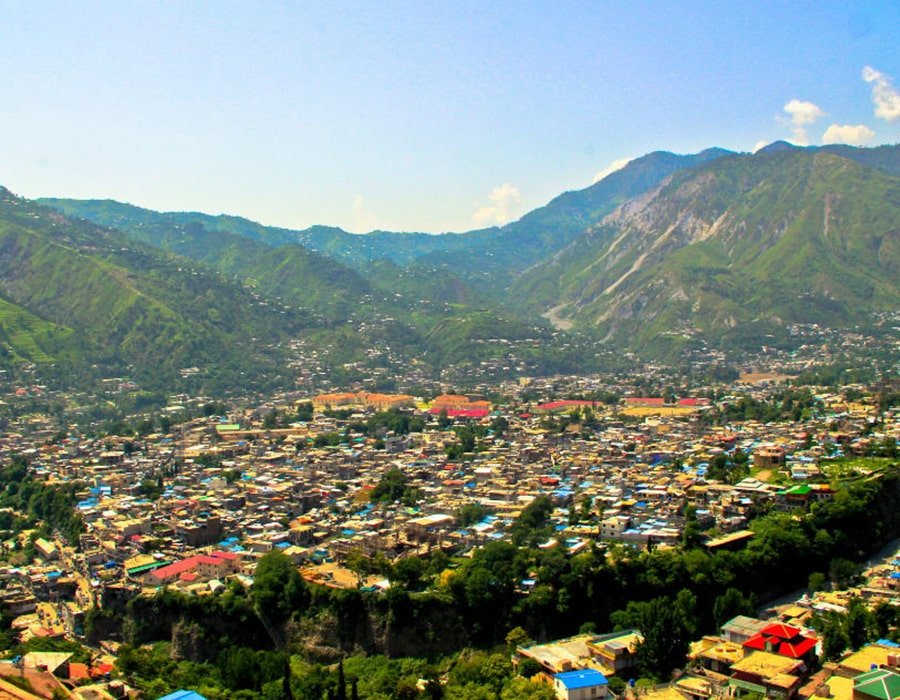 Muzaffarabad is a beautiful city of Azad Jammu and Kashmir. It is the most enticing visiting place for all backpackers. Due to the area's well-shaped roads, you would find that your journey to this city is relatively easy and pleasurable. You would need just five hours to go to Muzaffarabad from Murree. Kundal Shahi is the crucial visiting point of this area, and it is undoubtedly good news for you that it is situated mere 74 kilometers away from Muzaffarabad.
Pir Chinasi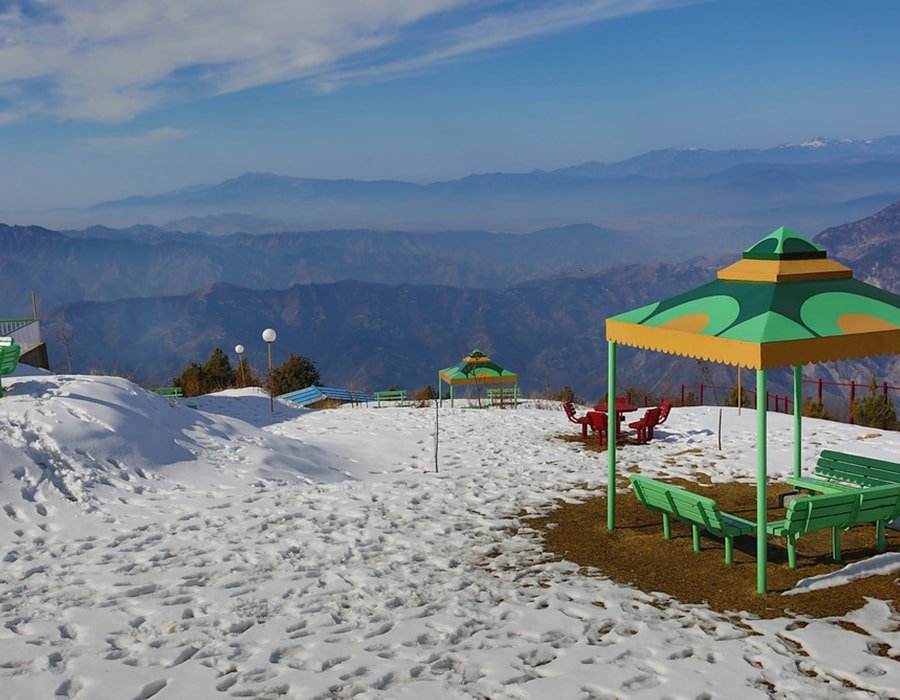 It is located on the eastern side of the city of Muzaffarabad and you would come across Pir Chinasi. You will witness many green grounds in Pir Chinasi, in addition to the enthralling views of the mountain peaks that put the backpackers in a trance.
Ratti Gali Lake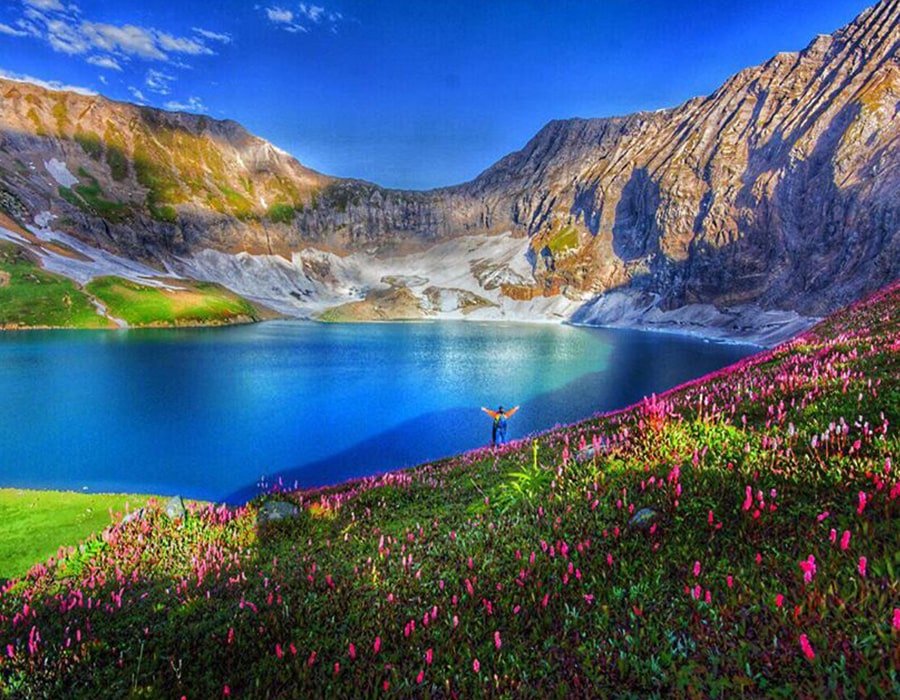 Ratti Gali Lake is a spellbinding lake that you can locate at the heart of Neelum Valley, almost 12,000 above sea level. You would need just a few hours by availing a jeep ride to go to the Ratti Gali base camp right from Dorian Town in the Neelum Valley. On reaching the field, you get to know that you require another hour to witness the enthralling lake.
Aurang Kel Valley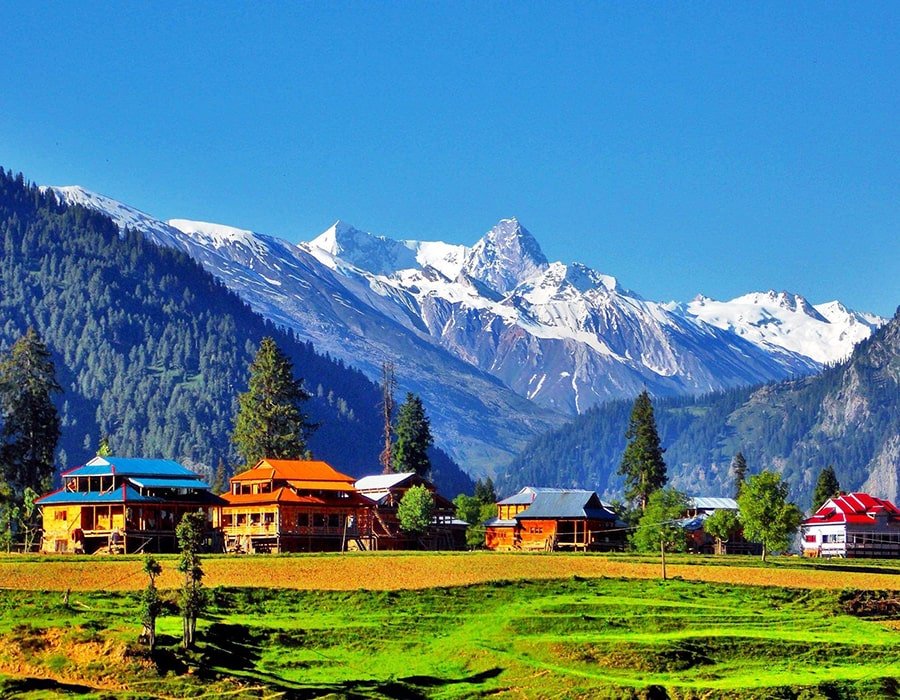 Aurang Kel Valley is the most captivating hill station. Beautiful Lund Sar Lake, eye-capturing waterfalls, snowy mountains, and green meadows make this valley appear very enthralling. Most backpackers fondly decide to spend their nights under the stars, but you should stay comfortably inside some guesthouses if children are with you.
Gurez Valley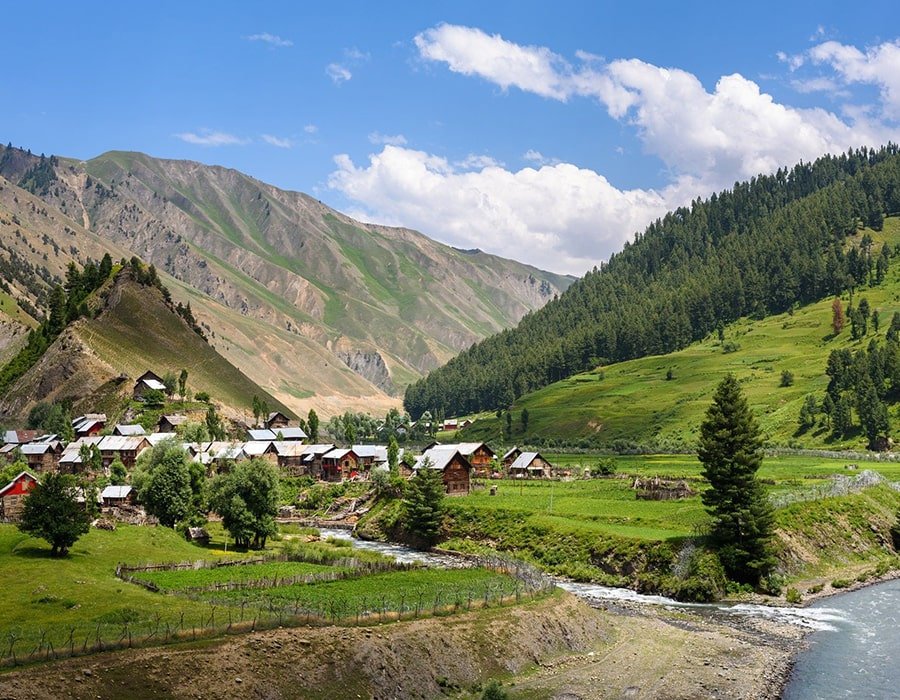 Gurez Valley is a beautiful land because of the abundant green meadows and cherry-laden trees. If you wish to witness natural beauty, then you must visit this valley on a priority basis.
Famous Foods of Azad Kashmir
We deem it necessary to tell you about some famous foods of Azad Jammu and Kashmir.
Rogan Josh
It is a lamb dish cooked with caramelized yogurt and onions. It is the favorite dish of backpackers.
Modur Pulao
It is one of the conventional sweet rice dishes with the right amount of saffron, nuts, milk, and ghee. Some amount of cinnamon would make the dish very tasty.
Matschgand
Matschgand is a meatball dish that is mostly served in red curry sauce.
Kashmir Mugi Gaad
It is a fish that is prepared alongside radish. Its taste is exquisite. It would be best if you ate it when you are in Azad Kashmir.
Kashmir Dum Aloo
Kashmiri Dum Aloo is a very famous dish of Azad Kashmir. This dish is prepared with fried potatoes along with spices and herbs.
Kashmiri Chai
Kashmiri Chai is a pink-colored tea that is prepared with star anise, and it will be served to you with crushed pistachios, almonds, and some other nuts.
Souvenirs of Azad Kashmir
We, please inform you about some memories of Azad Kashmir to take them away to your home.
Kashmiri Pashmina Shawls
We think you may already be aware that Kashmiri Pashmina Shawls are well known all over the world, so we suggest to you that if you have not purchased them ever, you should buy them at a time when visiting Azad Kashmir this time around.
Carved Wooden Boxes
Carved wooden boxes with a tangled design are ideal items to keep your jewelry.
Kashmiri handwoven Carpets
If you are desirous to buy some items made by the local people of Azad Kashmir, we would tell you that you must purchase Kashmiri handwoven carpets and rugs.
Fruits and Nuts
Apples, cherries, figs, walnuts, and raisins are the most well-known fruits and nuts of Azad Kashmir. We would suggest to you that you must buy them and take them to your home so that your near ones can consume them gladly.