Whenever we imagine the natural landscape, and beauty and enjoy the holidays away from the bustling life, our instantly minds inclined toward Pakistan's Northern Areas. And the same moment, my mind is stuck with the obstacles of a long journey, hotel arrangements & traveling, etc.
Here we will take you to such a fantastic spot in Punjab where there is no need for any such nuisance of long traveling, but the place is a hidden piece of heaven named Swaik Lake.
This stunning lake is located at a short distance of 11 kilometers from the famous picnic point Kallar Kahar and 30 kilometers away from a medium-size city, Chakwal, in the southwest. Because of located near Kallar Kahar, it is also known as kallar kahar lake.
Sawaik lake is not only the best accessible option for the people of Islamabad and its adjacent cities, but the people of many other cities can also make a whole day holiday here.
Nature lovers would not even have an idea of its marvelous beauty in the mountainous terrain of Potohar. Serene Location and mystic appearance of this lake have made it one of the best places for holidaymakers.
Having the similar breathtaking beauty of Naltar Lake Gilgit and Mahodand Lake in Kalam, Swake Lake attracts visitors all over Pakistan. Crystal clear water and tranquil atmosphere, Swaik lake is covered up with remarkable rocks, cliffs, and adventurous mountains. The lake is supplied through 100 feet natural waterfall.
What makes Swaik Lake so famous?
There are few but attractive reasons which allure visitors to make a tour to Swaike lake. First are its crystal clear water and stream gushes away from the lake. This kind of water reservoir could not found in the region. There are many green hills and magical mountains where the lake is located and water streams.
The second thing is the serene environment of the lake. Once you enter into its locality, breeze and mystical surroundings refresh your mood. You will go through the miraculous experience by its deep level of mysticism in the voice of a waterfall battering against the rocks.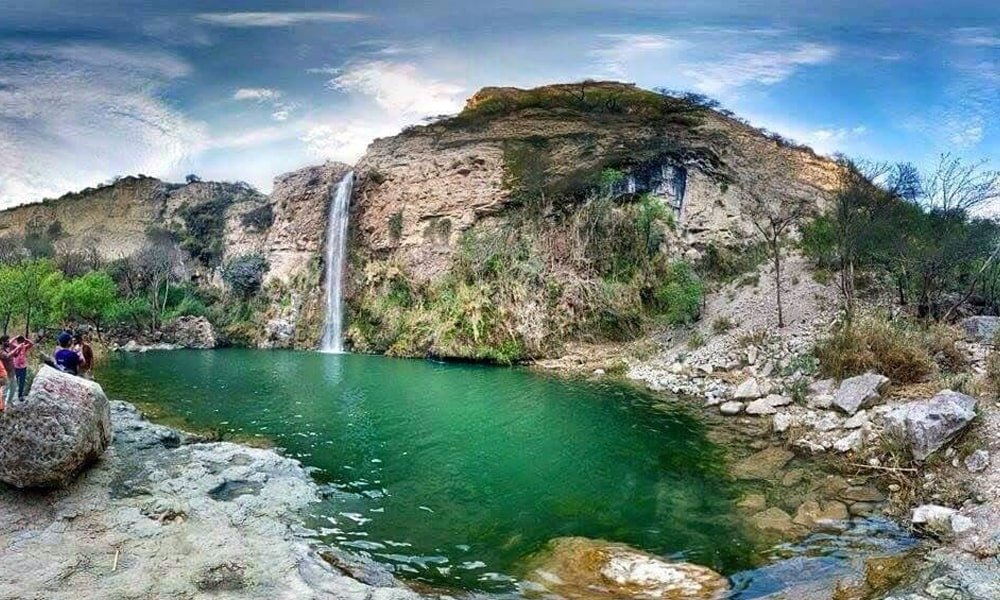 Things to do in Swaik Lake: 
Swaik lake is considered a magnificent alternative to Neela Wahn, another waterfall lake located 30 kilometers away from Kallar Kahar in Nurpur village. It will not be wrong to say that Swaik Lake is one of the best picnic spots for all people.
You can do many exciting activities here like swimming, diving, camping, and trekking experience. The most thrilling activity in the lake is swimming in the crystal and refreshing water alongside small fishes swimming around you.
Because of the swaik lake depth, life jackets are recommended for those who cannot know to swim—having easy access to reach the spot, and you can make one day tour for families and students.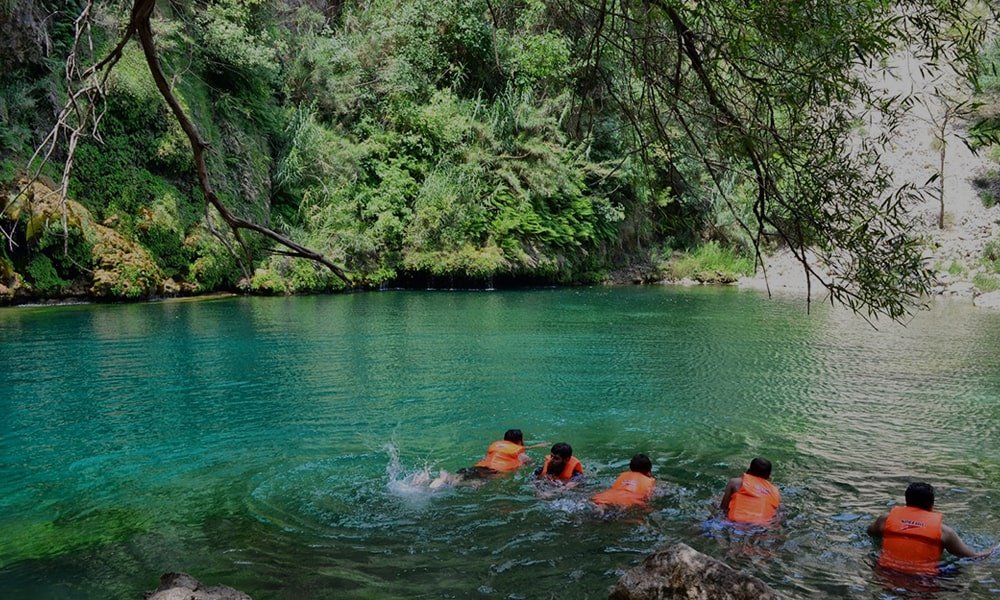 Trekking at Swaik Lake: 
Though the lake's trek is about 45 minutes, it gets a little more challenging after the first 15 minutes. The trail is wide at the start, but as soon as you pass it out, it becomes narrow. Once you reach the height, you will have to get down into the small valley surrounding the name of Swaik lake.
The steep footing toward the lake somehow becomes a very tough trek toward the lake. But after taking a challenging hike, you would be very close to entering an incredible place that will terminate your all tiredness. We would suggest taking your friends with you to help each other.
Swimming in Swaik Lake: 
It will be a dream to have swimming in the crystal-deep water with surrounded spell-bounding green hills around you and soothe your mind with a spectacular view of all the lush mountains. If you are not a good swimmer, even then no need to worry; use a life jacket that you can easily get from the lake locality as many locals sell the jacket at a very reasonable price.

Diving in Swaik Lake: 
As we have talked about the descent, you must have thought of any good spots to dive from. Well, there are many of them, and you can enjoy all of them depending on how confident you are in your driving abilities. There is one at a height of over 30 feet, giving you just over a second of free fall time in the cold breeze. It is one of a kind which you can't get anywhere else. 
Camping at Swaik Lake: 
Swaik lake location has made it one of the prime picnic destinations for everyone. Mostly the people who have a shortage of time due to office duty or jobs and want to spend their leisure time at the best place with less traveling and cost, Sawaike lake is the best option. The peaceful environment and its magical waterfalls make it the perfect tourist point.
You can do camping, to a BBQ party, and do whatever enhances your joyful time here. Set your camp right next to the lake and enjoy the melodic sounds of the waterfall and absolute natural beauty. If you need any help regarding setting up the camp, to go to the Location of the lake safely, you can find many local guides that can help you and your family with anything to enjoy your time.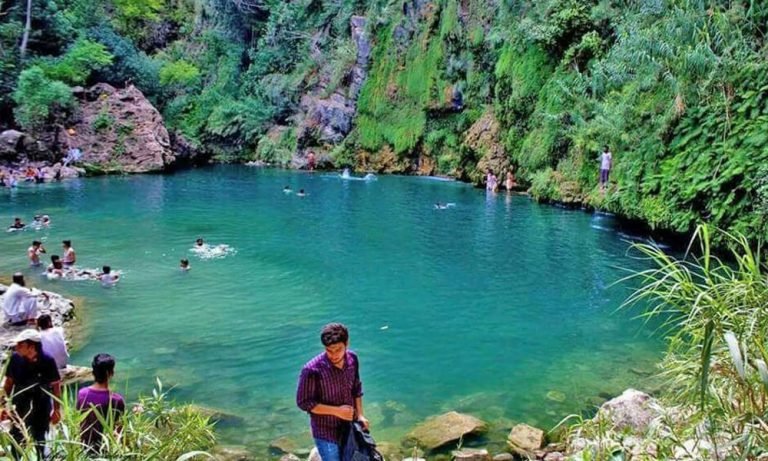 Swaik Lake Distance from Islamabad
Sawaike Lake has situated only a distance of 135 kilometers away from Islamabad and about 11 kilometers from Kalar kahar and 30 kilometers from Chakwal.
For any information about a tour to Swake lake contact us. Click Pakistan is a leading destination management company and already has many Kalar kahar Swaik lake tour plans, Neela wahn kallar kahar, and a lot of other tour packages all over Pakistan.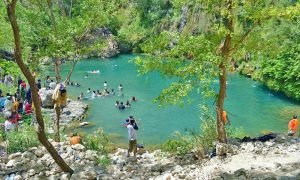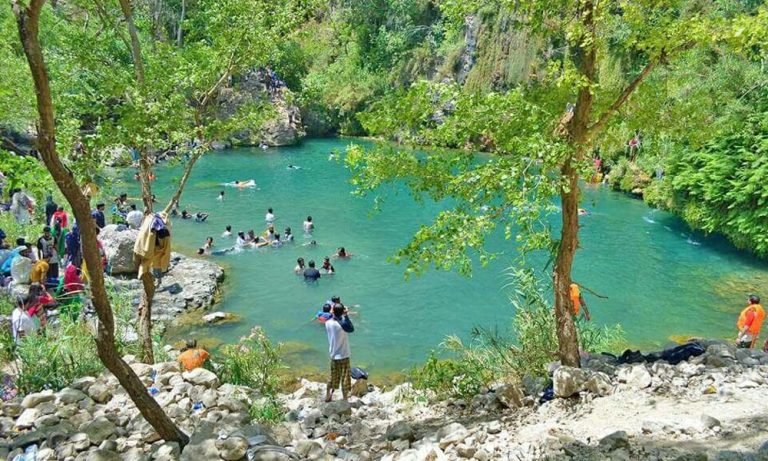 Final Verdict
Swaik Lake is one of the best attractions for a short trip. Due to easy access and holding a serene beauty of the lush landscape, it is recommended for even families for their one-day holiday.
Read More : Top Attractions of Pakistan