Chair lift ride has always been a dream of any traveler. Traveling in the cloud is a fantastic experience in life, and Ayubia chair lifts in Pakistan are the best places to experience it. Ayubia chair lift is one of the most famous and ancient chair lifts in the east corner of Khyber  Pakhtunkhwa province of Pakistan.
The people who love adventure and want to experience majestic natural landscape beauty while hovering on the lush green mountains and flying like in clouds will love the ride of the Ayubia chair lift. The lift consists of 56 seats. There are also many exciting features of this chair lift which are mentioned below.
Ayubia chairlift History
In 1962, It was the first chair lift in Pakistan imported from Switzerland and installed at Muree and was the primary source of attraction for tourists who visit Galyat in summer.
Ayubia chairlift Map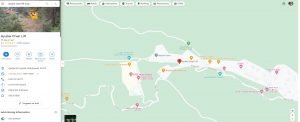 Ayubia Chairlift height
In Abbottabad, the Ayubia chairlift is one of the largest and longest chair lifts. The height of Ayubia's chair lift is 8000 feet above sea level. The entire ride of the Ayubia chair lift is about 7 kilometers.
Ayubia chair lift distance from Islamabad
The total distance between Ayubia from Islamabad is almost 75km. In 2 hours and 30 minutes, you can easily reach Ayubia from Islamabad via Kashmir road. You can also choose another route to get to Ayubia from Islamabad through Murree Express, almost 13km.
How long is Ayubia Chairlift?
Ayubia Chairlift is One and a Half Kilometers long.
Ayubia chairlift Weather
According to GDA (Galyat Development Authority), Weather conditions in Ayubia vary season-wise:
The annual average temperature is         11.2 OC
The annual average rainfall is                 1448mm.
In Ayubia, the weather is approximately cold in summer, but it is very severe and icy in winter. Monsoon rains come in July and August, and these rains converted the temperature to fully cold, and snow comes when west winds bring more rain. Thus, Ayubia National Park is covered with snow during the snowing season until summer.
Ayubia chair lift Ticket Price 2022
Chairlift ticket rates are very reasonable. Ayubia chair lift ticket price is about Rs.850 per head.
Ayubia Chair lifts opening hours.
Its opening hours or timing is 9:00 am to 4:00 pm.
Ayubia chairlift contact number
03005614076
See Related Tours
2 Days Murree, Ayubia & Nathia Gli Honeymoon Tour Package
3 Days Murree & Nathia Gali Honeymoon Tour Package
4 Days Murree Nathia Gali & Shogran Honeymoon Tour Package
5 Days Murree & Naran Valley Honeymoon Tour Package
Read More: Swaik Lake  Kalarkahar A Best Place to Visit