Are you excited to know about the water sports activities at Khanpur Dam? If yes then this is the right place. Pakistan is a blessed nation with flowing rivers, lakes, and streams that provide various uses for its citizens and a wonderful site for domestic and foreign visitors. The Indus River, labelled as the longest river in South Asia, flows from the northern areas of Pakistan that originally started its routes from the west of Tibet and eventually ended itself in the Arabian sea near the Karachi port. The Indus River flows its way through KPK (Khyber-Pakhtunkhwa), Punjab, and Sindh, separating itself into the five well-known rivers along its way.
Because of so many rivers given as a gift of nature, it's natural to preserve these and make them good use for the civilians by building dams upon them. One such dam, called the Khanpur dam, takes its name that's been a new sight for both the locals and the outsiders to spend their free time in.
Khanpur dam is situated in the province of KPK in Khanpur, Haripur district, hence the name of the dam. The dam is built on the Haro river, a small tributary of the Indus river that later flows to form the Khanpur lake. Completed in 1983, it stands high at 51 meters with a storage capacity of 79,980 acres of water which provides drinking and sources to other water activities through Islamabad and Rawalpindi.
Why has it been gaining popularity recently?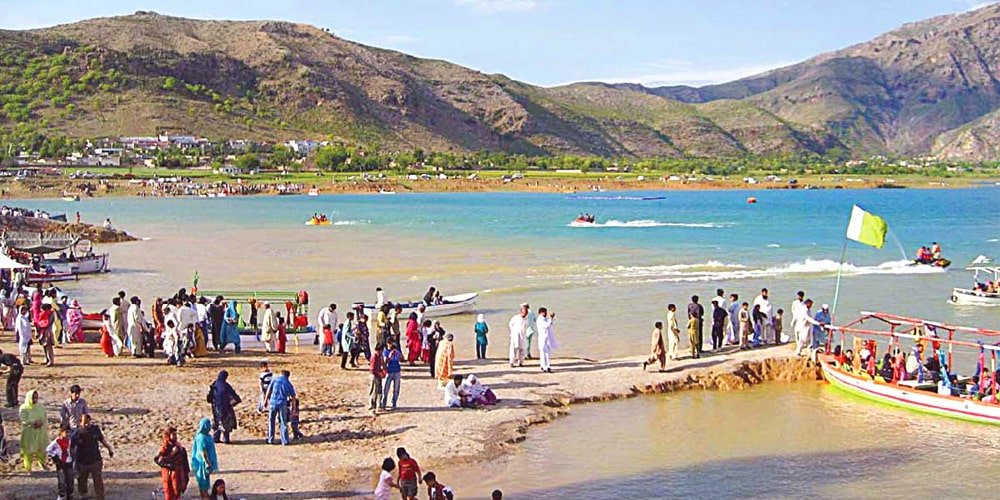 Khanpur dam has recently gained a spark among many people during these few recent years because of the bluish-green nature of the water. The teal-colored water provides an amazing sight for the viewers to see, but due to its location, it provides cool, windy breezes for the people to enjoy with their families. Its also surrounded by khaki-colored rocks, which form a barrier around the dam. It is also popular due to the activities it has to offer and small local stalls that sell food and other products.
In the center of the big river lies a small island in the middle that's very popular among the families that are often used to relax and enjoy the local blood oranges of Khanpur.
Along with the specialties of the dam, there are also many Buddhists archaeological sites, as well as a 200-year-old mosque called the "Rajgan mosque" or locally known as "rajaoun ki masjid" (mosque of the kings) that's often used to hold the daily Muslim Prayers not so far from the infamous dam.
What's the weather like in Khanpur?
The weather is quite mild with normal humidity and cool summer winds in summer and cold winter breezes. It depends when someone is visiting, but it's quite bearable.
So, when's the best time to visit?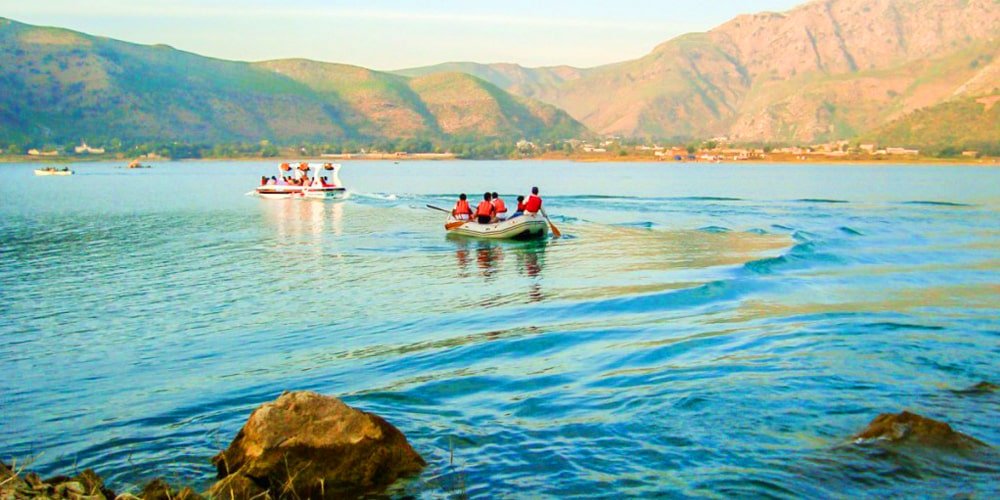 Although there are no restrictions on when to visit the dam, the most popular time to visit is from March to October. If you decide to go on in winters, it's most popular to go during January and February, but most people prefer to go in mid-summer when the weather is mostly clear and spend their early breaks and kill the heat. About 50,000 visitors visit the dam every year.
How far is Khanpur dam from Islamabad?
Khanpur dam lies not so long, approximately 50 km from the north of Islamabad, taking not more than a drive of 2 and a half hours to reach the destination.
What's the road condition like?
The road that takes you to the Khanpur dam is called the Taxila-Haripur Road.  It is in satisfactory condition, so it's completely okay and safe to drive in a normal car without any hesitations.
Foods near the Khanpur dam:
Most people and families visiting the place take their food as it's a popular picnic point, but there are many stalls around the place that can offer you many treats and snacks.
The dam offers many fresh fishes straight out of the water. Many restaurants around offer an assortment of fish dishes from fried even in curries.  Many families like to eat freshly cooked fish while sitting outside in a Dhaba-styled exterior to enjoy their time.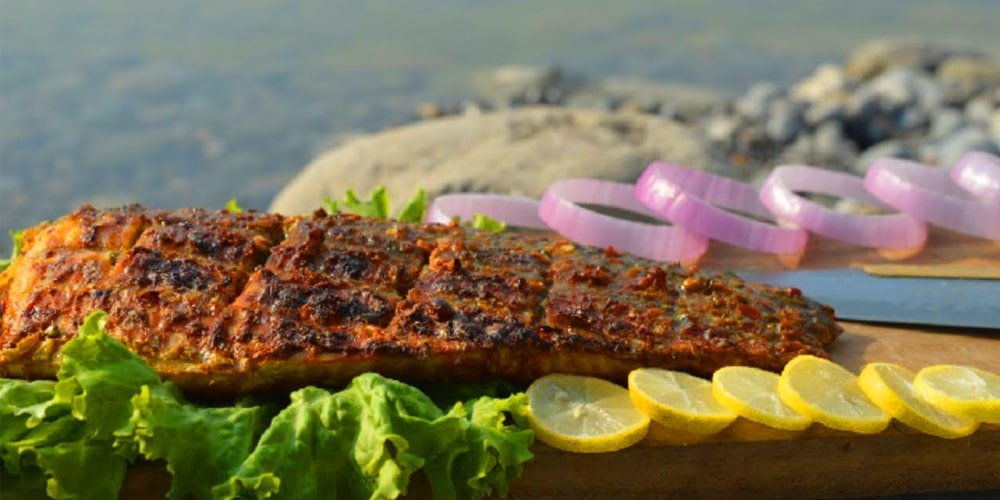 Red blood oranges of Khanpur are known to be one of the best in Pakistan. They can be quite a treat in the summer heat.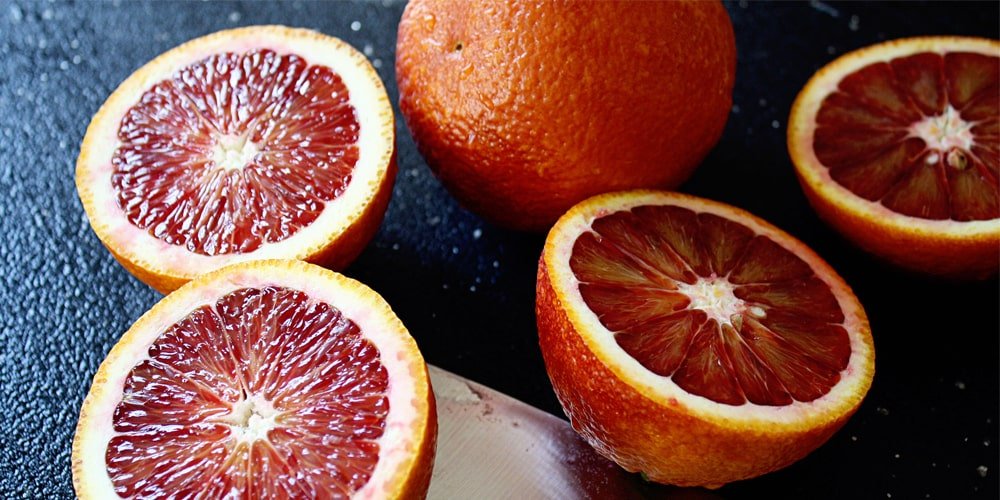 Other things it has to offer are pakoras (fried vegetables in chickpea flour) and drinks with local snacks for the kids.
Hotels in Khanpur dams: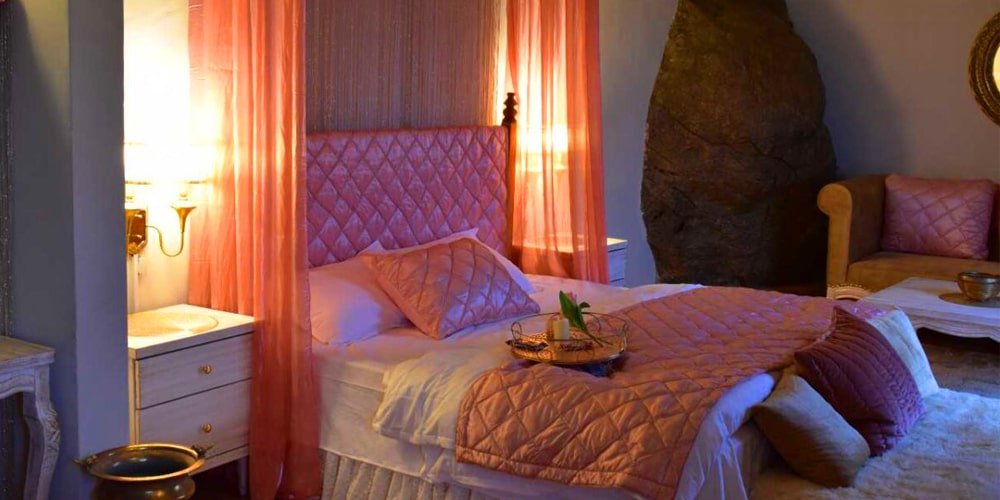 Most people start their trip in the early morning and return before midnight. However, there are many guest houses and hotels near the place for people to stay in. Most are situated near the way of Islamabad. These hotels provide the best facilities. They offer anything like a normal hotel as blankets and pillows in the room. A joined toilet with necessary toiletries with an AC and a TV. Near hotels include Royal Galaxy Guest House and Mulberry Residence.
Internet and cellular network facilities:
There isn't a problem with attaining any internet or cellular facility. There are many places around the corner to help you get internet access. You can also get free internet from the local public routers around. However, it is recommended to have your internet facility to avoid any inconveniences.
Daily Budget/ Trip Budget:
The dam's trip is often a one-day trip that can be covered with a small budget. Mostly needing rides and other foods and activities. A single person can cover their trip under no more than 2000 reps (12 USD). So it's quite an affordable trip.
What to pack for your trip?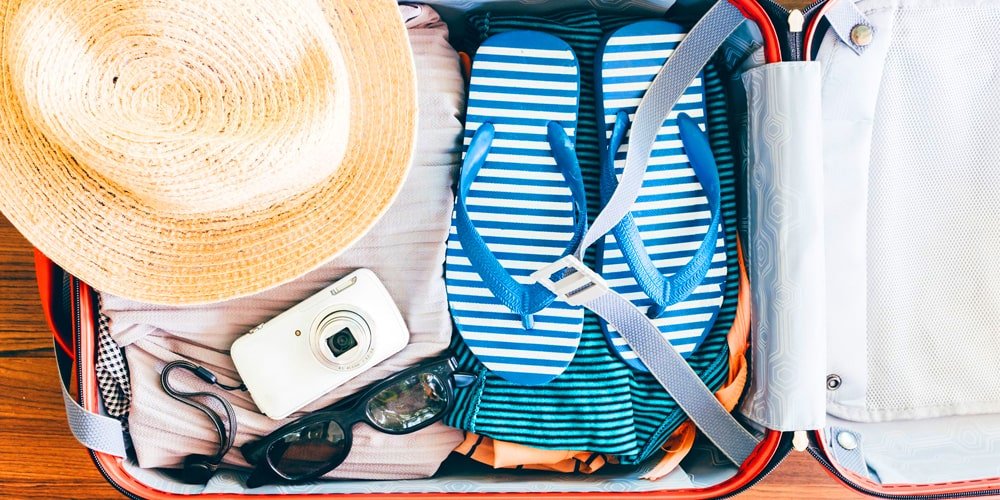 There isn't much you need to pack for this trip.  As some families like to take their things as lunch, carpets to sit on, etc. You need nothing much really but maybe only a camera to capture the memories made in the day.
Is it safe to visit the Khanpur dam?
Absolutely! Why not? It's a really popular family place to enjoy for.
Activities to do in Khanpur dam:
The dam is known for its variety of water sports and other activities. It offers, such as Zip-lining, Kayaking, Family boating, Jet skiing, cliff jumping, camping, and more! The most famous one is family boating, which provides a boat for up to 5 members around the dam. Other activities can also be done by a single person making sure to make your day. The owners of the activity themselves provide every necessity.
Read More: Ayubia Chair Lift