Because of the multi-cultural land, Pakistan is very rich in traditions and customs, sometimes referring to fascinating myths. Ansoo Lake is also one of those myths.
Where is Ansoo lake in Pakistan? 
It is situated in the magnificent Kaghan valley at an altitude of 14,000 feet above sea level in the Himalayas range. This Lake is also considered one of the highest lakes in Pakistan.
History of Ansoo lake
Before diving into its history, you would be wondered about the mea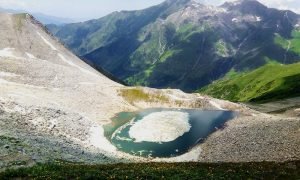 ning of "ANSOO," which means teardrop. According to a local tale, once a Prince named Saif ul Malook fell in love with a fairy princess. And it is said that marriage between humans and fairies was not allowed; therefore, the Prince has to endure many trials for around 12 years so he could get married to the fairy.
But it could not happen because of the involvement in the story of a villain. A giant Deuo Safaid (White Giant), was also in love with the fairy and wanted to marry her. The giant Deuo Safaid could not even be thought of as a fairy marriage with someone else.
Therefore, he kidnapped her. But when he realized that the fairy could not stop the love with the Prince, the giant began to cry. Thus, Ansoo lake was created. You perhaps did not believe the legend, whatever the locals think about its truth.
How to reach Ansoo lake?
There are two routes to reach Ansu Lake; one is via Lake Saiful ul Malook; it will take seven to nine hours to trek to reach the lake. And the other way is from village Mahandri that is located in the south Naran. The distance of Ansu Lake from this village is around 25 miles. First, take a local jeep from Mahandri to Mansoor village and then seven hours trekking through Dher meadows to reach Ansoo jheel.
Ansoo lake weather and temperature
Due to its location at a high altitude, it remained covered with snow in winter. Therefore the best time to make touring to the stunning Ansu lake is between June to September.
What is the Depth of Ansoo Lake?
The beautiful Ansoo Lake is 13940 feet from sea level
Final verdict 
The best time to trek ansoo lake is between the mid of July to the mid of August. However, It takes over 12 hours for a round outing to Ansuu lake beginning from lake Saiful Mulook. Ansu Lake is a masterpiece of nature. We recommend you take a tour of this spectacular lake once in your life.
See Related Tours
3 Days Naran Kaghan Valley Honeymoon Tour Package
3 Days Naran & Shogran Valley Honeymoon Tour Package
5 Days Naran & Shogran Valley Honeymoon Tour Package
7 Days Naran, Neelum & Shogran Valley Honeymoon Tour Package
Read More : Swaik Lake Kalarkahar