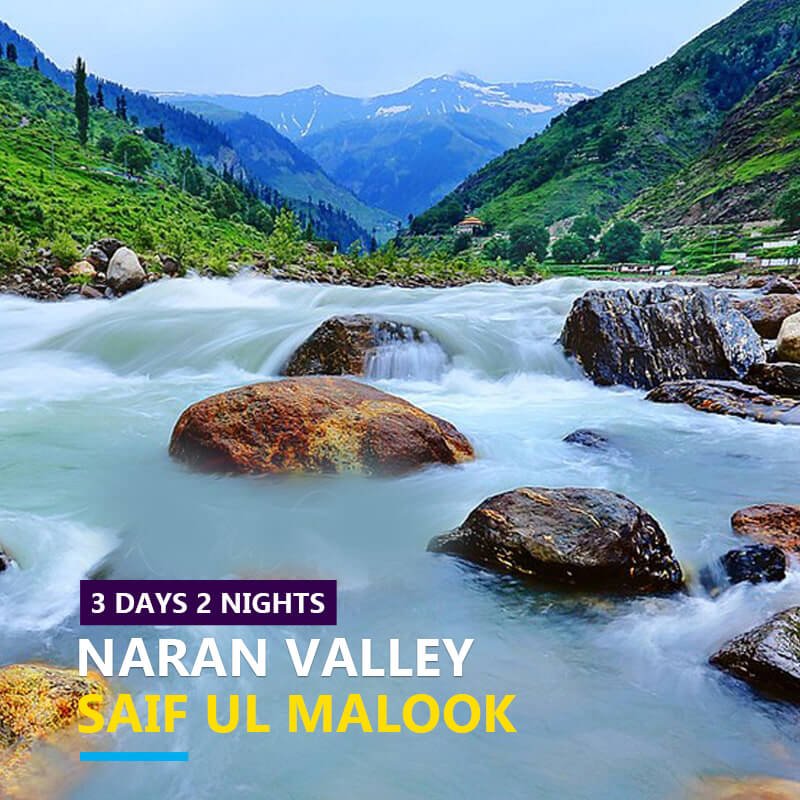 3 Days Honeymoon Tour Naran Kaghan Valley 2022
Naran Valley is one of the most beautiful parts of Pakistan's northern areas and popular summer vacations destination. The medium-sized town is situated in the upper Kaghan Valley in the Mansehra district, a part of the KPK province of Pakistan. The valley offers a panoramic view of lush mountains with pleasant weather. Our 3 Days Naran Kaghan Valley Honeymoon Tour Package has always been favorite for newlywed couples who want to see maximum places in a short time. 
Tour Highlights of Honeymoon Tour to Naran Kaghan 3 Days and 2 Nights
•   Visit Balakot, Kewai waterfall and Kaghan Shogran valley 
•   Brief excursion of Naran Valley and its all surroundings  
•   Tour of Saiful Malook, fifth best tourist destination in Pakistan
•   Tour to Lulusar lake, 3 km long blue water lake of the valley
•   View from Babusar Pass that connects KPK with Gilgit Baltistan 
•   Enjoy the river rafting in Kunhar surrounded by mountains
• Private Transport (Corolla GLI)
• Fuel, all road tolls & parking expanses
• 2-Night Hotel Accommodation
• 4×4 Jeep ride for Lake Saiful Malook
• Complimentary Breakfast
• Driver  Food & Stay Expenses
Excludes
• Anything not mentioned inclusive
• Any types of entry tickets or passes
• Lunch, Dinner or Snacks
• Boating or Rafting Tickets
• Any type of Hot & Cold Drink
• Personal nature expenses
Tour Itinerary of Honeymoon Tour to Naran Kaghan 2022 – 2023
DAY 1 | NARAN - LAKE SAIFUL MALOOK
Pick up the guest  and move towards Balakot, Breakfast on the way in Balakot or at Kewai Waterfall. Reach Naran Valley and check-in the hotel. Relax for 30 minutes. Get ready for the visit to Lake Saiful Malook. Visit Saiful Malook by 4×4 Jeep. Spend quality time at Lake, Sightseeing & Photography. Drive back to Naran Town before the evening. Overnight Stay at Naran Valley
DAY 2 | NARAN TO BABUSAR PASS
Breakfast at hotel in Naran and get ready to visit Babusar Pass. Stopovers on the way at Batakundi, Besal and Lulusar lake. Arrival at Babusar top and quality time at there (Babusar Pass is a high mountain pass and situated on the boundary between Khyber Pakhtunkhwa and Gilgit Baltistan). Travel back to Naran valley with short breaks on the way. Overnight stay at Batakundi or Naran town.
DAY 3 | NARAN TO ISLAMABAD
Breakfast in the hotel and get ready for river rafting. Enjoy river rafting at Kunhar river and spend quality time on the river, sightseeing & photography. It is time for departure to Islamabad/Lahore. Short break at Kewai waterfall & Balakot. Arrival back to Islamabad around 9:30 pm (End of services)
• 3 Days Naran Kaghan Valley Honeymoon Tour Package from 55,000 PKR (Couple)
• Changing in the itinerary will vary the tour cost.
• Trip starting from Lahore includes 15,000 PKR additional in the price.  
• Mentioned prices may slightly go up and down in high and low seasons accordingly.
• Click Pakistan recommends bringing their safety seats for children under four years old.
• In case of trip cancellation 12 hours before of departure, no refund policy for advance payment.
• Your reservation is always subjected to confirmation by depositing 30% as advance into the company account
  and rest of the amount is required to be paid upon your arrival to the company representative in cash/bank transfer.
List of the Best Honeymoon Tour By Click Pakistan
| Tours | Days | Price | Book Now |
| --- | --- | --- | --- |
| Murree & Nathia Gali Honeymoon Tour Package | 3 Days | 50000 PKR | |
| Naran & Shogran Valley Honeymoon Tour Package | 3 Days | 65000 PKR | |
| Swat, Kalam Honeymoon Tour Package | 3 Days | 55000 PKR | |
| Neelum Valley Kashmir Honeymoon Tour Package | 3 Days | 50000 PKR | |