[vc_row][vc_column][vc_column_text]Dudipatsar Lake is a beautiful lake in Kaghan valley. Dudi means "white," and pat refers to "mountains." On the other hand, Sar is a Turkish name meaning "lake.".The lake at 3900 meters above sea level is a perfect spot for adventure seekers who want to take on some mountain climbing. The surrounding peaks remain covered in snow all year round. So they were making it a fantastic sight when they caught a glimpse of your figure against their backdrop during those beautiful winter months!
The lake is not only famous due to its beauty but also for its trek among tourists. The trek of Dudipatsar starts at a small village called Besal (3250m) and follows the Poorbi Naar river. The vegetation along the path is quite colourful, including rhododendrons and Japanese maples.
The lush green meadows provide a beautiful setting for this walk, passing through several streams, blooms of wildflowers, and cattle grazing from local villages. The villages on this route are pretty close to nature, with people basically dependent on natural resources and relatively removed from the technological progress in other regions of the globe. However, It's not advisable to track in the snow because it is an avalanche-prone zone.
How to Reach Dudipatsar Lake? Trek to Dudipatsar Lake
The trek begins from Besal, a small village in the northern part of Kaghan Valley. The journey from Islamabad (the country's capital) to Besal as follows: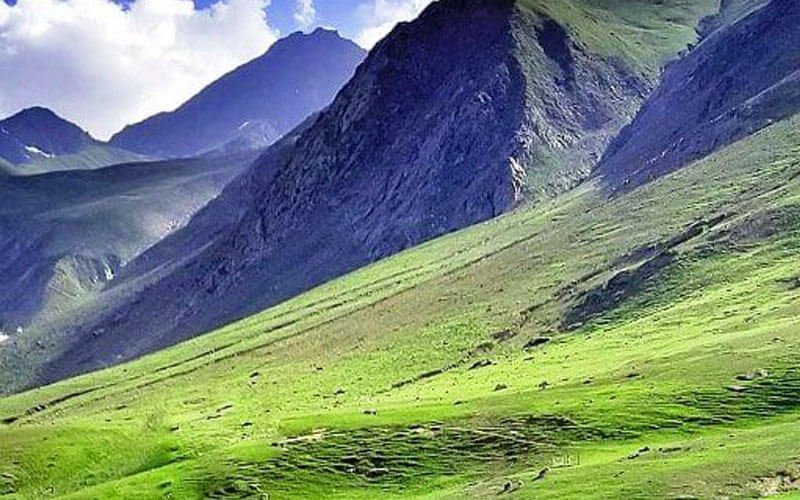 Islamabad to Naran(Kaghan valley)
Local Transportation:
Buses depart from Pirwadhai bus station in Rawalpindi/Islamabad to Mansehra several times a day. (Time: 3-4 hours, Cost: 300 rupees). From the Mansehra bus station, bus takes 3 to 4 hours with 350 PKR to reach Naran. In addition, a direct bus to Naran may be available from Pirwadhai.
 Own car: 
An excellent metaled road. Take the Peshawar Road southbound from Islamabad. Turn right to join the Karakoram Highway (N35) at Hasan Abdal.From here, head south on the Karakoram Highway and follow signs for Abbottabad. After passing through Alai, continue past Mansehra. Leave the Karakoram Maut at Naran (Time: 7-8 hrs).During your trip, Hasan Abdal – Haripur – Abottabad – Mansehra – Balakot – Naran are the major checkpoints.
Naran to Besal:
There is no public transportation between Naran and Besal. Hire 4×4 Jeep from Naran, which takes about two hours to get to Besal. Cost: 2000 PKR, but again, it depends on your negotiation skills

It is feasible to travel with own automobile; however, it is not suggested since the road is metaled but occasionally damaged by rockfall or landslides due to rains.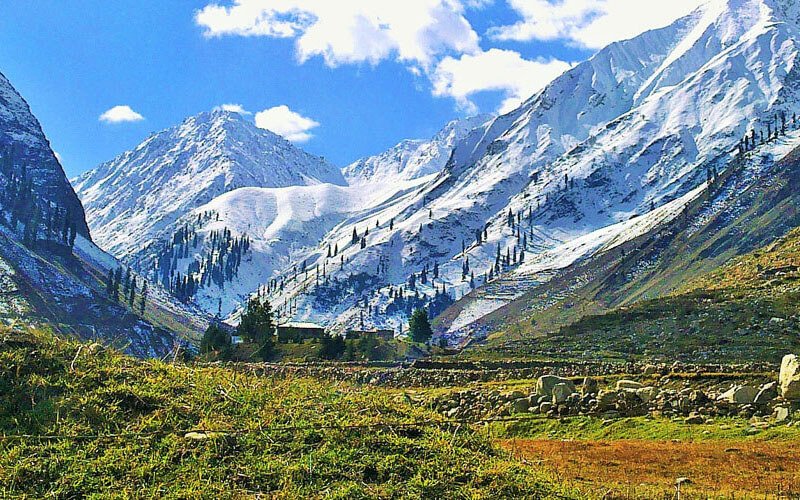 The route goes past Besal village and along the stream from the valley.
From Besal onwards, trekkers make their way through vast alpine meadows with stunning glaciers to Mullah ki Basti, a campsite that leads to the lake. It's a relatively easy-moderate walk of 6-7 hours, depending on one's fitness level. This lovely alpine lake is located about two hours away from Mullah ki Basti.
What is the Best Time to Visit Dudipatsar Lake?
The lake and park are accessible for four months (June – Septembe0 of the year when it becomes mirror-like, reflecting stunning views that draw visitors from different regions across the country who want to share these moments with friends or family members.
The beautiful, cold water of Dudipatsar Lake is an attraction for both tourists and hikers alike. The mountain range surrounding this Himalayan gem provides habitats to wildlife, including snow-mantled mountainsides perfect for hiking or camping trips with friends & family.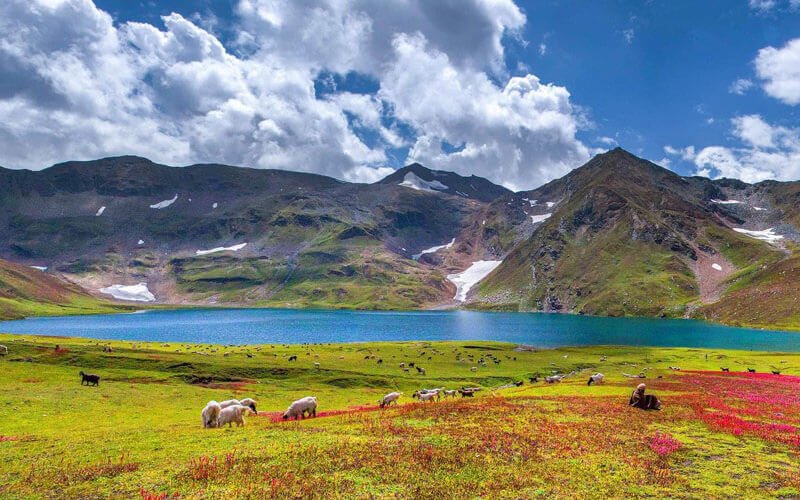 Camping at Dudipatsar Lake
Hotel and restaurant options are slim during the tour season, but tourists can rent tents. However, there's a high risk involved, given that there is no way of knowing how many people will be in your group – which means you'll need all kinds of supplies! In addition, you cannot go back into town quickly after camping because it's pretty far away from Lake Naran National Park headquarters, where these activities happen (and are not accessible by foot).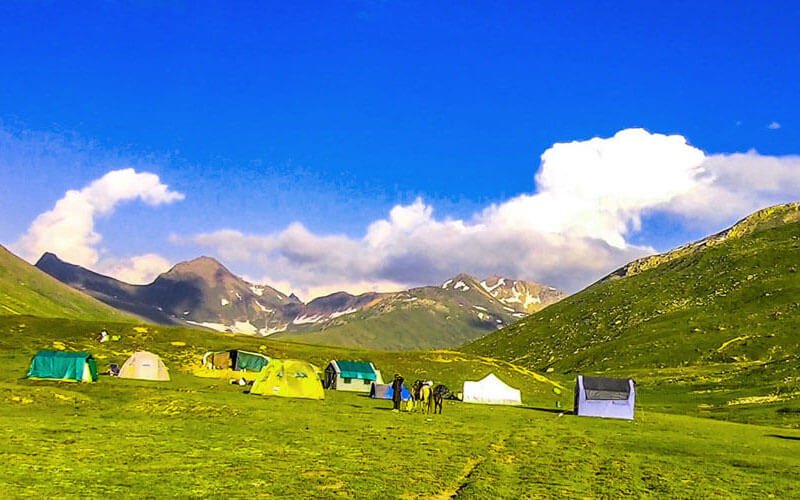 There are no nearby stores for camping supplies, so campers must carry everything themselves from Lake Naran Valley on their tour route through this incredibly picturesque region near Kathmandu known only as 'Naran'.
Essentials Gears
Proper hiking shoes are required. This trail is not recommended with regular running shoes(joggers).

Waterproof and weatherproof clothing, such as a waterproof jacket or raincoat, is recommended.

Although there are a lot of water pathways, bring your water if you're apprehensive about drinking stream water.
Purchasing Equipment 
Guides:
You can find a guide from any good hotel or local market in Naran with relative ease.  
Tents: 
Tents may also be hired at the Naran market and other items such as sleeping bags and food rations.
Horses: 
At Besal village, horses may be hired if required. These horses can be employed to transport a person or extra luggage.
Fishing at Dudipatsar Lake
In Dudipatsar, many people enjoy fishing for brown trout. However, to get some good fish, you'll need a fishing license and equipment. Fish stocks in the lake have plummeted due to illegal dynamite and net fishing.
Frequently Asked Questions About Dudipatsar Lake:
How Much Time It Will take to Reach Dudipatsar from Besal?
It takes 2 to 3 hours to Galma Busti, 6 to 7 hours to Mullan Ki Busti, and 8 Hours to Dudipatsar Lake
Which Months are Best to Visit Dudipatsar Lake?
Four months (June to September) are best to visit Dudipatsar Lake.
Can we Back from Dudipatsar Lake in 1 day?
 Yes or Not. Because it is dangerous, you need to trek 16 hours to come back in a day. 
Is This Safe to Visit Dudipatsar with Family?
Yes, but if you have babies and older people, we don't recommend visiting dudipatsar lake. 
Can We Hire Porter or Horse for Dudipatsar Lake?
Yes, You can hire porters and horses for Dudipatsar Lake.[/vc_column_text][vc_empty_space][vc_text_separator title="" color="black" border_width="2″][vc_column_text]
See Related Tours
3 Days Naran Kaghan Valley Honeymoon Tour Package
3 Days Naran & Shogran Valley Honeymoon Tour Package
5 Days Naran & Shogran Valley Honeymoon Tour Package[/vc_column_text][vc_empty_space][vc_text_separator title="" color="black" border_width="2″][vc_column_text]May You Also Like: Pakistan: World's Third Highest Adventure Destination for 2022[/vc_column_text][/vc_column][/vc_row]