Tolipeer is a stunning location. You will feel here like you're standing on top of the world. The hilltop is located in Poonch District of Azad Kashmir, which is on the Pakistani side of the Line of Control (LOC), in the northeastern section of Rawalakot Tehsil at an elevation of 2,666m (8,418ft) above sea level and around 30 kilometers from Rawalakot. It takes about 40-50 minutes to drive there. On the way to Toli Peer, Banjosa Lake is another famous tourist destination.
The road to this resort is not well-maintained, as it is a single track with many bends and blind curves. But the route to this location is also beautiful. Anyone who doesn't have prior driving experience in such areas should hire a car with a local driver that knows the roads and region well, especially if they must return late at night. Sedans, however, can easily reach there. We would suggest exploring the area at least as far as the top by foot, and you'll discover that clouds, such as in heaven, surround it. Summer is the best time when this location is at its finest. Winters will be covered in snow. Tolipeer is a fantastic site for trekking and Bar B Q. If you're a nature lover looking for a peaceful place to unwind, this is the ideal getaway from city stress and pollution.
Hotels in Tolipeer
Many hotels and resorts are now available to tourists more helpfully. The beautiful meadows have breathtaking vistas with the abode of clouds. Furthermore, from the top of Toli Peer, one can see the Bagh and Poonch Rivers. 
Toli Pir is the highest point in the northeastern region of Rawalakot and the origin of three distinct mountain ridges. On the approach to Toli Pir, there is a tourist rest house with spectacular views. On the top of the highest hilltop are some ruins of an ancient Mazar. In the summer, Toli Pir is easiest to get to; the weather is generally pleasant, but it gets colder from October through March. From April to August.
Tolli Peer, a sacred peak in the area, is a high point of profound spiritual significance. But, aside from that, it has lovely green meadows and spectacular colors, pines trees, and not to forget a beautiful view of the Himalayan Range from its height of 9,000 feet. If you're bored or stressed, go to Rawalakot and then 20 kilometers down the road to Toli Peer Park. You may start walking toward Toli Peer's gravesite from there. A 15-minute walk toward Toli Peer is like being enveloped in a feeling of profound calm and the majesty of the surrounding environment. You can relieve yourself of your depression quickly.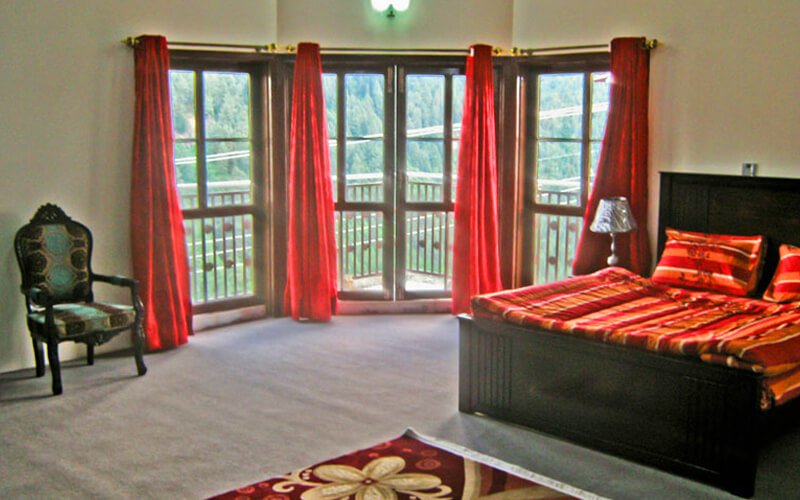 Road Conditions of Toli Pir
Toli Peer road is in decent shape. On the way to Toli Peer, there are tight corners and slopes. It may be accessed by passenger car and RV most of the time, but it's not suggested if you have an old or fragile vehicle. The road to Toli Peak's summit winds its way up Toli Peak. The road has a series of 16 switchbacks, with the steepest sections having a maximum decline of 18 percent. Tourists may appreciate picturesque green vistas during their journey from Rawalakot to Toli Peer. From the roadside, there is a fresh and cold water spring that adds to the appeal of visitors.
Toli Peer in winter
Toli Pir receives a lot of snow in the winter because the area is completely covered in snow all around. It's not suggested during this season because of the snowfall. Once you reach the peak, you'll need to do some walking; The Mountain top is entirely green and offers a spectacular view in the summer season. The only bad thing about it is the littering, which some inconsiderate tourists do by discarding their meals' packaging. The cleaning staff comes once every two weeks to remove filth from the area. August may be the best time to visit the valley.
Camping at Toli Peer Azad Kashmir
The weather is chilly and pleasant at the top. Even in the summer, the evenings are cold, while the hilltop is covered with snow in the winter season. There are a few little shacks where you may get tea and chicken karahi, among other things. However, the most incredible experience is carrying your food and cooking it at home. It will be much more enjoyable.
Furthermore, if you want to stay overnight or two while camping out there, bring your campsite with you. The Poonch River and the hills that drop into Indian Kashmir may be seen on a clear day.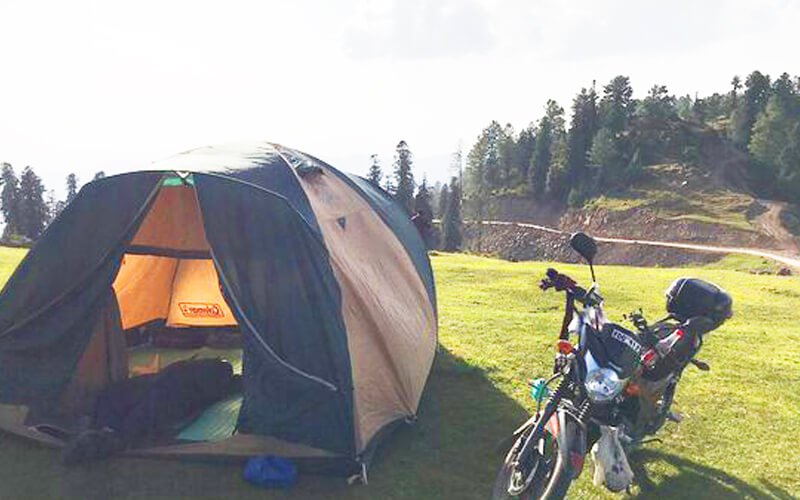 Toli Pir National Park
Toli Peer Rawalakot Azad Kashmir and the adjacent regions have been designated as national parks by the Azad Kashmir administration. Punjal Mastan Park, which consists of many tourist sites like Ganga Peak, Lasdana, Pir Kanthi, Sharu Dhara, and Haji Peer Pass, also starts here. A proposed tourism route and the heights of these parks will revolutionize tourism in Azad Kashmir.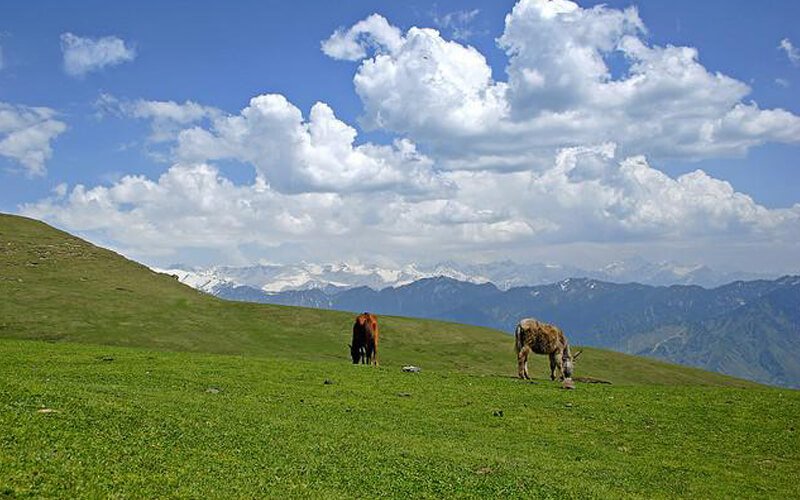 Places to Visit in Toli Peer Rawalakot Azad Kashmir
Ganga Choti
Banjosa Lake
Rawalakot
Bagh
Poonch River
Abbas Pur
Toli Peer Distance from Lahore Islamabad
Tolipeer is located around 30 kilometers from Rawalakot. The distance from Islamabad to Tolipeer is about 145 kilometers. On average, the journey from Islamabad to Toli Peer takes 6 hours.
Toli Peer Weather and Temperature
June to August is the optimum period to visit if you want to experience the lovely green meadows of Toli Pir. The climate is usually moderate. In winter, Toli peer top received heavy snowfall and was almost inaccessible to tourists. The best time to visit Tolipir is summer, and families and couples rush to approach the area during this period.
Toli Peer Rawalokot Height and Altitude
The Toli Pir, or mountain peak, reaches 8800 feet above sea level.
Toli Peer Map and Location
The other component of Azad Kashmir is made up of numerous areas. This region is one of the most popular destinations in Azad Kashmir.
See Related Tours
5 Days Kashmir & Taobutt Honeymoon Tour Package
7 Days Kashmir, Shogran & Swat Honeymoon Tour Package
Read More: How to plan a tour of Neelum Valley Kashmir? Complete Travel Guide & Information