Naran is situated 281.7 km from Islamabad, the capital city of Pakistan. Being the most touristic valley of Pakistan, it's packed with scenic views, natural landscapes, and sites to carry out fun activities like mountain hiking and skiing. We will guide you here about the best and cheap hotels in Naran.
The infamous Saif-ul-Mulk is also present near this valley and the Kunhar river, which offers rafting and boating. Several commercial bazaars and restaurants are scattered throughout the area for families to enjoy, accompanied by the pleasant weather, so it's no shock why it's so popular among locals and foreigners. Naran also holds one of the best hotels in Pakistan, which provides outstanding hospitality and services, but sometimes they can be a little over budget for some visitors. Hence click Pakistan Tourism Services has collected the best and cheap hotels in Naran can offer within a range of 5,000-10,000 Pakistani rupees.
1- Al-Rehman Hotel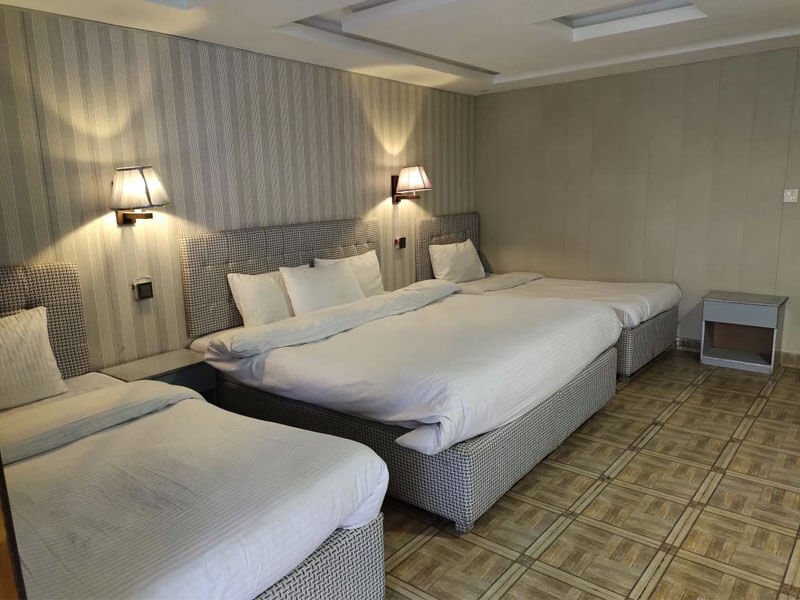 Al-Rehman hotel, located in the Mansehra district, provides standard and deluxe rooms with well-equipped furniture and bathrooms. It is located on the bustling mall road; there are several restaurants nearby, so delicious dishes of all kinds can be easily accessed. It's also near many picnic points, making it easier to travel with children or other members. Mountain views can also be seen through the hotel windows. Hot water and electricity are available; however, their performance may differ throughout the year due to changing seasons. Free Wi-Fi is also available, but bringing your mobile data for the best performance is recommended. Along with these, free parking and breakfast are also included, and in case of any complaints, the 24-hour desk counter and cooperative staff are at your help. The hotel can be booked via their Facebook page or contact number.
2- Al-Hamrah Hotel
Al-Hamrah hotel is another budget-friendly option in the Katha region of Mansehra, Naran. It provides free parking, breakfast, and Wi-Fi; however, signals may differ. Rooms, standard and deluxe, are spacious with joined bathrooms. Room service is available to help staff. Hot water and electricity are present but can have slight issues.
3- Afaq Hotel- Cheap Hotels in Naran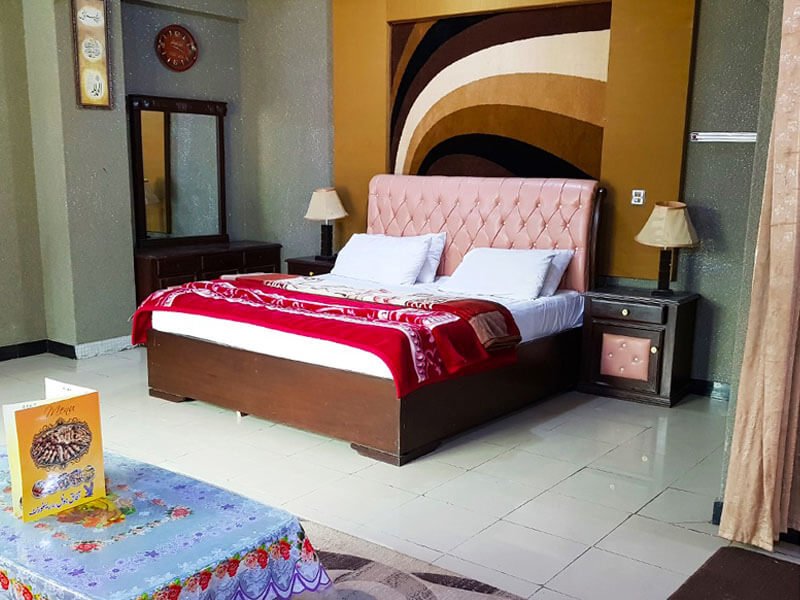 Afaq hotel can be one of the best cheap options with all the accommodations. With a restaurant within, food can easily be available and enjoyed with your peers in their dining area. Still, due to its location in the main bazaar, other restaurant options are available such as the moon restaurant, from which jheel Saif-ul-Mulk is at a distance of an 18-minute drive. Mountain views can be enjoyed with the joined balconies in the rooms and joined bathrooms with free toiletries. TVs are also present in each room. As a side note, there can be some opinions on the hotel's food and Wi-Fi signals as per reviews; otherwise, it's quite likeable.
4- Rose Valley Hotel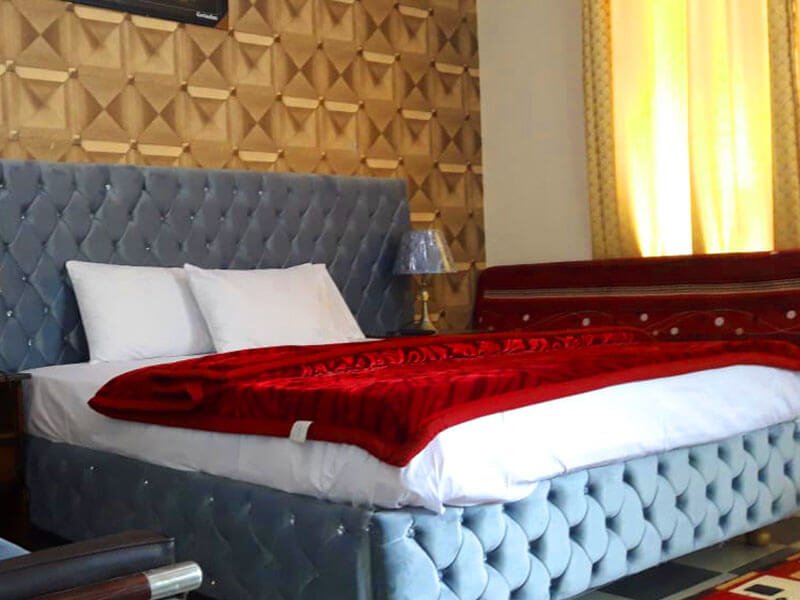 If you are looking for a hotel that's present not so far away from the main sites, this hotel is your way to go. Present at the jheel Saif-ul-Mulk road, this hotel offers clean rooms with flat-screen TVs. Some rooms also include a balcony from which pleasant weather can be enjoyed. However, no air conditioning is present, mostly due to the cold weather of Naran. Free parking, breakfast, and Wi-Fi are included as well. A restaurant within the hotel is also available where great food can be enjoyed. Hot water is also available but can be a problem on busier days but can always be fixed via staff requests. The hotel can be booked from their Facebook page.
5- Troutland Hotel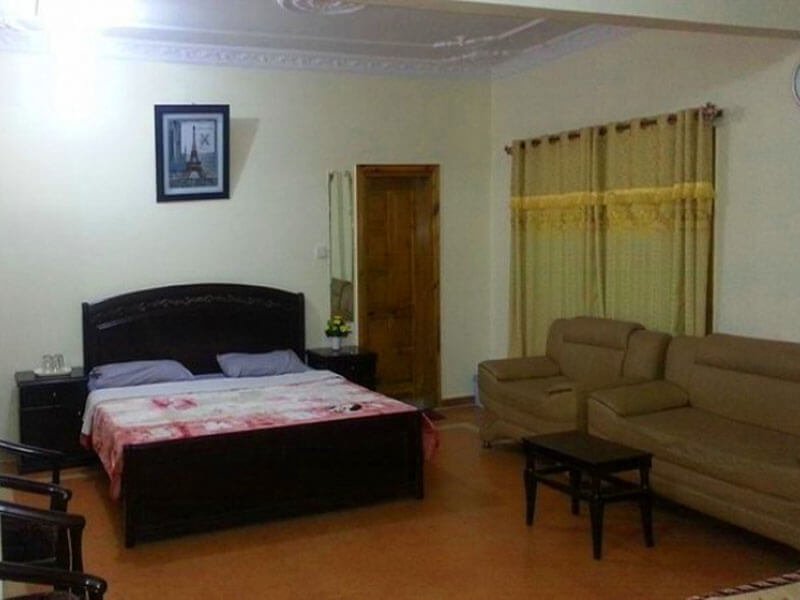 350 km from the center of the Saif-ul-Mulk road, it's another great option for your next stay. Deluxe triple and standard double rooms with joined bathrooms are available with free toiletries. For people with special needs, wheelchairs can be requested from the registration counter. A sitting area is also present for families and friends to enjoy their time, and if not sitting, mountain hiking can be done nearby. Free parking and Wi-Fi are present with the cooperative task.
6- Parherna Cottages
Parhena cottages are perfect for those willing to stay at a cheap place with an aesthetic view and amazing services. With an outdoor garden beside the Kunhar river view, this hotel provides free parking and Wi-Fi. The rooms are equipped with great furniture and comfortable beds and of course a TV. Some rooms also include a balcony where cool and open air can be enjoyed with dishes from the hotel's restaurant that offer both traditional and continental menus. The hotel is a bit away from the hustle and bustle of the city, so for people wanting a quieter area to stay in; this place is perfect. Breakfast and other small accommodations may cost extra and cooperative staff are always there to help you. Hot water may be an issue but can be resolved on request. You can proceed with your booking via their page or contact.
7- Mount Feast Hotel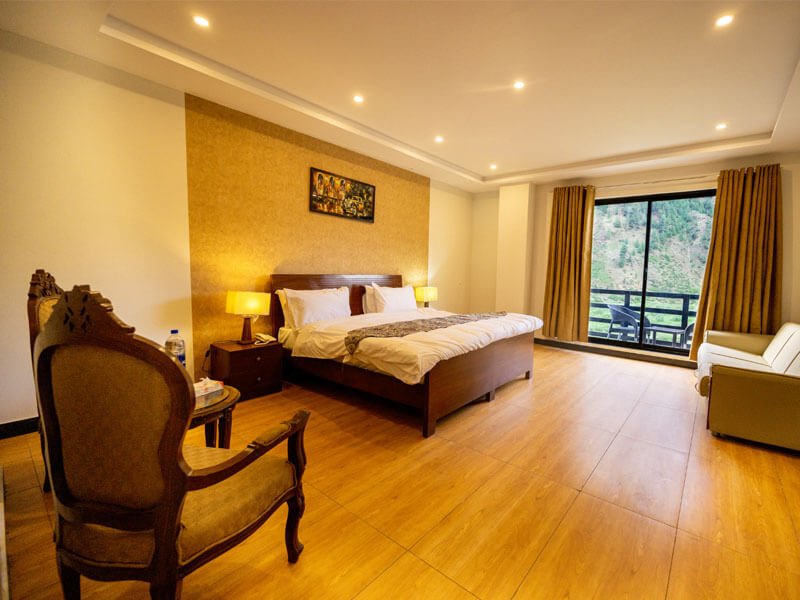 This hotel offers amazing views and best services. It  is another option of a hotel outside the main bazaar with a peaceful environment. The hotel offers deluxe, triplet, and quadruplicate rooms with joined bathrooms equipped with complimentary toiletries. The rooms are spacious enough with an included TV with wonderful views outside and cosy beds. It also includes a restaurant where the guests can order food or have breakfast. Hot water and electricity are available, and in case of any needs, the staff can do it in no time. Free basement parking and Wi-Fi are within the hotel's accommodations as well. This hotel can be a little more expensive than previously mentioned but worth it.
8- Manila Heights Hotel
Another hotel, located 10 minutes from the main city, this place offers good deals for a cheap price. The hotel offers standard quadruplicate rooms, so it's perfect for families; however, no AC or fans are included. Beautiful views can be enjoyed from their open rooftop, where you can enjoy dishes from the included restaurant of the hotel. Free parking and Wi-Fi are available, but it's recommended to have a stable internet connection instead. Hot water is available as well
9- Bela Resorts Naran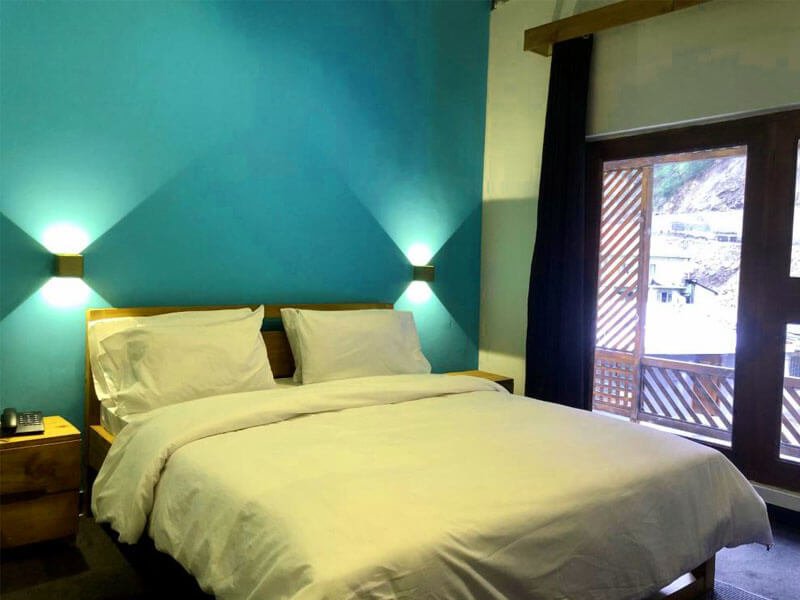 With its amazing location and reasonable prices, Bela resort is one of cheap hotels in Naran it's overall preferred by many families due to its supportive staff and amazing services. Away from the hustle and bustle of the city and the chill environment, the people staying can enjoy themselves by sitting in their outdoor area. Rooms are well equipped with furniture with joined bathrooms. This place also includes a restaurant where people can enjoy fresh dishes. Free Wi-Fi is included but can have signal issues. The booking can be made from their page or contact number.
Read More: Best Naran Kaghan Tour Packages 2023