When someone sees the intriguing performance of Dhamal qawali or Sufi whirling in the Sufis shrines, many questions arise in their mind. What is the purpose of Sufi whirling, and why do Sufis whirl? Though it is tough to answer such things that connect with mysticism and spirituality, we will try to explain Sufism and whirling dervishes.
Sufi whirling and dhamal is a special dance style unique to Sufis in Pakistan and India. It's the way they used to dance to connect with God. The rhythmic beat of dhol drums, sometimes accompanied by other instruments, makes men and women sway and whirl their bodies into unusual and fascinating shapes. They move their heads, shake their heads, and do everything in between to reach a higher state of consciousness.
What is Dhamaal in Islam? 
Dhamaal is an improvised dance form that expresses people's devotion to Allah through bodily movements. They dedicate their bodily movements for a purpose – to connect to Allah and show his presence through their dance. But no such specific thing is preached in Islam for its followers to connect with God. And even such actions may be weird somehow in some religious sects. So Dhamal or spiritual dance is more customary and traditional than religious. 
While the Northern areas of Pakistan are famous for their high gigantic mountain peaks and lush green pastures, Sindh and Punjab are famous for their beautiful Sufi shrines. People across the country and the world travel to these holy sites to see such amazing Sufi dance. Some of them especially come to experience and even participate in this Dhamal, as being a follower of such faction and the other is just as spectacular of this mystical dance and intriguing culture. These are must-watching experiences for those who are interested in history and culture. 
Whirling Sufis at Lal Shahbaz Qalandar  
Whenever the word of Dhamal comes to mind, the shrine of Lal Shahbaz Qalandar flashes around. It is one of the famous memorials in Sindh, a 13th-century Islamic mystic and Sufi Saint. A contemporary of Rumi, Lal Shahbaz Qalandar, was revered by both Muslims and Hindus for his tolerance between the faiths. Lal Shahbaz Qalandar traveled around the world to preach Islamic teachings, either Muslim or non-Muslims-Muslims, and eventually settled down in Sindh. He was buried in Sehwan, the province of Sindh.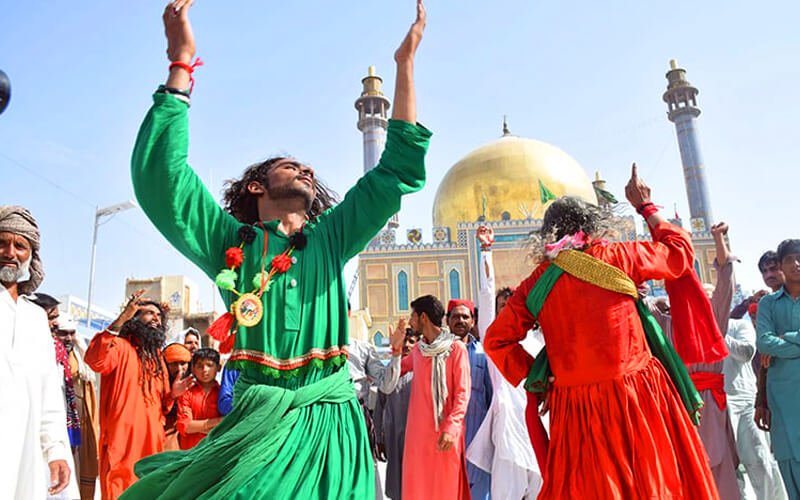 The original shrine in this temple dates back to 1356 CE, and its complex was spread out in 1639. Since then, it has undergone many renovations and additions and continues to be improved. The dome of Shahbaz Qalandar's shrine is more than 100 feet tall. Its outer surface is covered with gold-plated tiles from the United Arab Emirates. The last Shah of Iran donated the main door of the shrine.
Identity of Dhamal 
 The shrine of Lal Qalandar has today become the identity of Dhamaal. Many devotees, Malang, and Qalanders throng every Thursday for Sufi whirling in the shrine's premises to support the Sufi teachings of Lal Shahbaz Qalandar. Lal Shahbaz Qalandar is thought to have performed a dance called "dhamaal" similar to the whirling dervishes of the Rumi sect.
The idea behind the dance is to go into a state of consciousness. Where the mind, body, and soul are focused on the creator's thoughts. Members of the mystic approach and followers of the saint school of thought gather every Thursday at Sehwan and present this invigoration Dhamaal. 
 Dhamal in Lahore: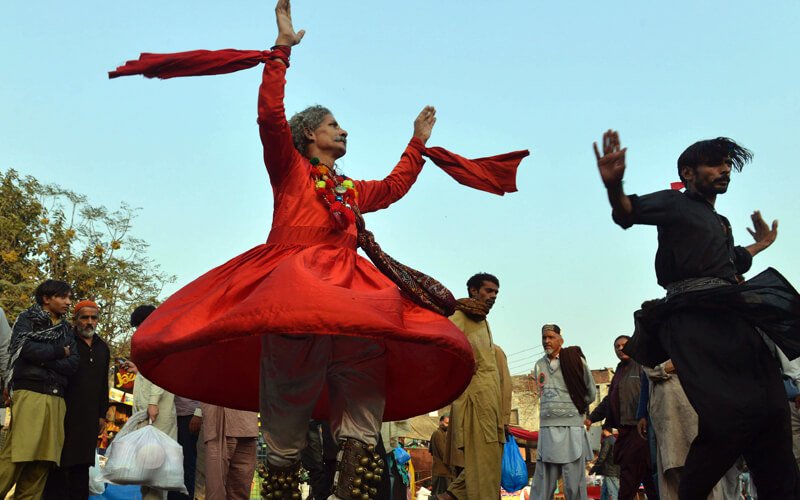 Every Thursday, many Sufi schools of thought groups also gather at different shrines in Lahore. They dance on the drums and Dhols and dance in a flow. Both men and women take part in Dhamal and reach a state of trance where they throw their heads back and forth. Although the shrine of Shah Jamal is famous for Sufi Dhamaal in Lahore, this mystic dance is performed in some other shrines of Lahore and Punjab. Here are the names of those shrines are as follows: 
Shah Jamal Shrine

Shrine of Madhu Lal Hussain 

Shrine of Baba Mouj Darya

Mochi Gate (Held at late night)