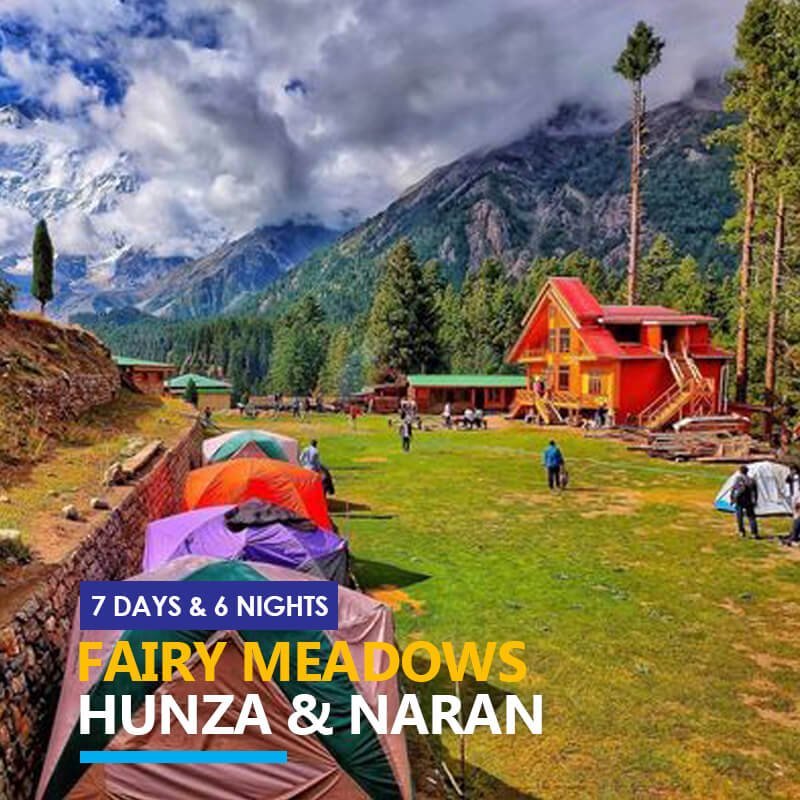 Fairy Meadows and Hunza Tour Package 2022
Our 9 days Fairy Meadows and Hunza tour package is one of the top-selling products in which travelers can enjoy both tastes of adventure and beauty. Pakistan's northern areas once again emerged as one of the most beautiful destinations in the world after a long break. These places offer unusual beauty and landscape with kind people of the areas who care for the tourists as their guests.
Fairy Meadows trek is one of them that offers unforgettable adventure alongside spectacular views of the Indus River and mighty mountain Nanga Parbat (8126m). The tour starts from Tattu village and takes around 3 hours with short hikes.
There are mainly three ways to reach Fairy Meadows, and the first one is to reach Fairy Meadows via Naran Kaghan, then take a Jeep from Raikot Bridge to Tattu village, and then three-hour trekking to reach Fairy Meadows. This route considers one of the most practical in exploring and witnessing the beauty from Balakot to Feary Meadows.
The second option is to travel via Karakoram Highway. This route may take more than 14 hours from Islamabad. Tourists opt for this option during the closure of the Babusar pass because, in winter, heavy snow closed the road of Naran and Babusar pass.
The third way to visit Fairy Meadows is to take a flight from Islamabad to Gilgit (1 hour) and travel by road from Gilgit to Chilas and then Raikot Bridge. The best and recommended time to do this trek is April to September. Click Pakistan offers various services to arrange fairy meadows trips for locals and international clients.
Hunza valley is another world-famous place where you get so close to talking with nature and peace. People of the Hunza have the identity of the most hospitable people in the world.
Tour Highlights of Fairy Meadows and Hunza Tour
•  Opportunity to witness mighty Nanga Parbat (8126 m)
•  Enjoy the wilderness of serene under stray sky
•   Enjoy organic Hunzai cuisine and local dishes
•  Go through the Hunza valley, surrounded by mighty peaks.
•  Opportunity to witness hundreds of peaks including Rakaposhi (7,708m) Passu Sar (7,478m), and Ultar Sar (7,388m) in the Karakoram Range
•  Rivers (Hunza, Gilgit, Nagar, Indus, Kunhar), tributaries, and streams
•  Sightseeing of years old forts (Altit and Baltit)
•  Karakoram Highway and Ancient Silk Route
•  Sightseeing in Capital city of Islamabad
• An experienced and knowledgeable local tour guide (English spoken)
• All land transport involved as per itinerary including jeep safari (where it needed)
• Airport transfers for international flights on day start and day end
• Accommodation on twin sharing in local guesthouse-hotel & huts or camping
• Meals throughout the tour (breakfast & dinner)
• Letter of Invitation and general visa advice
• Tea & Coffee morning & afternoon
Excludes
•  Travel insurance
•  Pakistan Visa
•  Domestic Flights
•  Tips for local guides and support staff
•  Guided Islamabad sightseeing
•  Miscellaneous expenses – drinks and souvenirs etc
•  Anything not mentioned in inclusions 
Tour Itinerary of Fairy Meadows and Hunza Tour
Day 1 | ISLAMABAD - NARAN
Our representative will meet & greet you at Islamabad International Airport and head toward Naran after resting in Islamabad. Naran is a photogenic valley and one of Pakistan's most popular summer vacation spots. It's famous for its colorful panoramas and attracts hundreds of thousands of tourists every year. While passing through Naran Valley, make stops at different popular spots, and cross the BABUSAR-TOP mountain pass at an altitude of 4175 m. The night stay will be in Chilas, a small town of Gilgit Baltistan, situated on the bank of the Indus River.
DAY 2-3 | NARAN TO FAIRY MEADOWS
After breakfast, get ready to reach Rakhiot Bridge; from here will transfer into 4×4 jeeps, driving on the very narrow and rough track to Tato village. Adventure gets started from here, and will walk up to Fairy Meadows. One of the tallest peaks, named Nanga Parbat (8125m), gives you views on the way. Overreaching stunning Fairy Meadows will shift camping pods. We will spend two nights under the blue sky with a million gazing stars here.
We have a free day to relax in your camps and take in the views, or there's the option of trekking to the fantastic viewpoint of Nanga Parbat, a stunningly beautiful mountain at 3400m. The more adventurous could go to base camp at around 2600m. Food will be served in the campsite kitchen.
DAY 4 | HUNZA & KARAKORUM HIGHWAY
After breakfast, get back to Tatu village and then jeep ride till Raikot bridge. Next, travel for Hunza Valley via Karakoram Highway, the highest paved international road between Pakistan and China, take short stopovers on the way at Rakaposhi mountain viewpoint. Overreaching the valley, check-in the hotel, and rest for one hour. In the evening (If time allows, otherwise will do the next day), we will take a guided walking tour of Karimabad, the main town of Hunza valley. It is a great opportunity to experience the residents of this arid landscape. In addition, you will have the chance to capture the beautiful scenery in the lap of lofty mountains. The night stay will be in Karimabad Hunza valley.
DAY 5 | DUIKER & ALTIT BALTIT FORTS
We take a guided tour around the ancient forts of Altit and Baltit and will be given a brief presentation about its history and the Royal family inside the forts. The forts are located high up in the mountains. They were first used for defensive purposes, but they also served as the seat of power before the political center moved to modern-day Karimabad. Next, we enjoy the sunset at Duikar View Point. It's a beautiful view of the valley and the surrounding mountains. From here, we get some fabulous sunset views. Dinner and overnight stay will be in Karimabad, Hunza.
DAY 6 | ATTABAD LAKE, KHUNJRAB PASS
Today we leave further towards the Pak-China border (Khunjerab Pass) and a beautiful Passu town. Before heading toward Passu, take a brief stop at one of the majestic Attabad Lake, which came into existence in 2010 against the massive landslides. Emerald lake circled with towering mountains will catch you for being unforgettable from your life. Then, spend quality time at Passu village and hike to see the breathtaking view. After that, there is a short break at Hussaini Suspension Bridge and then some quality time at the Pak-China border. Finally, get back to Karimabad after a whole day excursion; a hearty meal will have to wait for you. Overnight stay will be in Karimabad.
DAY 7 | HOPAR & NAGAR VALLEY
We visit other unusual stunning valleys,
Hopper
and
Nagar
. While passing, remote villages will stop to see thousands of years
old Buddhist sacred rocks
with inscriptions still visible. Make a brief walk around the village and its livings of
Minapan surrounded
by the mountains. Get back to
Karimabad
after a whole day excursion.
Overnight stay in Hunza.
DAY 8 | BABUSAR AND NARAN VALLEY
After having breakfast, get ready to travel back to Naran Valley. Naran, Babusar road remains open from June to September. In other months of the road closure, we opt for Karakoram Highway, taking a westerly route along mighty Indus Valley and reaching Besham for a Night stay.
DAY 9 | DROP OFF
This day is the last memorable day; we move back by passing through high pine trees with multiple stopovers on the way for tea/coffee. Finally, we reach the capital city of Islamabad around 8:00 pm, and the time is to drop you with millions of memories by saying Allah Hafiz (Good By) End of Services.