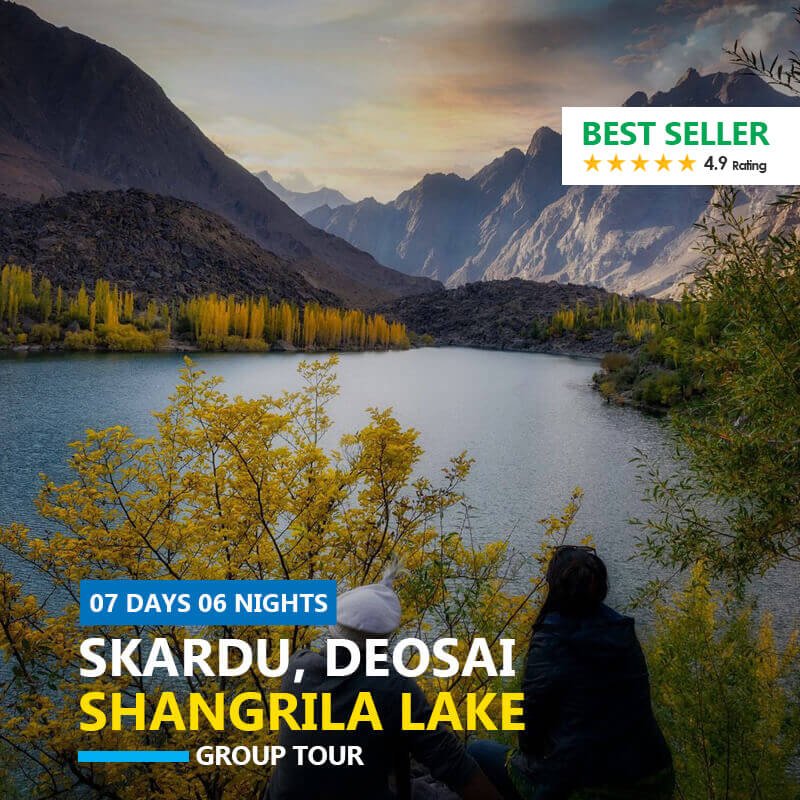 7 Days Group Tour to Skardu 2022 by Click Pakistan
Click Pakistan designed a special "7 Days Group tour to Skardu 2022 by road" that covers all major attractions of Skardu, Deosai, Shigar & Khaplu. Group tour gets departure from Islamabad and Lahore, however participants for Skardu tour package from Karachi can join us either from Islamabad and Lahore.
In the extreme north of Pakistan, Skardu's central valley of Gilgit-Baltistan is a home of beauty. The valley is surrounded by mighty Karakorum, Himalaya, and Hindu Kush mountain ranges. Skardu is famous for climbing and mountaineering worldwide.  
Tour Highlights of 7 Days Group Tour to Skardu 2022
• View of hundreds of peaks including Nanga Parbat, Rakaposhi, Passu Sar & Ultar Sar
•  Brief touring of  Skardu, a city located in Gilgit−Baltistan 8,202 ft above sea level
•  Visit Shigar, the valley is a gateway to the high mountains of the Karakoram
•  Tour of Mantokha waterfall & Deosai Plains, a high altitude alpine plain
•  Visit Satpara Lake, a beautiful natural lake near Skardu
•  Touring of Sheosar, Shangrila Lakes and Kachura village 
•  Enjoy the travel of Karakoram Highway, the highest paved international road 
•  Lakes including Blind lake, Satpara , Shoesar,Shangrila,  Lulusar etc.
• Comfortable Transport (AC Coaster/Grand Cabin)
• 6-Night Hotel Accommodation on room sharing 
• Quality meals every day (Breakfast & Dinner)
• Fuel, all road tolls & parking expanses
• 4×4 Jeep for Deosai Plains on sharing (Parado)
• Photography and tour guide services 
• First aid box 
Excludes
• Anything not mentioned inclusive
• Any types of entry tickets or passes
• Lunch or any kind of snacks 
• Boating or Rafting Expenses
• Any type of Hot & Cold Drink
• Personal nature expenses
Tour Itinerary of 7 Days Group Tour to Skardu 2022
DAY 1 | ISLAMABAD - CHILAS
Sakardu Tour package from Lahore departure at 10:30 pm & Islamabad 3:30 am. Pick up the guests and travel to Naran, short break on the way at Balakot for breakfast. Stopovers at Kewai Waterfall, Kaghan, Batal. Visit Lulusar Lake, one of the largest blue water lakes in the town. Passing through Babusar Pass that is located at an elevation of 13,691 feet connects KPK with Gilgit Baltistan. Arrival Chilas in evening. Overnight stay and dinner in Chilas.
Note: Babusar pass route remains open from June to October and gets close in other months due to heavy snowfall. During closing the road, we travel to Skardu & Hunza via Besham, KKH route. 
DAY 2 | CHILAS - SKARDU
Breakfast in the hotel and get ready to departure for Skardu. Stopover at Nanga Parbat viewpoint (9th highest mountain in the world). Break at meeting point of 3 greatest mountain ranges and Confluence of Indus & river Gilgit. Break for rest and lunch at Astak Nalla. Reach Skardu at around 9:00 pm (long day) Dinner and of overnight stay at Skardu
DAY 3 | SHIGAR - SKARDU
Breakfast in the hotel and get ready to Departure for Shigar Valley. Detailed visit to Shigar cold desert and blind lake (Distant View) Brief visit Shigar Valley and Shigar Fort, Photography and Sightseeing. Travel back to Skardu till evening. Overnight stay in hotel in Skardu
DAY 4 | DEOSAI - SADPARA & SEOSAR LAKE
After breakfast transfer to 4×4 jeeps for Deosai Plains and visit Sadpara Lake and Sadpara Dam on the way. Visit Deosai Plains, Barapani,the largest of the rivers that traverse Deosai National Park. Visit Sheosar Lake,the western part of Deosai National Park. Drive back to Skardu till evening. Overnight stay at Skardu
DAY 5 | MANTHOKA WATERFALL - KHAPLU
After breakfast departure for Khaplu, (Khaplu was second-largest kingdom in old Baltistan) short visit of Manthoka Waterfall on the way. Brief visit of Khaplu fort & famous Chaqchan Mosque in Khaplu. Drive back toward Skardu city till evening. Dinner  and overnight stay in Skardu
DAY 6 | SHANGRILA RESORT - KOCHURA LAKE
Breakfast and departure to visit Shangrila lake (Lower Kachura) and Upper Kachura Lake, clients can enjoy boating in majestic Upper Kachura. Departure for Chilas, travel through Astak and Jaglot. Dinner and overnight stay in Chilas
DAY 7 - CHILAS - ISLAMABAD
After breakfast it is time of departure to Islamabad. Check out from hotel and move to Naran valley. Short break for river rafting at Naran (if time allows). Stopovers at Babusar, Besal, Batakundi. Arrival Islamabad at around 11:50 pm (End of services)
Note: From November to May (Depends on weather conditions), Naran valley road Remain  closed due to heavy snowfall. So during this period, we will travel by Besham/KKH route.
Skardu Tour Package From Islamabad & Lahore | 28,500 Per Head 
• In case couple needs separate room, Rs: 8,000/- additional will be charged,
• Kid under 3 year old is free of charge (Lap/folding seat )
• 3-8 years kids will be charged with half seat (folding seat)
• Kids above 8 years will be charged as per full seat
• Only one child under 3 year will be free per family
• Skardu trip cost can vary in peak & off season respectively 
• Karachi Guests can join us either from Islamabad or Lahore
  (traveling and hotel arrangements hotel can be managed on-demand)
• Your reservation is always subject to confirmation by depositing 30% as advance into company account.
  The rest of the amount is required to be paid upon your arrival to the company representative in cash.
Weekly Group Tour Departures of Skardu, Deosai & Shigar
| DATE | PRICE | PICK & DROP |
| --- | --- | --- |
| Fri, 05 Aug | 28,500 PKR | Lahore / Islamabad |
| Fri, 12 Aug | 28,500 PKR | Lahore / Islamabad |
| Fri, 19 Aug | 28,500 PKR | Lahore / Islamabad |
| Fri, 26 Aug | 28,500 PKR | Lahore / Islamabad |
| Fri, 02 Sep | 28,500 PKR | Lahore / Islamabad |
FAQ's About Skardu Group Tour 2022
How do I plan a Skardu trip?
There are two options to go to Skardu by road or by air. By road it will take around a 12 hour drive to reach and by air it is a one hour direct flight to Skardu from Islamabad. Famous places of Skardu are, deosai plains, sadpara lake, Shangrila resort, Kochura lake etc. 
What is best time to visit Skardu?
The best time to visit Skardu is the summer season from June to September. You can enjoy the lush green landscape views of beauty at comfortable temperatures during these months. 
Which tour package is best?
There are two types of itineraries being offered for travelers, group packages and private tours, it all depends upon your requirement and budget. 7 days group tour starts from 23,500 pkr per head. 
What tour packages include?
Public group includes land transport, hotel accommodation, meals, sightseeing with tour guidance, jeep safari and all fuel and tolls expense.