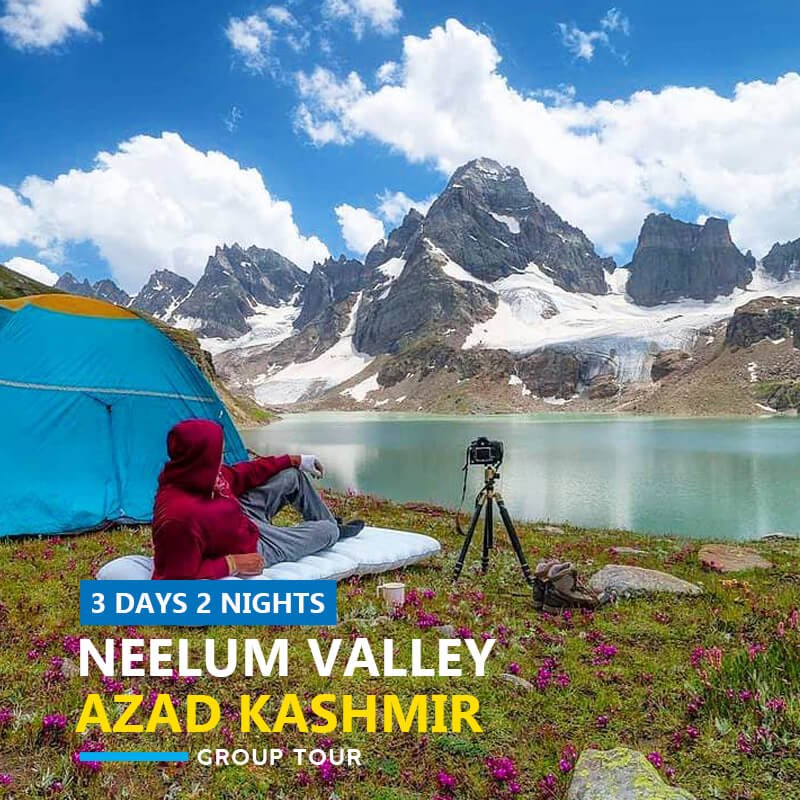 3 Days Trip to Neelum Valley 2022
Click Pakistan hosts a 3 days trip to Neelum Valley from Lahore Karachi Islamabad which is highly reviewed by our domestic and international tourists. Where is neelum valley located? Neelum is the district of Azad Kashmir of Pakistan and one of the best tourist places. Our regular group departs for Neelum valley for a 3 days trip every Thursday night. Northern Areas of Pakistan are among the highest natural beautiful places in the world. The sneaky river flows between the mighty green mountains, called the Neelum River. But unfortunately, these unique landscapes could not have been portrayed the way that they should be. The beautiful Nelumvalley from Islamabad is around 350 km and takes 8 hours drive to reach the valley.
Tour Highlights of  3 Days Group Tour to Neelum Valley 2022
• Visit Kutton village and waterfall, located 98 km from Muzaffarabad
• Visit Keran, a small village on the bank of the Neelum river
• Visit Sharda Buddhist University, village and Neeelum River
• Visit a small stunning Kel village on the bank of River
• Visit Arang Kel situated on the hilltop above Kel at an
altitude of 8,379 feet
•  Private Transport (AC Coaster)
•  Breakfast and Dinner Every Day 
•  2-Night Hotel Stay on Sharing 
•  4×4 jeep (Sharda to Kel)
•  All road tolls and fuel expenses
•  Tour Guide Services 
Excludes
• Anything not mentioned inclusive
• Any types of entry tickets or passes
• Lunch or any kind of snacks 
• Boating or Rafting Expenses
• Any type of Hot & Cold Drink
• Personal nature expenses
Tour Itinerary of 3 Days Trip to Neelum Valley 2022
DAY 1 | ISLAMABAD - SHARDA
Pick up and move toward Muzaffarabad, breakfast on the way at Muzaffarabad, short break at Dhani waterfall for photography. Heading towards Kutton village and waterfall, short touring to kutton village and visit waterfall. Reach Sharda valley by evening. Dinner and overnight stay at Sharda
DAY 2 | KEL - AURANGKEL
Breakfast in the hotel and get ready for travel to Kel, visit the beautiful village of Kel meadows and its surrounds. Travel via sneaky road on the bank of Neelum River, passing through breathtaking landscape all the way, reach at Kel and time to cross the River by cable car, a thrilling experience and spectacular views from a cable car. Hiking towards Arang Kel( not recommended for kids and elders). Experience the amazing Arang Kel village beauty. Travel back to Sharda for a night stay before the evening. Dinner and night stay at Sharda or Karen
DAY 3 | KERAN - UPPER NEELUM
Breakfast in the hotel and prepare for a visit to Sharda town. Touring ancient Buddhist University (Holy place of Buddhists). Visit Sharda village and interact with local people. Get ready for departure Islamabad/Lahore. Break at Karen valley alongside the road. Spend quality time at Karen valley/photography. Short break at Uthmuqam for Shopping etc. Continue travel toward Islamabad/Lahore. Arrival Islamabad around 9:00 pm and Lahore 1:00 am (End of services)
3 Days Tour of  Neelum Valley Azad Kashmir Price Per Head: 13,000 PKR 
• In case couple needs separate room, Rs: 4,000/- additional will be charged,
• Kid under 3 year old is free of charge (Lap/folding seat )
• 3-8 years kids will be charged with half seat (folding seat)
• Kids above 8 years will be charged as per full seat
• Only one child under 3 year will be free per family
• Karachi Guests can join us either from Islamabad or Lahore
  (traveling and hotel arrangements hotel can be managed on-demand)
• Your reservation is always subject to confirmation by depositing 30% as advance into company account.
  The rest of the amount is required to be paid upon your arrival to the company representative in cash.
Weekly Group Tour Departures of Neelum Valley
| DATE | PRICE | PICK & DROP |
| --- | --- | --- |
| Thu, 04 Aug | 13,000 PKR | Lahore / Islamabad |
| Thu, 11 Aug | 13,000 PKR | Lahore / Islamabad |
| Thu, 18 Aug | 13,000 PKR | Lahore / Islamabad |
| Thu, 25 Aug | 13,000 PKR | Lahore / Islamabad |
| Thu, 01 Sep | 13,000 PKR | Lahore / Islamabad |
FAQ's About 3 Days Trip to Neelum Valley
Is Neelum Valley Azad Kashmir is worth visiting?
 Neelum valley Azad Kashmir is considered one of the most stunning tourist places because of its breathtaking landscape, immense lush mountains and spectacular natural beauty.
 Is Neelum Valley is open for tourist?
Neelum valley remains open whole the year for tourists but the best time to visit Neelum valley is between May to September. In the other months (October to April) heavy snowfall closes its some areas but yet remains open for tourists.
How do i plan a trip to Neelum Valley?
It is very simple and easy nowadays to visit the valley. Many tours management companies arrange weekly departures for Kashmir. You can join them or opt to customize your trip as per your plan.
Which month is the best to visit Azad Kashmir?
The best time to visit Azad Kashmir starts from May till to mid of September.