Pakistan stood tall among countries that gave a new trend of painting on carriage vehicles, especially trucks, known as "Truck Art" in the whole world. Although this art is equally famous in Pakistan, India, and Afghanistan, the designs are more illustrated and bright in Pakistan. If you have ever traveled in South Asia, especially Pakistan, India, and Afghanistan, you will find these ornate trucks rolling on the highways. In some countries, like Pakistan, truck art has made it a cultural expression that can create a business boom for drivers. Let us start to know the history behind these moving pieces of art. 
History of Truck Art in Pakistan
Truck Art has ancient origins in Pakistan, dating back to the 1920s when imported England Bedford trucks entered the country's streets. The large wooden prows fitted on the top of the truck bed. And the prows, known as Tajs (crowns), were accompanied by decorative bumpers strips and wood paneling along with the cabin.
When trucks started hauling journeys across the country in the late 1940s, companies designed logos that easily illiterate people to understand who owned the truck. Over time, the designs became more elaborate and intricate and some started to evolve into symbols of competition. Durriya Kazi, an expert in truck art at the University of Karachi, explains that the logos became competition badges. "And the more gorgeous the design, the better business became." In the 1950s, Karachi became a market of truck art when Hajji Hussain, an artist known for his palace frescoes, settled in the town. 
Pakistani Truck Art is Getting Praise in the World:
The painter who painted the palaces eventually turned to decorating trucks, and his ornate floral style pushed the genre forward. Truck painting has made it big in South Asia, South America, and Japan. However, in Pakistan, art took another level. Many people are employed in workshops dedicated to the craft in Karachi. There are at least 50,000 people used in these workshops, with truck drivers willing to pay good money to ensure their truck is better than the rest. This vehicle's bright colors and ornate decorations are so beautiful, and they're also good returns on investment.
Jingle Trucks:
Pakistani artist Haider Ali has some interesting insights into how truck owners can make their trucks stand out. "When people look to hire a truck for rent, they feel that if it looks fancy and freshly painted, then it's probably in better condition, and they trust it more. It is also called jingle trucks because of the bells that adorn their exteriors.  And drivers can easily spend $2,500 for basic paint, which is two years' salary.
They come back for touch-ups every few years to keep things fresh. Kazi's art is not just a business expense; it's also a ritual that harkens back to the Sufi tradition of painting shrines to curry religious favor. Truckers don't even spend much money on their own houses. "I remember a truck driver who said that he put his whole life and livelihood into the truck. If he didn't respect it by having the right paint job, he felt that he was being ungrateful.
Budget of Art Per Truck:
A fully decorated and assembled truck costs between 180,000 rupees and 250,000 rupees. The process includes body surface leveling, painting, carpentry, and truck art design. A truck project can provide income for 22-26 workers. It takes two to three weeks to make shapes and drawings. It depends on the complexity of the work and the quality required by the client. Generally, the daily wages of a painter are around 2,000 PKR per day, while his assistant's wage is 1,000 to 1,200 PKR per day.
Poems are commonly written on trucks, and the art of poetry is often associated with truck drivers. These verses express the emotions and feelings of truck drivers. Usually, the beautiful mountains of Pakistan are presented in truck artwork. Some owners will also engrave photos, slogans, or other graphics on the truck, while others enjoy painting colorful animals, such as lions and horses.  A lot of woodwork is also engraved by professionals. These include engraving patterns inside and outside the tires of a heavy truck. This work is entirely manual and does not require any machine.
Pakistanis Trucks In All Over The World: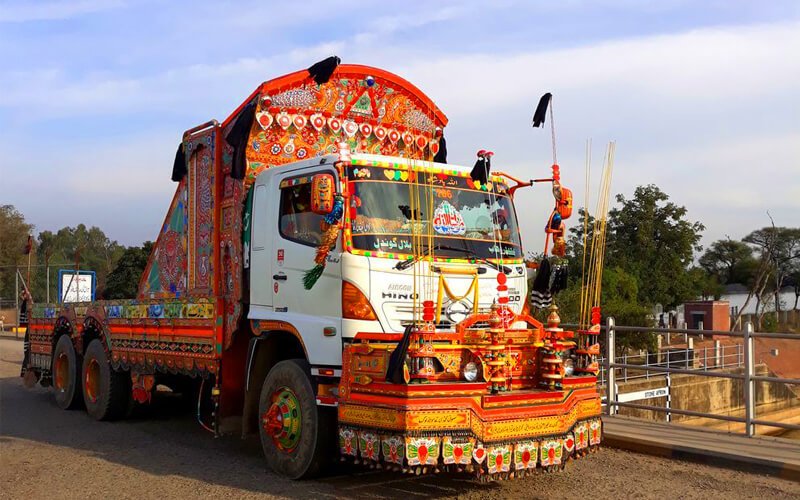 Painter Haider Ali has become famous worldwide for his painting skills, but he's been teaching truck painting in a garage in Guillemard for the past 30 years. Ali was born to show himself through his tenderness and generosity. He is a true art patron and wants to ensure that emerging artists embrace this genre and see its survival. The pattern designs and paintings of the Ali have been exhibited in art museums worldwide. His students have shown his work in more than 40 states in the USA, Canada, France, Brazil, Germany, and many other European countries. In addition, he was invited to the University of Arts to train young artists. 
Fame Through Truck Art: 
In 2002 Ali displayed his first work at the Smithsonian museum in Washington when DC invited him. He made a profound impression, and invitations from other countries arrived almost immediately.
The American women who come to Pakistan receive training with Ali in Karachi. He doesn't charge international students but asks them to go to Pakistan and portray its positive image when they return. Ali says that although truck art is a unique genre in the West, it's only just beginning to gain recognition in Pakistan. He wants to establish an art academy to teach this art to the next generation. He said the technical college is talking about truck art now, but their technology and expertise are limited to truck repair points, so there's a need for a dedicated truck art college to place truck illustrators.
Commercial Art Work:
Truck art has now become famous as a form of commercial art. However, their buyers are still limited to the wealthy class. Shahzad Hussain, a skilled artist from Karachi, has designed innovative truck art designs to promote this art. He works in the handicraft market from dawn till dusk and draws truck art on various products.
Hussein says that the most necessary thing is for truck manufacturers to understand the client's taste. Then, he powerfully convinces the sale of this skill at a low price. "If handmade art paintings are sold at high prices, why not sell handmade art paintings?" asked Hussein. He displays his strength and skill, things he makes decorate the living rooms of high-income families.
The visitors to Zainab Market were also buying handmade crafts for their homes. They bought paintings of large and small model vehicles, and the tourists bought them as souvenirs. Hussein used beautiful and colorful designs to color bags, lanterns, wooden boxes, and various furniture forms. He said: "It is difficult to concentrate when wearing special slippers called Khussas and Kheris. These slippers for women are in great demand in the high-end market. Hussein also painted hotels and home furniture in different cities. The Pakistani restaurant in the United States also paints their furniture from Hussein. Hussein learned this art craft skill from Ali and became a professional uniquely.
Truck Art For Purpose: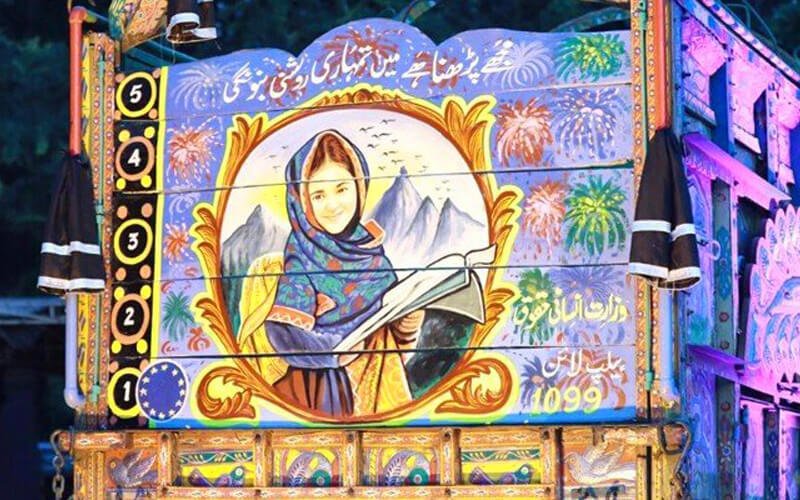 Phool Patti is one of the leading companies for Trucks Art in Pakistan. His director, Mr. Mumtaz, is a master truck artist who brings unique ideas and adds value. Phool Patti's principal object is to raise awareness about Pakistan's truck art culture globally, representing a brighter side of Pakistan and helping improve truck artists' living standards and working conditions. The creative works of trucks can see now all around the world. This extraordinary team of truck artists is a social and cultural businessman, and the founder and creative director of Phool Patti are committed to helping truck artists with their due identity.
Truck Art develops into bridges, walls, fashion, image, and other services such as restaurants, tour operators, and clubs. It encourages transgender people and women's capabilities to live a decent life with an opportunity through contact with organizations. They got an award from UNESCO last year in 2017. He was named "Pakistan Creative Entrepreneur." They were also awarded the Peace Entrepreneurship award, which is one of the most significant youth awards in Swat, Pakistan. Then another achievement of Phool Patti is winning the 2017 SATHA Innovation Award.
The Decoration of vehicles and trucks is a part of our culture, and it can be used for better purposes to convey a message of love, friendship, and peace through truck art. But this is not enough to do this. Because it is also a part of social responsibility, the company should promote employment opportunities for truck artists and improve their living standards. Celebrate all the world-famous historical monuments, festive, with Truck Art from Pakistan.
Frequently Asked Questions
What is Truck Art called in Pakistan?
Truck Art has ancient origins in Pakistan, dating back to the 1920s when imported England Bedford trucks entered the country's streets. The large wooden prows fitted on the top of the truck bed. And the prows, known as Tajs, were accompanied by decorative bumpers strips and wood paneling along with the cabin.
What is the Purpose of Truck Art in Pakistan?
The Truck art represents the hobbies, imagination, feeling, emotions, dreams, and inspirations of the Pakistanis and the painters. It also shows a love bond between the truck owner.
Which Province is Famous for Truck Art in Pakistan?
Khyber Pakhtunkhwa is most famous for truck art in Pakistan because it uses truck art with indigenous themes to promote education awareness among girls in northwestern Khyber Pakhtunkhwa.
Who is the Most Famous Truck Artist in Pakistan?
Haider Ali has become famous throughout the world for his painting skills as a truck artist. He has painted murals, benches, structures, and trucks in Pakistan's different truck art styles.
What is Truck Art called?
Truck art is most popular in the region of South Asia. Pakistani decorate their trucks with elaborate floral patterns and calligraphy. In Afghanistan, Pakistani decorated trucks have the names Jingle trucks.