You may go through as many imported bedspreads and quilts as you like, but you won't find anything comparable to the Ralli, Traditional Sindhi Quilt.
What is a Ralli?
 It's a typical handmade quilt that makes Sindhi women in rural villages.
What's so Special About these Quilts?
Sindhi women make Rallis with different cloths, scraps, and fabrics stitching together. And they compose these different colors of fabric that are nevertheless sewn together to create a distinct design. But they all do with their creativity without using any computer and tolls etc.
History of Ralli Making:
Ralli: Traditional Sindhi Quilt crafting has a long and illustrious history of hundreds of years in rural Sindh. Women's imaginations create these beautiful designs and then bring them to life by stitching different pieces of cloth together. Patterns and ideas travel from one generation to the next, functioning similarly as a family heirloom.
In some way, each ralli is the artist's canvas. As a result, several quilts have bright and different designs with orange, green, yellow, pink, etc. On the other side, ralli samples include muted tones such as white, grey, black, maroon, etc. While many Pakistanis are unaware of the significance of ralli crafting, this talent is indeed valued highly on worldwide platforms. As a result, if you haven't been paying attention to this Indus craft, it's past time you realized its cultural relevance.
The Different Ralli Patterns:
Patchwork, appliqué, and embroidery are the three methods of creating ralli's. Patchwork necessitates the assembly of various-sized pieces of fabric, but appliqué ralli's are a step further in terms of creativity because they feature mirror work. On the other hand, embroidered quilts feature unusual shapes and embroidery of animals and landscapes.
How is Ralli Made?
Most of women make ralli by utilizing old ajrak cloth. It's a method of reusing fabric that has worked well back hundreds of years. Artisans stitch layers of old material together first. Then the patchwork is applied over bright-colored pieces of fabric to conceal the flaws. Of course, not every ralli is made like that these days. They also employ designs in the form of beautiful embroidery now and glasswork or beadwork. It all depends on how inventive one is. It's also a task that might need collaboration, with women sitting on the ground in a circle while discussing or humming as they work. Some women, however, prefer to accomplish everything alone. 
Once rallis, with its bright-colored geometric patterns, designs pieced together by delicate stitches, were available for a few thousand rupees. But today, it has gotten expensive because the artisans have learned their value, skill, and importance.
Sindhi women are famous for Ralli-making skills
Speaking with "Click Pakistan," Marvi Abida Samo, chairman of Sormy Development Society for Women, an organisation in Badin has said, Sindhi women are famous for their amazing Ralli-making skills, which were once taken for granted but not anymore today. So the women who have been awarded this God-gifted skill became aware of their ability. And now they know how much money they can make through it. That's why they focused on producing only handicrafts and getting training from the organization. As a result, most of the ralli and handicrafts sold in the market are made by rural women.
We don't intend to make any money off of the artisan's work. All the money we earn goes directly back into the artisan's pockets. This is because so many women would take their work out of the fields in the past. Now there are fewer and fewer women who do that.We welcome them to our organization and other centers to use their time in creating beautiful handicrafts, especially the ralli, says Sormy. Ralli making is the most complicated work, but these women inherit it, so it's second nature for them.
Sindhi Rilli Designs 2023: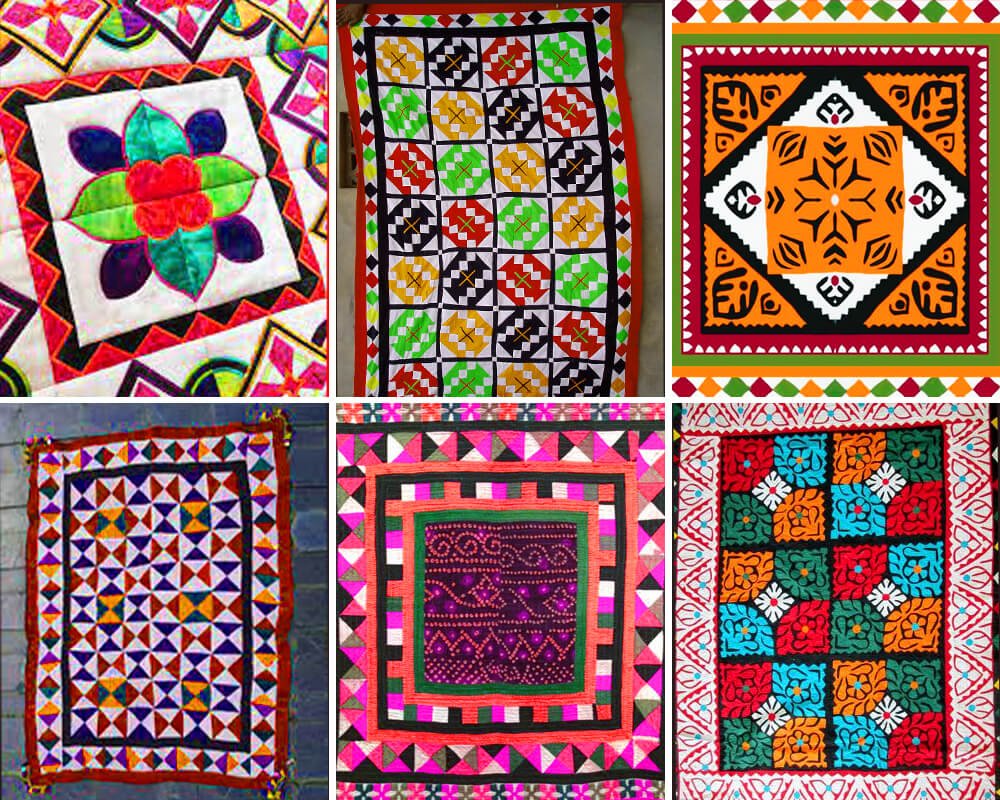 Read More: 15 Best Palaces to Visit in Bahawalpur : Sights and Historical Landmarks